Design Advice
8 Small Nursery Ideas To Transform Your Space
Nurseries come in all shapes and sizes, and if you're designing a small space for your little one, don't fear! You'll still be able to make a more petite sleep space look absolutely wonderful for your little one. Taking the time to do a bit of planning regarding layout, key pieces, and decorative items will ensure that you're on the road to success creating a beautiful, functional nursery.
A few ways to optimize a smaller space include:
- Creating a space in your bedroom for baby to sleep
- Finding or building decorative storage pieces that are also functional
- Choosing decorative items that will not add clutter or take up much space
- Getting creative with wall space
- Being mindful of what furniture you'll really need
Keep reading for more easy to implement tips on maximizing nursery potential even in the smallest spaces.
Place Baby's Crib in the Primary Bedroom
Whether you're raising your little one in an apartment or are tight on bedroom space at home, putting your baby's crib in the primary bedroom is a common solution. In addition to being functional, it's also ultra convenient during the first six to 12 months of Baby's life, when you're going to be waking up in the night for feedings and to soothe your newborn. 
This natural wooden wave crib transforms into three different beds, making it suitable for use in a primary bedroom now and in your little one's own space down the line. You can adjust it to be a mini crib while baby is one year or under, then it can transform into a full-size crib and eventually a toddler bed.
Placing sturdy wooden shelves above the crib in your primary bedroom is a stylish way to incorporate extra storage for essentials like clothes, diapers, wipes, burp cloths, and more. If you wish, you could also use these shelves as a way to display favorite board books, photos, and decor, too. You could even paint them a fun color, if you wish, to better tie them into your existing decorating scheme.
Multi-Purpose Furniture
Nurseries are all about function. That said, there are plenty of great functional pieces that are also appealing to the eye. This fun rocketship bookshelf is a great example of decorating with a piece of furniture that has multiple purposes. Not only is this bookshelf a cool statement piece, but it can be used as a storage place to hold books, toys, and decorations. 
By no means do you need to buy a brand new piece to get this type of look. There are so many different creative ways to turn a normal piece of furniture, like a bookshelf, into a unique piece of art that can serve more than one purpose. Get crafty and engage in some DIY using fabric, paint, and wood scraps, if you're looking to build something new for less. 
Playing off of a nursery's theme when possible is always a great idea. If you're going for a safari-themed nursery, you can always take a normal, small bookshelf and paint around the bookshelf to transform it into whatever animal or object you want to have it match the space. 
For instance, if you are wanting to create an elephant bookshelf, paint the shelves the same color as the elephant and have that portion be the side "belly" of the elephant. Paint a tail and back legs on the wall stemming from one side of the bookshelf. Paint a head and front legs on the other side of the wall. Add different shades of color or textures to make it come to life.
Utilizing Mobiles
When it comes to small nurseries, you definitely don't want to overdo it in terms of decor, but there are still great ways to keep a space looking nice and engaging for Baby.  Mobiles are a great decorative option because they do not take up unnecessary space yet still add color and whimsy to any nursery. Plus, they play a functional role, engaging and entertaining your baby while they lay awake in their crib.
Taking Advantage of Wall Space
Don't neglect the walls of your nursery, no matter how little space you have to work with. Wall decor is an excellent way to make a room feel more custom and complete. Whether you choose to hang photos, canvas paintings, cheerful drawings, or something else entirely, you will thank yourself for making wall art a priority. 
If you're looking to go beyond traditional wall art, consider hanging some narrow wall shelves in Baby's space. They will add architectural flair to any nursery in addition to providing some much-needed storage. Shelves with hooks make for a great place to hang clothes, swaddles, or more decorations. If you're handy, you can DIY this type of project and paint the shelves to best reflect your favorite hues or a theme you selected for Baby's room.
What Furniture Do You Really Need?
Determining which nursery furniture pieces are absolutely essential as opposed to just optional will prove key when dealing with a small space. Note that you definitely don't need every piece of furniture that you think you need.
Changing tables are useful by all means, but you do not need one to complete your space. Placing a changing pad on the top of a dresser does the trick and eliminates the unnecessary cost and space that a changing table would take up in Baby's space. 
Bookcases are another piece of furniture that can take up a lot of room depending on the square footage you're working with. If there's not enough space to comfortably fit a bookcase, hang some floating shelves to store books and toys.
And it's ok if you don't leave much space between furniture items. Placing your crib right next to the dresser can save space and look cute—the dresser becomes a little nightstand!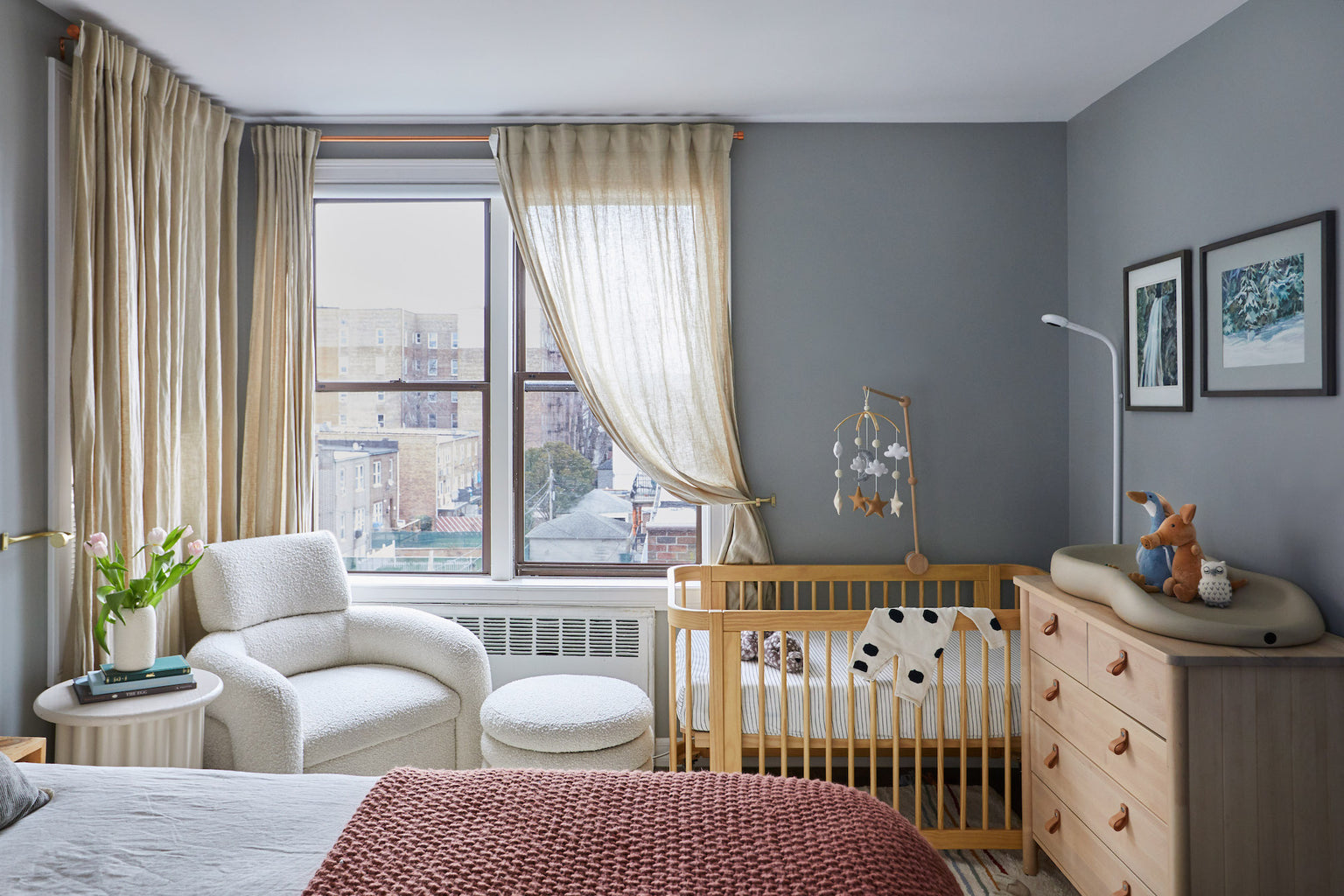 More Ideas
Built-In Shelves
You can never go wrong with these. They make it easy to display books and toys in an organized manner while allowing you to easily see all of Baby's things. 
Prioritizing the Necessities
It's easy to feel like you need every baby item on the market, but as you learn what items your baby likes and you find useful, you can choose what items you really need and want. Keeping your nursery space on the more minimal side can help when you have a small nursery.
Only Keeping Age Appropriate Items In Nursery
If you are really tight on space, don't fill the nursery with things your little one won't need for a few months. Tuck those items away in storage bins and set out only the toys and clothes your baby is actually using and wearing at a given period of time. If you have a newborn baby, for example, try storing only newborn clothes in the nursery.
Make the Most Out of Your Small Nursery
There are plenty of ways to transform your small nursery space, and these tips will help you get started on the right foot. Whether you choose to add some hanging shelves or get rid of a changing table, there are plenty of easy, small changes that can really transform the way a space looks and feels.