Nursery Tour
A Modern Take on Neutral for the Nursery
Content creator J Peace designed a neutral nursery that is anything but ordinary. The space is turned extraordinary by blue and green accents, organic silhouettes, a one-of-a-kind birds of paradise plant, and more. Read on as she chats about how she created her dream modern nursery.
First off, tells us a little about yourself!
I am a professional photographer turned full time influencer/content creator. I am married to my college boyfriend and we have three kids together. Family is everything to me. Most days I can't even believe this is my life!
What is your interior style?
I feel like my style is different in the kids' rooms than the rest of the house. I like to have my room and our house feel/look organic, minimal and calm. But I would describe the kids' rooms as colorful, peaceful and exciting.
What was the inspiration for your nursery?
I always make a moodboard for any rooms I want to style in the house. I wanted his room to feel and look like a nursery, but I also wanted it to be something that could very easily transition into a toddler room and grow with him, which is why I got pieces like his changing table, that is more of a statement piece. Or his Nestig crib, since it transitions into a beautiful toddler bed too.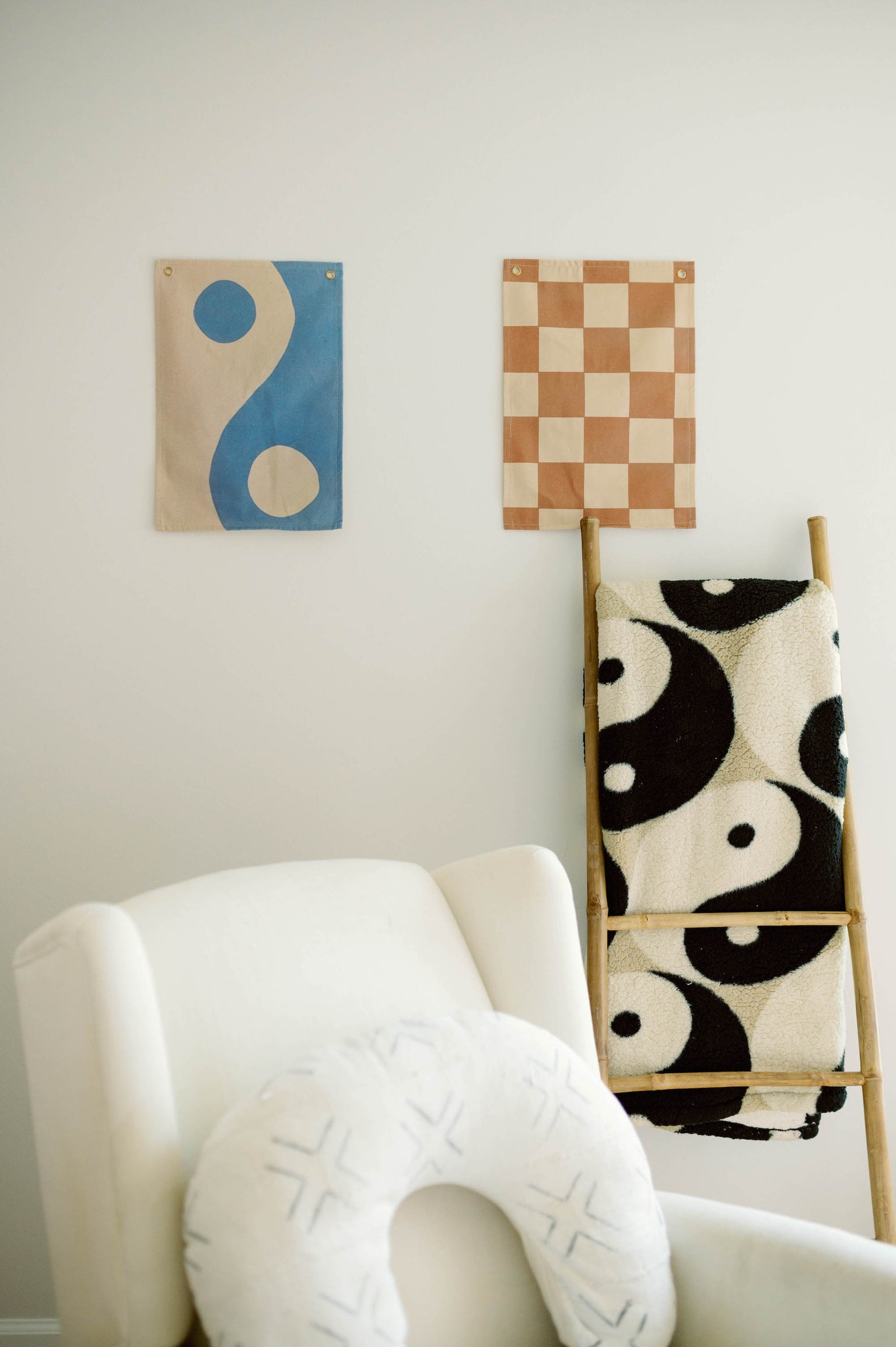 We're obsessed with the white and brown tones, and blue accents. How did you land on this color palette?
As soon as I got pregnant I knew exactly what kind of wallpaper I wanted to use. I didn't know yet what I was having so I had colors picked out for either a boy or a girl. And when I found out I was having a boy, I already knew exactly what I was doing for their room.
I had originally planned for his room to be more colorful. This was the original color way for his wallpaper, but my husband wanted to do something more neutral, so we landed on this other color palette instead. And I incorporated more colors in different ways, like the blue plant we have, some of the banners on the walls or even the diapers.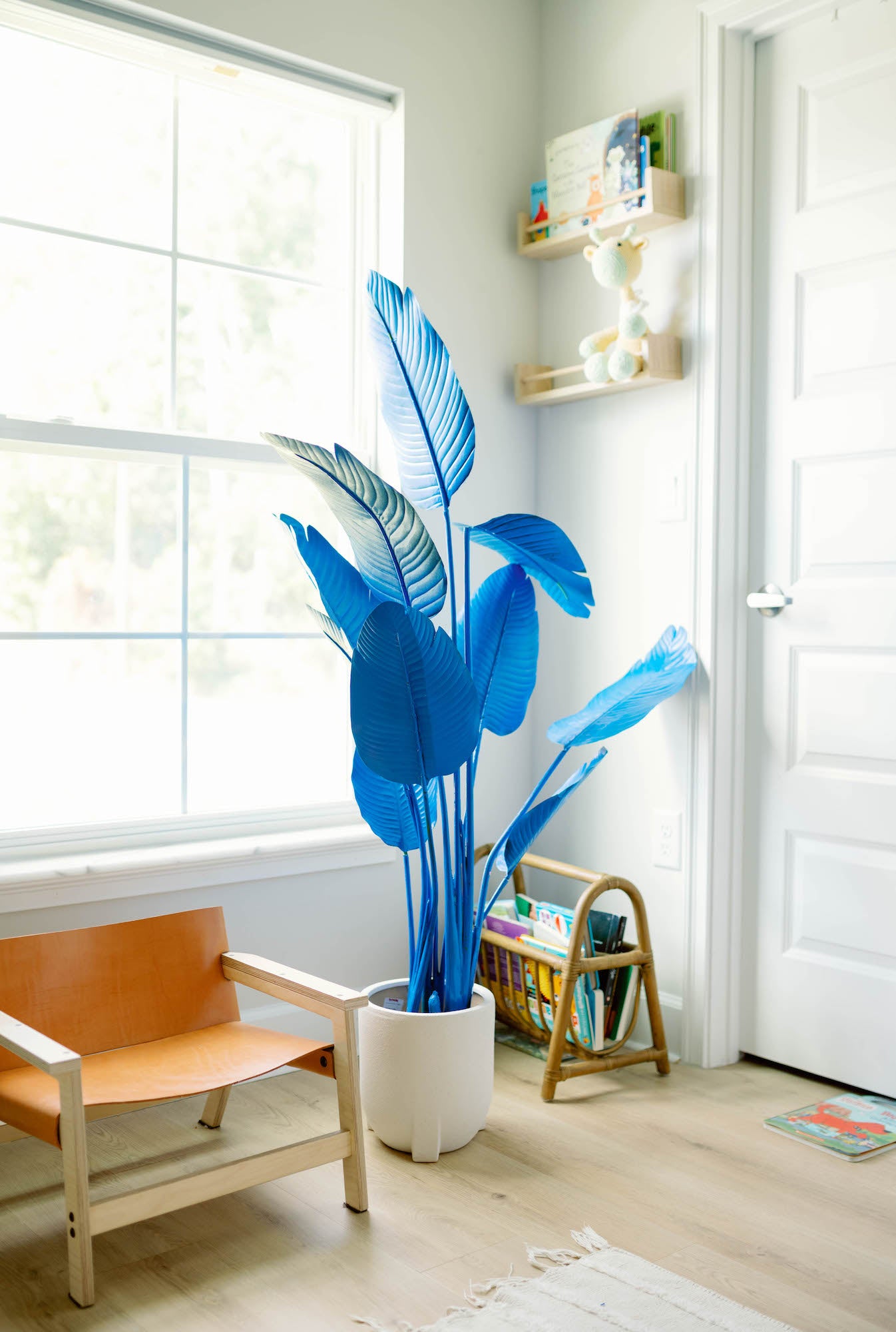 That blue bird of paradise plant is truly unique! What's the story behind this piece?
My friend actually made it for us. She was the first one to know that we were having a boy. It just fit perfectly in his room.
What's your favorite decor in your space and why?
The lion that we have over the changing table is so special to me. It doesn't go with the dinosaur theme at all lol, but my mom and I made it together for his nursery and it's one of those pieces I'll never be able to get rid of.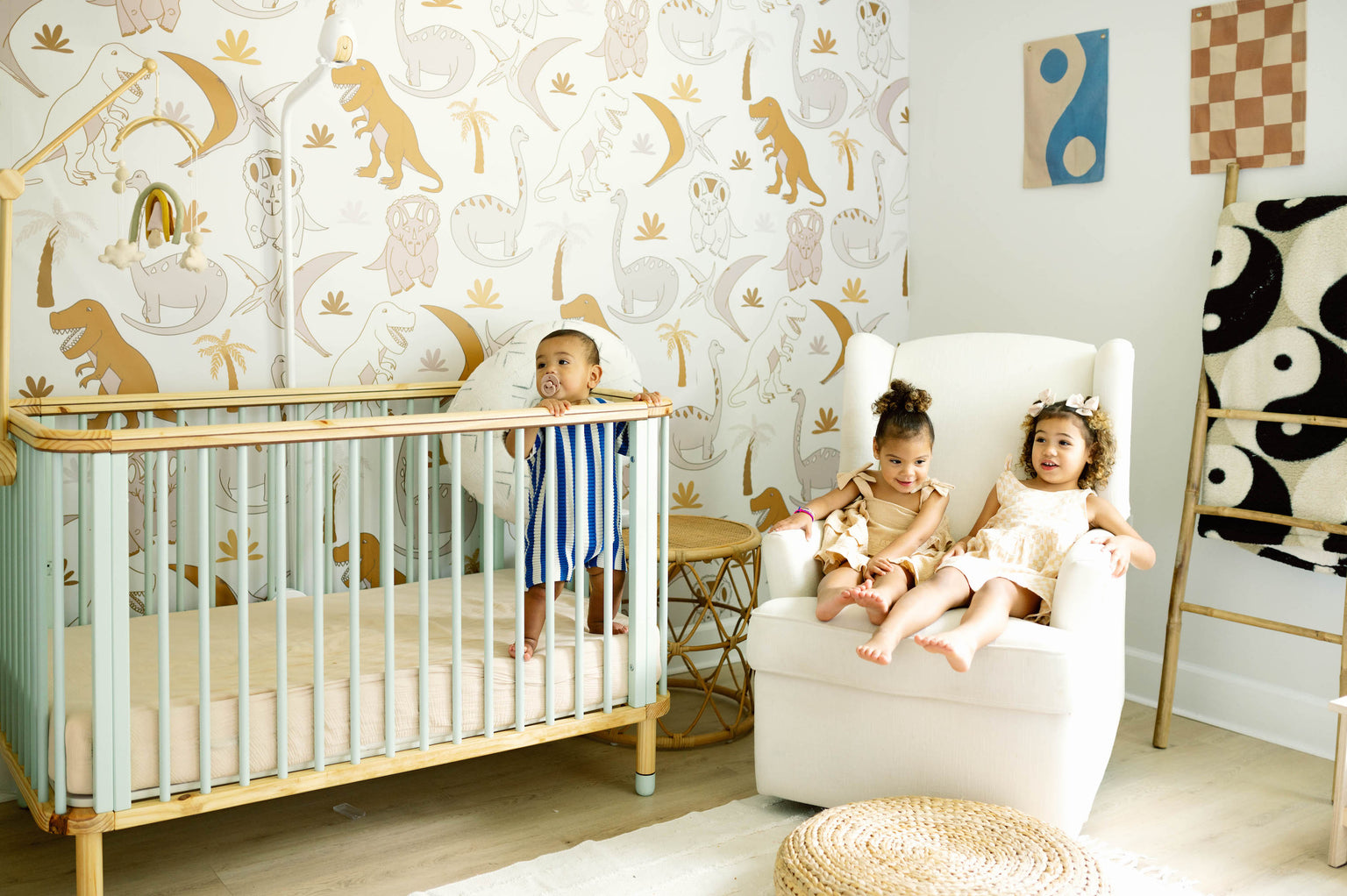 We like to think about nurseries as spaces for everyday magic, any favorite motherhood memories in the room so far?
My kids' nurseries have all been so special to me. I can't help but romanticize everything in my life, so I have so many memories in each of their rooms that are a core memory for me now.
My favorite, favorite, favorite thing at the moment is every morning after his first nap, my daughters go in with me to get him. He's the happiest baby, so my husband and I always say "good morning, son!" as he smiles at us. And the girls started saying it with me too. Somehow "son" turned into "Sunny" for my oldest daughter, so now we go in and they say "good morning, Sunny! How did you sleep?" and he just laughs. It makes my heart so happy. It's such a wholesome moment. "Sunny" is slowly becoming his new nickname and I'm here for it.