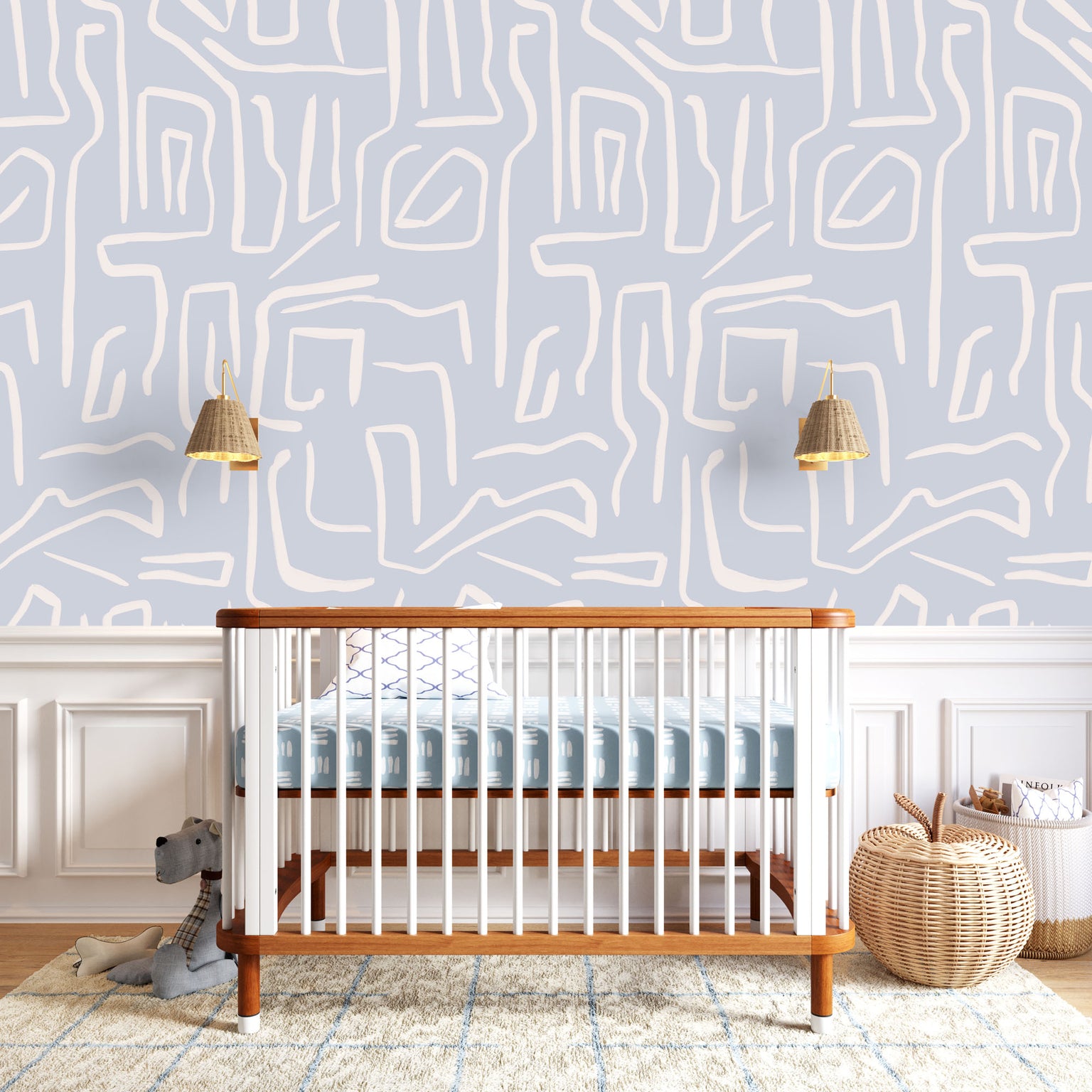 All About Our Wallpaper and Wall Murals
Welcome to the magical worlds of Nestig wallpaper and wall murals! We believe that nurseries are mini-worlds, magical lands where adults become parents and babies become little humans. They're spaces for dreaming and dancing, crying and cuddling—for endless imagination and connection. 
Just as a baby transforms a family into something bigger and brighter, wallpaper and wall murals instantly transforms a space. It's a simple way to make a big splash; a way to communicate what you're all about—be it calm or fun, earthy or optimistic. Read on to learn more about our wallpaper and wall murals, and get inspired to create your dream nursery!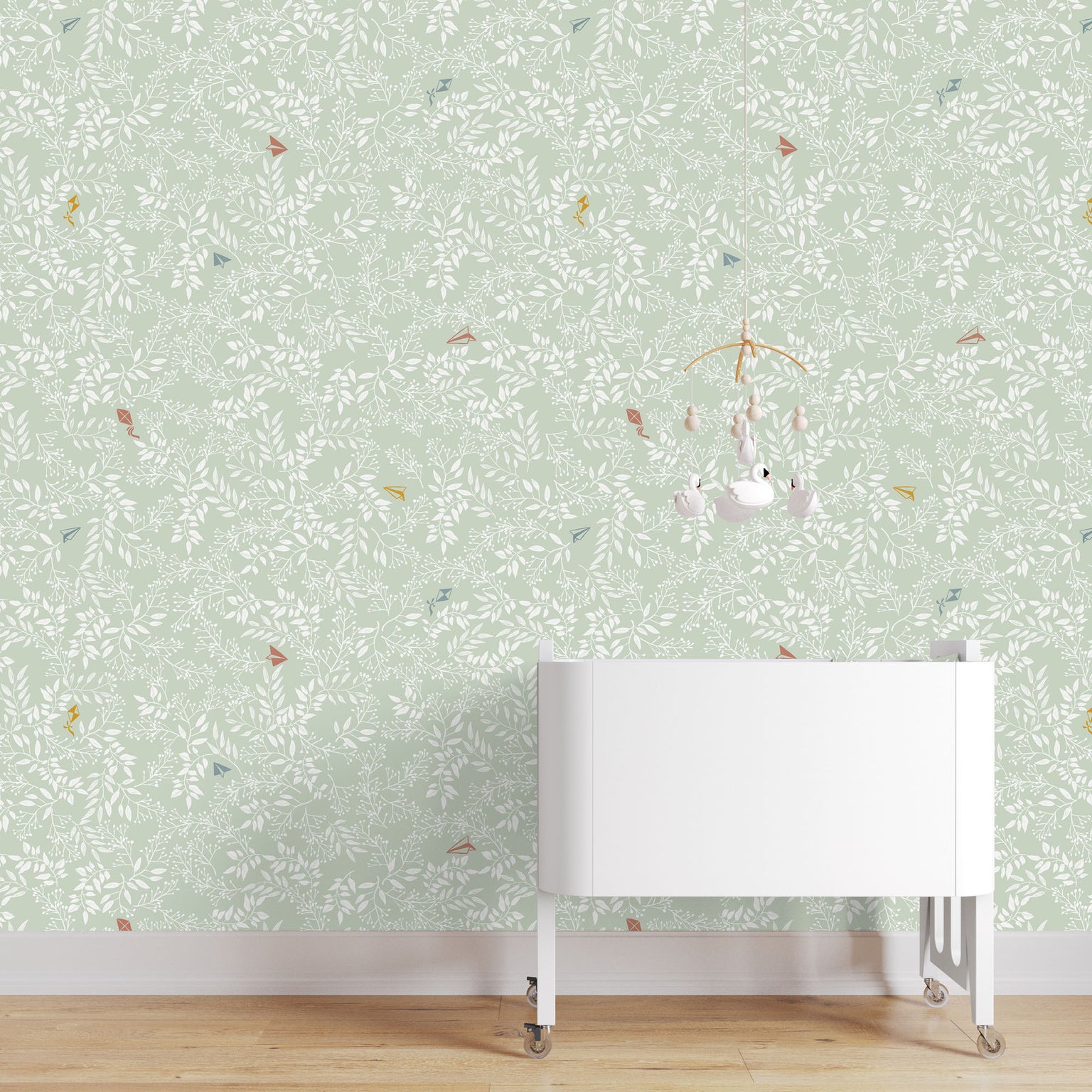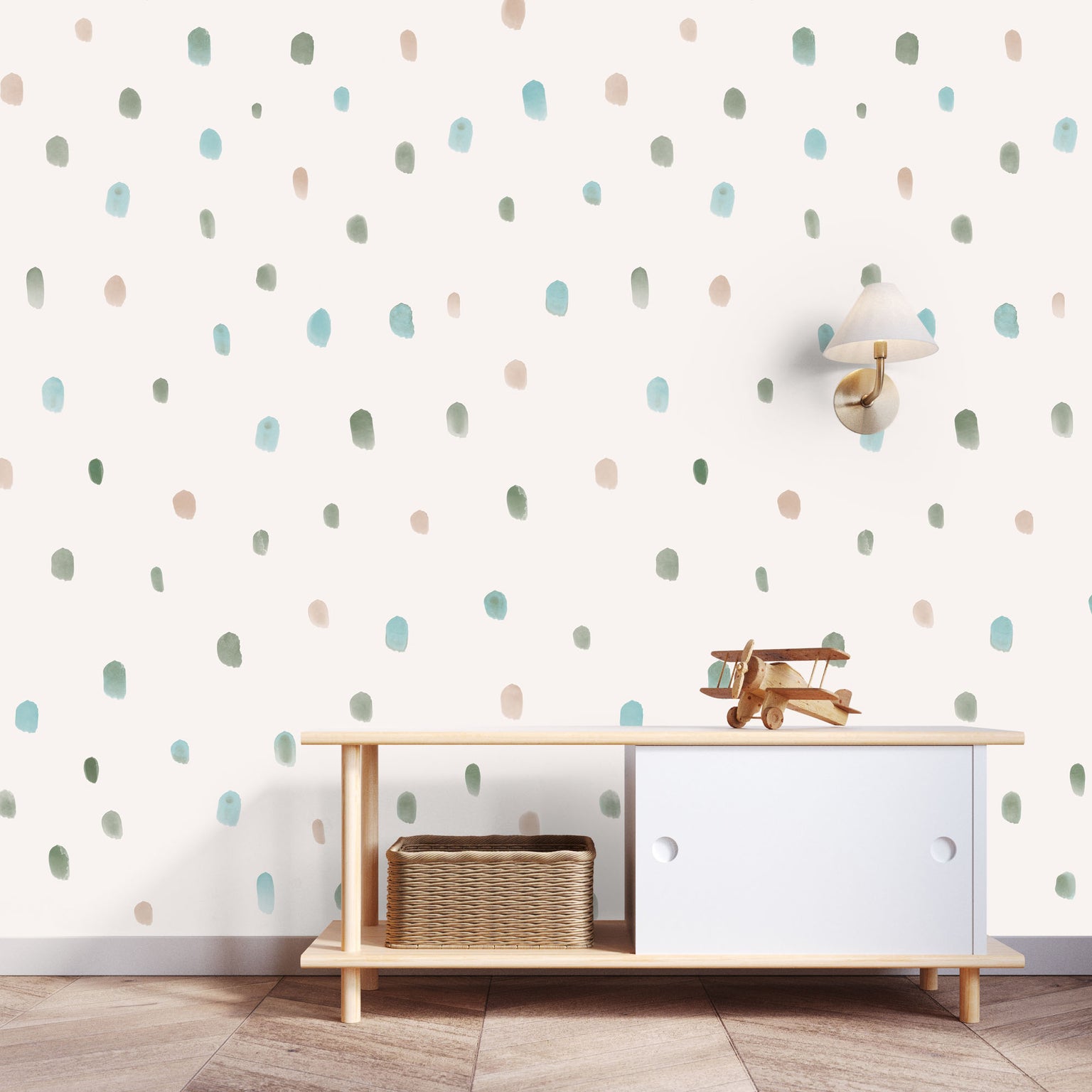 Our traditional, non-woven wallpaper and wall murals is made in Brazil in partnership with a woman-owned print shop. It's printed with Greenguard Gold certified inks on non-toxic paper in delightful, hand-drawn designs inspired by the many wonders of childhood. Each batch is checked by hand to ensure the highest quality!
What are "traditional" wallpaper and wall murals?
"Traditional" means that our wallpaper and wall murals are applied using an adhesive that you paste on your wall, unlike peel-and-stick options, which comes with its own adhesive. We chose traditional wallpaper and wall murals because it's known for its high quality and longevity—something you definitely want when it comes to such a statement-making design element!
Because of the extra step of using adhesive, we strongly recommend working with a professional installer to hang your wallpaper and wall murals in order to get the most beautiful results.
What are non-woven wallpaper and wall murals?
Non-woven wallpaper and wall murals are the perfect choice for a nursery or kid's room! It's made with a combination of non-toxic natural and synthetic fibers which allow it to be breathable (a.k.a. you never have to worry about mold!), washable and tear-resistant. 
It's also designed to be strippable, which means when it's time to remove, it should come off with ease and with little to no damage to your walls underneath!
Are these wallpaper and wall murals renter friendly?
Great question! Because every rental situation is different, we can't quite answer this with a yes or no. However, we can give you a little more information to help you decide whether our wallpaper is right for you!
Like we shared above, our wallpaper are wall murals are "traditional" which means it is applied with an adhesive paste (unlike peel and stick wallpaper). However, because it's non-woven—it is designed to be removed much easier than other kinds of traditional wallpaper. If you choose to apply the wallpaper to walls in good condition, with a high quality primer and strippable adhesive, there should be very little to no damage to your walls upon removal besides the possible removal of some of the paint and/or primer that is underneath. This is not a guarantee, but we have tested this process ourselves and were impressed with the results! Feel free to contact us here if you have any questions about whether or not this might be right for you and your home :).
Installation Recommendations 
Wallpaper and wall murals can be a bit tricky to hang on your own, so we highly recommend working with a professional installer to make sure everything comes out perfectly! However, here are a few essential tips if you want to install it yourself:
To start, we recommend purchasing The Wallpaper Kit from our friends at Character Home, which has everything you need (minus paste and primer) to get your paper up! They also offer a 30 day free trial to their Expert Support Membership which allows you to contact a professional for help and advice if you need it.
Prepping Your Walls:
Make sure your hanging surface is clean and dry, as well as free from any damage (like holes from nails)—you want it to be as smooth as possible! Paint on a coat of wallpaper primer. We recommend Roman PRO-935 Vinyl Prep® Clear Wallcovering Primer which is water-based.
Note: Wallpaper works best on flat, untextured white walls, as any uneven or colored surfaces like stucco or plaster will show through the paper once installed. White, painted drywall is ideal.
Hanging Your Paper:
We recommend using Roman ECO-888 Premium Clear Strippable Wallcovering Adhesive which is VOC free. Roll an even coat of adhesive onto your primed walls. Apply one panel on top of the adhesive; we recommend using a clean, soft-bristled brush to smooth it down onto the wall.
Before applying each additional panel, clean off any excess adhesive with a soft, lightly damp sponge. Then, apply paste on the wall for the next panel—be sure to line the edges up and smooth from the center out. Repeat until finished!
How do I care for my wallpaper or wall murals?
Our wallpaper is designed to last (and look lovely!) for years and years. In order to keep it in its best condition, we recommend hanging it in a room without excessive humidity and spot cleaning it when necessary with a soft, damp cloth and a mild soap.