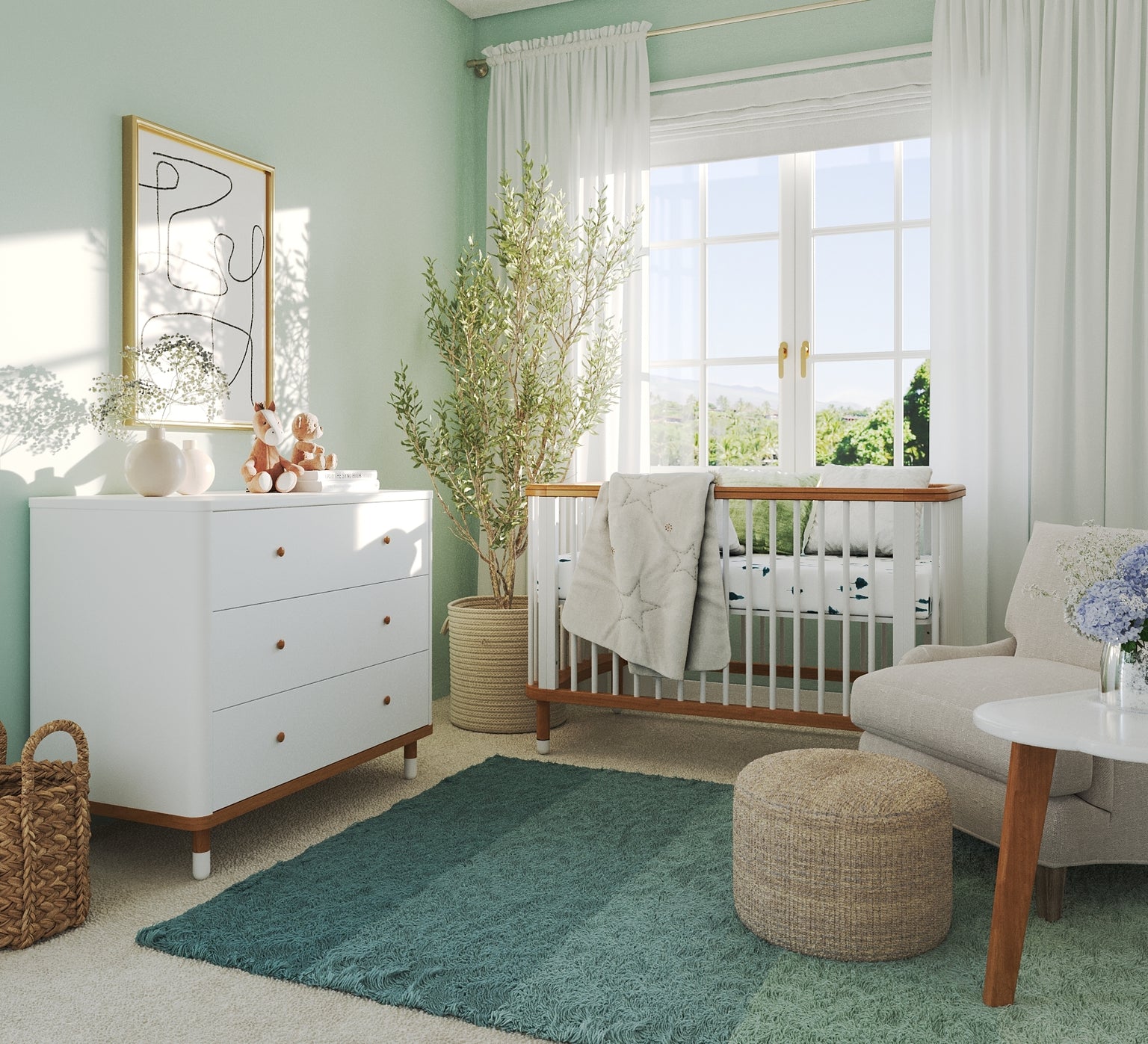 Design Advice
Pro Organizers Share Their Go To Nursery Tips 
The time before your little one arrives is an excellent period to make sure that your nursery space is nice and organized. After all, once Baby is here, your hands are certainly going to be full! Why not set yourself up for success down the line by getting things in tip top shape now? 
If you're not sure what types of organizational systems to prioritize in the nursery, we're here to help you get started. We spoke with professional organizers and designers, many of whom have babies themselves, on what to focus on when it comes to storing baby clothes, diaper supplies, books, and much more. Read on for their ultra useful tips!
Follow This Tactic for Organizing Clothing
We all know that babies go through quite a lot of outfits over the course of a given week! So what's the best way to organize them all? Millie Naor of Bella Organizers offers some helpful hints for dealing with clothing your baby is currently wearing. "Most changing tables are set up with drawers (they are dressers with the changing area on top)," she explains. "I always like organizing the items by type and color." In the top drawer, place onesies, pants, and socks, use the second drawer for pajamas and outfits, and fill the third drawer with linens, Naor offers. "Items that are dressier can be hung in the closet—you can purchase hangers for baby clothing." 
To maximize drawer space, keep in mind this helpful tip from Rachel Winkler of Tidyspot. "Baby clothes are small, so I always recommend using drawer dividers to create sections within a larger drawer," she says. "Even if you don't have time to perfectly fold your baby's clothing, simply having sections for onesies, burp clothes, pajamas, and more will help keep you organized."
Additionally, using labels where appropriate is always a smart idea, notes Ashley Hines of Thee Tailored Life. "Baby clothing is so tiny and sometimes indistinguishable," she comments. "Labels help with staying organized and optimizing the efficiency of the space. Labels also ensure that all the individuals taking care of the child(ren) have a shared system."
Think Portable
You and Baby will be traveling from room to room together quite often, so thinking about portability is always important. Joanna Wirick of Joanna Organize (who is also the mother of a six month old) swears by this solution in her own home. "Create diaper-changing caddies filled with all of the necessary items: diapers, wipes, and cream," she suggests. "These portable caddies can be toted all over the house."
Neatly Store Away Future Clothing Items
Babies are going to grow, grow, grow, so you'll want to keep larger clothing sizes at the ready! "Designate a home for clothing that the child will size into," Wirick suggests. "Keep these grouped together in a labeled bin or bundled with twine. Here's the most important tactic—set a reminder in your phone for the 3-month, 6-month, 9-month, etc. mark so you don't forget about these pieces!" Wirick also shares a key tactic for dealing with clothes that are too small. "As kids size out of clothing, wash, fold, and group together," she says. "Your future self will thank you for this if you plan on having another. If you're ready to part with these items, donate them right away, otherwise they'll stay in the closet for years."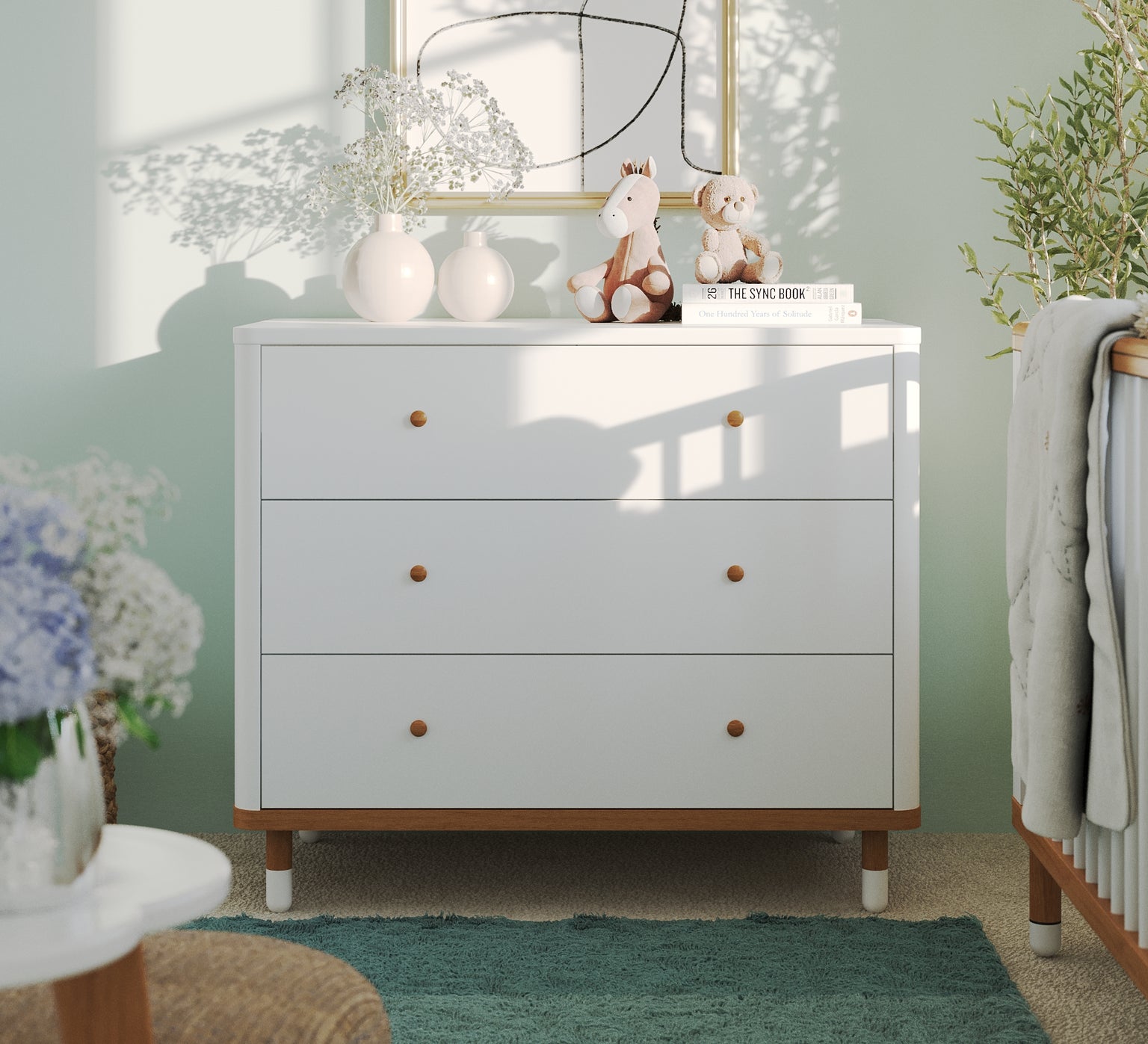 Use a Canvas Cubby
New mom Lia Brady of Organize With Lia found that placing a canvas cubby with lots of pockets next to her changing table was a major help. "It stored the everyday use items like diaper creams, diapers, wipes, nose bulbs, and all the other necessities for baby care," she says. Looking to take a different approach? "A affordable, great option is a rolling cart," says Morgan Laskey of Morganize It Solutions. "Use smaller bins in the drawer or cart to keep each category of essentials organized and tidy." If you use any baskets, keep them open, advises Holly Ritter of Well Sorted by Holly. "Things need to be easy to grab when you only have one free hand, especially in the middle of the night," she says.
Make Use of the Closet
Don't forget about the closet when it comes to your "overflow" supplies. The nursery closet is an excellent space for you to stash away a stockpile of things like diapers, wipes, creams and clothing/items that you will use in the future, Naor says.
Keep a Static Floor Plan
Make sure that your nursery floor plan will stand the test of time. "One aspect of staying organized in the nursery is having a floor plan that works not only for when the child is an infant but as a toddler as well," says Malka Helft of Think Chic Interiors. "For that reason, it is worth investing in a few key pieces of furniture that can be used in different stages, for instance: a convertible crib, or a dresser that is wide enough to be used as a changing table."
Look to the Walls
Storage can be both fun and functional when you make use of the nursery wall space. "If you have a changing station that doesn't have a lot of storage, do a floating shelf to create a little baby command station," suggests Ginger Curtis of Urbanology Designs. "And don't forget to utilize the space behind the door. Super shallow book ledges are a great place to display and store books."
Declutter Regularly
Even though life with a little one is busy, don't forget to do a nursery clean out on the regular to make things easier for yourself! "Less is more in nurseries," Hines says. "I encourage a regular cadence for decluttering (probably every 2-3 months, given their growth pattern and clothing increments) and moving unused clothing to storage or making donations."