Design Advice
Getting the Nursery Ready for Spring
There's something about springtime that always makes us want to refresh our spaces. And it makes total sense. The cold winter days result in endless time spent indoors and plenty of messes made, which means that by the time the warmer months roll around, it's more than likely that a deep clean is in order. So why not take some time to update your home before the warm weather entertaining season kicks off? While you're busy tackling a spring refresh, don't forget to zhush up the nursery, too!
Below are some small yet impactful changes you can make in your little one's space this season.
Set Out a Cute Quilt
While the weather is beginning to warm up, you'll still want to keep a quilt in the nursery, and why not opt for something that's equal parts charming and functional? Choose from a sweet floral and striped number, a nature-inspired design, or a perfectly beachy print.
Switch Out Baby's Mobile
Why not give your child something new to look at while he or she is laying in the crib? Swap in one of our newest mobiles and let Baby's imagination wonder.
Lay Out a Fun Rug
While you're stocking up on fresh, seasonal fruit, be sure to grab a dazzling fruit themed rug for the nursery, too! Made from 100 percent organic cotton and all natural dyes, these rugs aren't just adorable, they're totally safe for your little one to play on—and better yet, they're machine washable, so you don't have to fret over stains and spills.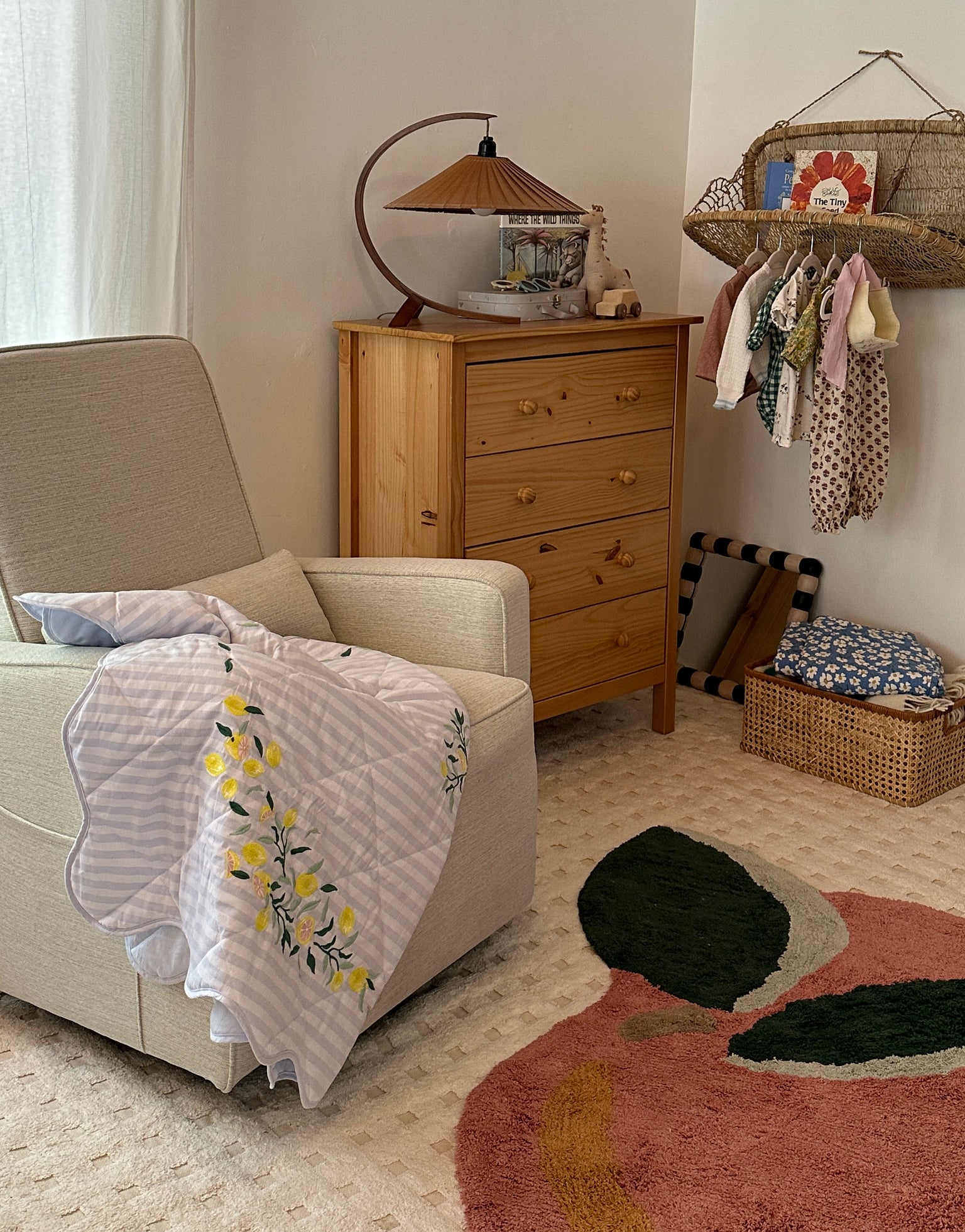 Hang a Peppy Wall Mural
A striped, lemony print has us dreaming of spring break in Italy. And while that may not be in the cards, you can at least pretend that you and Baby are kicking back and relaxing somewhere warm when you install this new Sicily Wall Mural that is bound to make a splash in the nursery.
While you're at it, don't forget to engage in some good, old-fashioned spring cleaning in the nursery, too! Now is the perfect time to sort through clothes your little one may have outgrown, put away toys that have drifted off their shelves, and engage in any necessary repairs and touchups that have been on your ongoing to do list. You've got this!