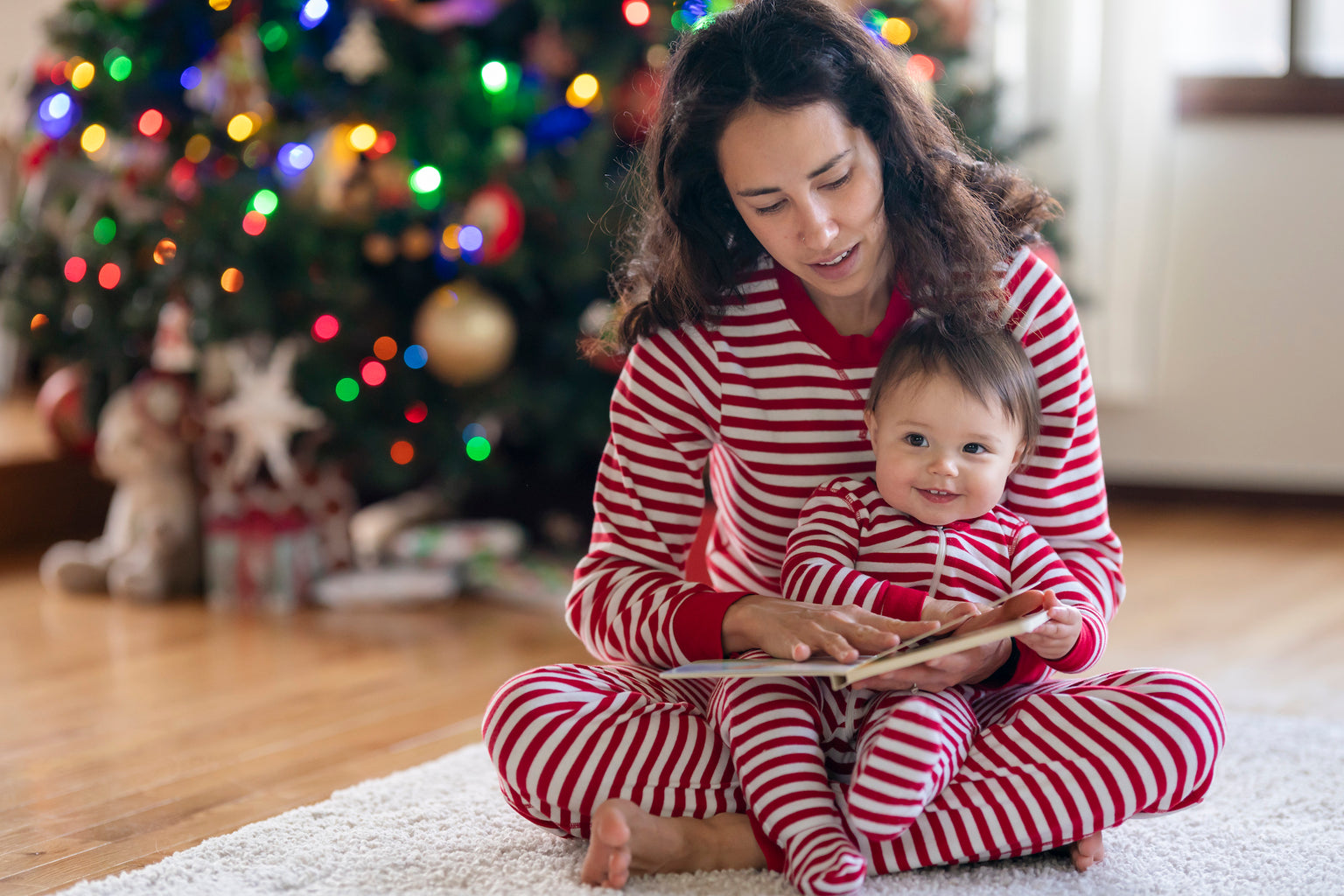 Design Advice
How to Make Your Little One's First Holiday Season Memorable
The winter holidays are right around the corner, and if it'll be your first time celebrating the season with your little one, you'll want to be sure to make December feel extra special! We asked 12 moms to weigh in with advice on how to make your child's first holiday season feel nice and memorable, and we're loving their variety of tips.
Take Photos on Santa's Lap
"The first holiday season with your little one is such a special time—surrounding them with love and warmth, particularly around close family and friends, will in itself make the season that much more impactful for them and you! For those who wish, I also recommend bringing them to see Santa because capturing their reaction (most likely fear) will forever be a funny memory you can cherish, and they'll have it documented to look back on as they get older as well." — Tracy Taylor Ward of Tracy Taylor Ward Design
Make it Matchy
"Nothing is cuter than matching holiday pajamas for the whole family! One of my favorite traditions with the littles is to cozy up in the same PJ set. There are so many fun styles and prints out there for the holidays!" — Jennifer Hunter of Jennifer Hunter Design
"We did matching/coordinating family pajamas from Kickee Pants, which have matching festive patterns in the softest material from newborn to adult sizes!" — Molly Acorn of Mantel House DC
"When my kids were babies, I loved to dress them up in holiday clothing like Santa outfits or matching family pajamas. Along with that I love to take a lots of pictures especially by the Christmas tree." — Gbeke Omosebi of Simplicity for Designs
Bond as an Immediate Family
"For our daughter's first Christmas, I'm taking it as an opportunity to start creating new traditions. With so much extended family time, I wanted to make sure that we carved out some immediate family bonding time and memories. We're having a Christmas Eve lunch with family. Christmas Day will be reserved for just the three of us. We're planning on opening gifts, a hike and even making some cookies! I know she won't remember it now, but we're going to memorialize everything with photos so hopefully when she gets older, we can repeat the same activities and it will cultivate a sense of tradition." — Clara Jung of Banner Day Interiors
Make Photo Books
"For my twins' first holiday, we started the tradition of making annual 'family yearbooks.' These are hardbound photo books highlighting our favorite pictures from throughout the year that I can easily pull from my iPhone pictures to make. I order one for our family, one for each of my daughters so they can take the books with them as they grow up, and one copy for their grandparents. I use the company Chatbooks, but there are many options available. 
It's very special to look back now and have all seven yearbooks. They still love to look through the books with us at bedtime. It's especially nice to have printed pictures all in one place, with everything else living in the digital world these days." — Liz Goldberg of CAROLYNLEONA
Reading Festive Stories
"Constant engagement with your little one is key during the holiday season, such as having them help decorate the tree, baking cookies and, of course, always listening to holiday classics. We also end each night reading Hanukkah and Christmas books since we celebrate both holidays in our home." — Sterling McDavid of Sterling McDavid
Jam Out to Some Music
"When looking back on my own childhood, I'll always remember spending Christmas morning listening to Elvis's holiday records. Music is still very important in my household, and every song I love really takes me to a time and place. My son, Jackson, now loves to listen to records with us while dancing, especially now that Christmas tunes are in rotation. I hope that all of the musical memories and happy moments shared will make him look back and smile, the same way I do." — Christy Doramus of Christy's Garden
Design Homemade Holiday Cards
"One thing we did for our daughter's first holiday season was make homemade holiday cards and wrapping paper with her little footprints. All you need is some blank card stock for the cards, brown paper for the wrapping paper, and some paint! They turned out so cute and our families loved the cards so much that we ended up having them framed. They each put them out as part of their holiday decorations on the mantel every year now. We also saved the wrapping paper and have re-used bits of it for presents each year since! It was a very easy craft and cute reminder of her first Christmas in our family!" — Alex Nino of Alex Nino Interiors
Craft Custom Ornaments
"For the first holiday, I like to make a homemade ornament that records the baby's height.  Here's how to do it: Measure the height of the baby with a string, then put that string in an ornament ball, label it with the age and date and hang it on the tree. It's a fun way to look back and see how much your kids have grown." — Xin Lu of At Home With Xin
"The first thing I thought of when having my daughter was making a cast ornament from her handprint or footprint to hang from our Christmas tree. She is 5, and every year I look at that ornament from her first year of life it puts a smile on my face." — Cerrissa Fitz of Piranha Design
Take it Slow
"Your child's first holiday season is most memorable for you—be mindful as you commit to events and outings with friends and family. Keeping the season slow will allow you to begin your own special traditions, along with feeling the peace and contentment that comes with the holidays. Don't overcommit yourself the first year...simply slow down, enjoy and be present." — Amelia Burnett of Amelia Styles