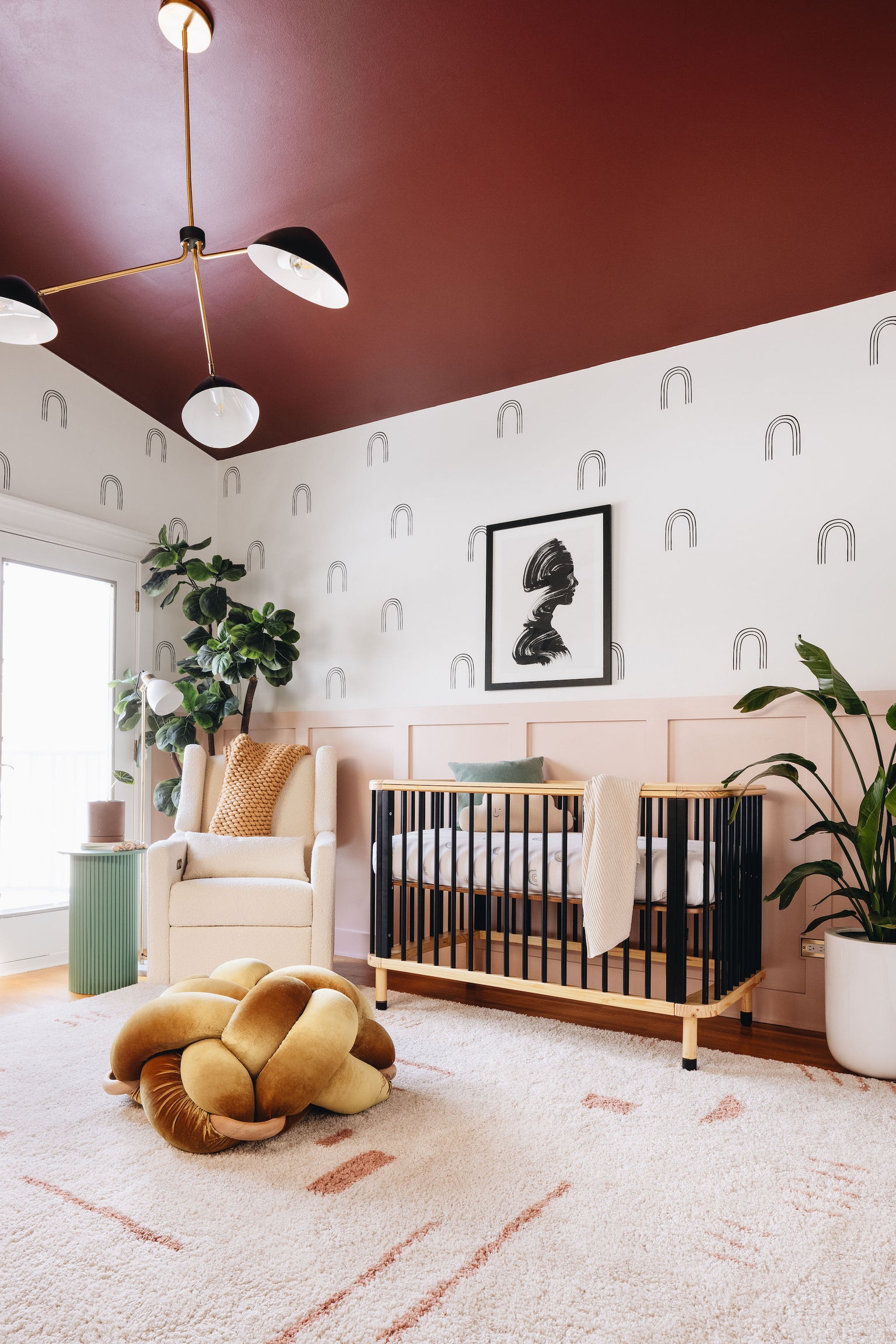 Design Advice
Nursery Trends We'll See Everywhere in 2023
As we plan ahead for 2023, there's plenty to look forward to—and that includes a new crop of nursery trends that will be making a major splash! If you're getting ready to set up a charming space for your soon to arrive little one, you've come to the right place. Below, designers weigh in with intel on next year's "it" decor.
Boucle Everything
Whether you're looking for an excuse to place an order for that boucle piece that's been calling your name for ages or are planning on reupholstering a preloved piece but haven't decided on a fabric, this tidbit from designer Valerie Darden of Brexton Cole Interiors may help you make up your mind. "Parents love the soft texture of boucle as well as its simple yet chic appearance," she says. "I've designed babies' rooms with boucle pillows, rockers, chairs, and ottomans! It's definitely a 2023 must!" We love the idea of pairing a boucle piece with one of Nestig's sleek and simple side tables; their white tops will complement the fabric wonderfully.
Lots of Wallpaper
Wallpaper has made a splash in many nurseries over the past several years and isn't going anywhere quite yet! "We are pro-wallpaper, especially in a nursery as a way to bring in pattern,"explains Kelsey Haywood of Haywoodmade. "Often used as an accent wall, we predict you'll see more full room wallpaper happening in 2023." Haywood also expects to see more vinyl wallcoverings, which couldn't be better for this type of space. "Wipeable, durable, and often more budget friendly, it's hard to beat," she notes. Now that Nestig offers its own collection of wallpaper, there are a world of possibilities to explore. It's easy to order a sample to test out prints in your home before making a major commitment, too.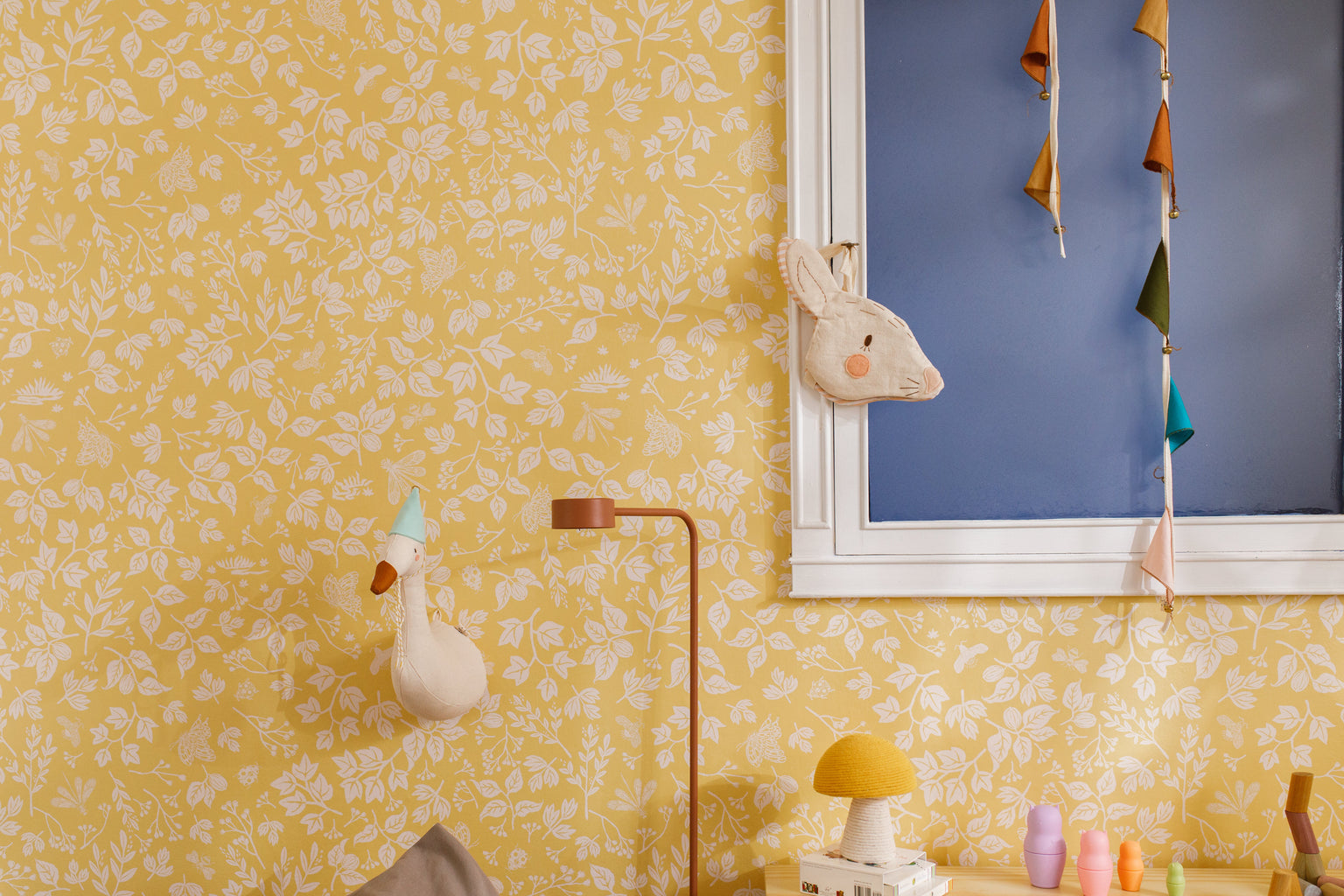 Less Nursery Specific Furniture
Katherine Thewlis of Hausmatter notes that due to an 8.8 percent increase in renters, we are going to see fewer nursery specific pieces making their way into homes. "What was once a designated room for a nursery is now possibly a flex space or even a closet," Thewlis comments. "I predict you will see less nursery-specific furniture, and people utilizing pieces they already have as workable changing and storage stations, along with baby-brands that are offering transitional pieces that will carry little ones into toddlerhood," she adds. 
Alice Kuaban of Oddessence expresses similar sentiments.  "I believe the biggest nursery trend for 2023 is the design of furniture pieces that will grow with the little one," she shares. "So, solid cribs that can be converted to toddler beds eventually or dressers that aren't too juvenile, are deep enough, and can be repurposed for another space."
Layered Rugs
Why pick just one area rug when you can opt for two in the nursery? "In 2023, I predict that we will see a lot of layered rugs in homes," says Barbara Brosnan of Barbara Brosnan Interiors. "The nursery is the perfect spot to do this!" Rugs are excellent for a few reasons. "Not only will this create a soft, safe space for your baby to play, but layering rugs in a nursery can also be very practical," Brosnan says. "Stains are inevitable with babies and I love that Nestig's area rugs are machine washable."
More Splashes of Color
Brosnan also anticipates that we will see more pops of color in next year's nurseries. "Parents have been branching out to bolder colors like bright blues, dark greens, and yellows," she says. "But more importantly, they are being increasingly thoughtful about where these colors are going." This may mean painting the trim to match the walls rather than leaving it white, or choosing a fun wallpaper pattern and painting the trim in a coordinating color, Brosnan explains. "Nestig has a ton of great wallpaper options for nurseries," she adds. "I think the stepping stone wallpaper would be adorable in a nursery with trim painted a coordinating color."
Incorporating Touches of Black
On the flipside, Tina Delia of Delia Designs says that we will also see more touches of black in the nursery. "Black was once a color we would never see in a nursery but the color is now having its heyday," she says. "Stepping away from the light and into the dark side, parents are utilizing black paint as an accent, black cribs, black and white bedding, wallcovering and accessories."
New and Improved Furniture
Gina Sims of Gina Sims Designs shares some new furniture finds that will make more of an entrance in 2023. "A large ottoman in the center of the room is awesome for a little one who is learning to crawl, climb and walk," she notes. Additionally, Sims says, "Gliders and rockers are a thing of the past now that power motion recliners and gliders have come to town! They move with the push of a button and are beautiful!"
Unique Furniture Placement
Why not switch up your nursery furniture placement for 2023? "Parents-to-be are becoming more adventurous with space planning," Delia shares. "Long gone are the days when all of the furniture got put up against the wall space." Some of this has to do with changing furniture shapes these days. "With curved cribs and statement cribs, parents are embracing the art of putting the crib in the center of the space to maximize the wall space for other furniture pieces," Delia adds.
Sustainability
Being as sustainable as possible will continue to be a key value among parents in 2023. "That means, they are looking for furniture with recycled content and the utilization of secondhand furniture," Delia explains. It may be time to plan that thrifting trip or simply take to your laptop! As Delia notes, "Facebook Marketplace is a great place to find a beautiful antique or vintage piece to add to the nursery space."