Design Advice
How to Choose Wallpaper for Your Child's Nursery
What better way than to jazz up your little one's nursery than with some wallpaper? In case you haven't heard, wallpaper is having a major moment these days. We're seeing it in rooms of all styles, big and small. "I love wallpaper and am keen to place it in bedrooms of any kind, especially nurseries," says Gianpiero Gaglione of Gianpiero Gaglione Interior Design. "There are so many benefits of wallpaper, which can dramatically change the look and feel of a room. For example, many wallpapers can introduce color and patterns in a way that other applications cannot." 
If you feel like hopping on board with this trend, then we have extra great news—Nestig has recently launched its own line of wallpaper! There are a whopping 19 different styles of wallpaper that you can choose from, each with its own special look. Maybe you're loving prints and patterns, or perhaps you're craving something that's solid colored yet textured. Either way, there's a wall covering for you! 
If you're a wallpaper novice or just need a refresher about how to make wallcoverings shine in your home, you've come to the right place. We polled interior designers on what to keep in mind when choosing wallpaper for the nursery, and they've shared plenty of useful tips below.
Be Sure to Have Fun
Malka Helft of Think Chic Interiors is a big fan of wallpaper. "I love using wallpaper and nurseries, it is a way to add some fun to the space," she says. "Wallpaper can turn a simple white furnished nursery into the playful environment you are trying to provide your child with." There are plenty of ways to incorporate wallpaper into a nursery, too. Why not think outside the box a bit? As Helft says, "I also love using wallpaper as an accent wall or an accent ceiling so it does not overpower the room but add a touch of whimsy."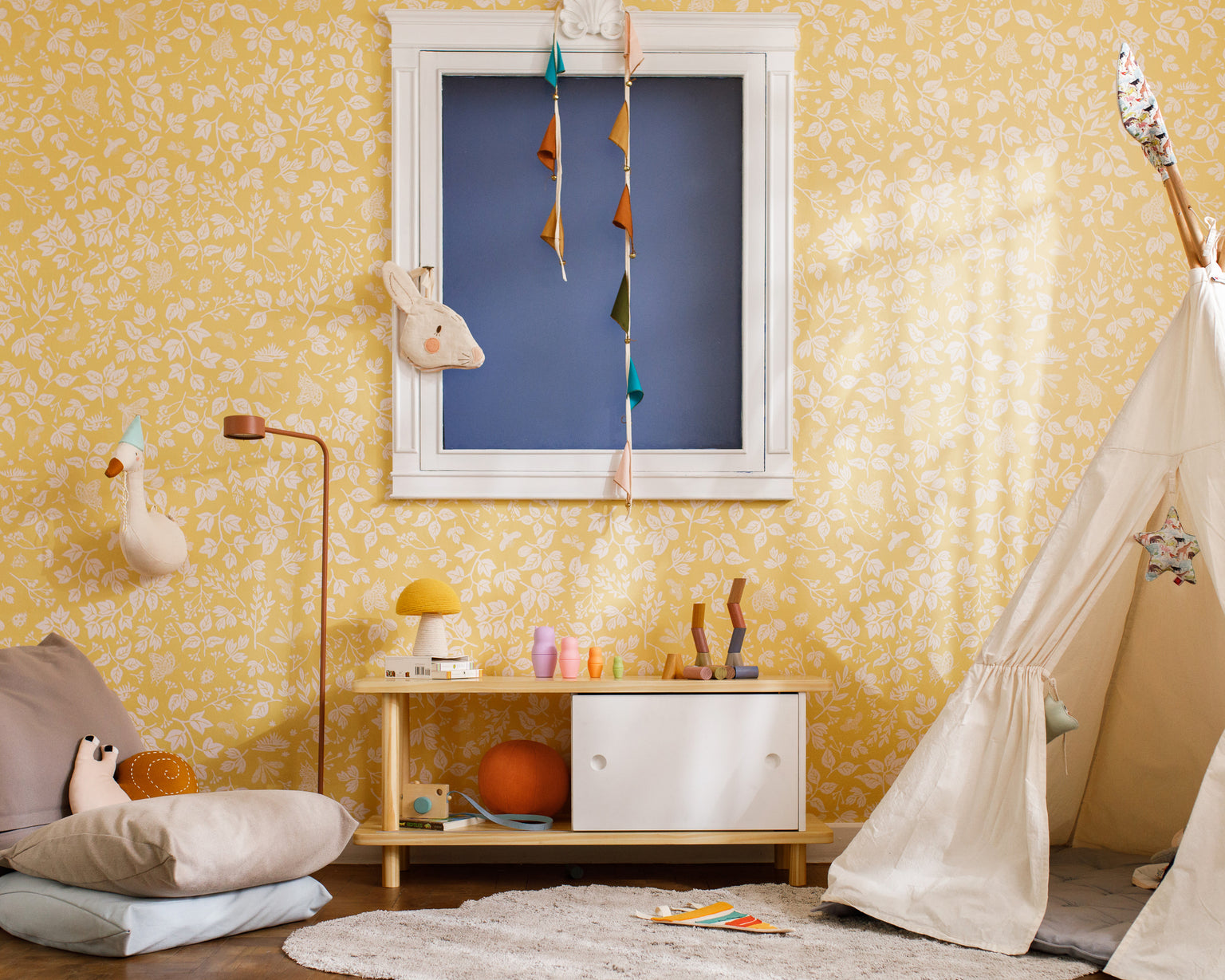 Keep Your Growing Child in Mind
Of course, wallpaper can be removed and replaced as needed over time, but the process can be costly and time intensive, so you may wish to design your child's space with longevity in mind. "Often I like to select something that will grow well as they age," says Megan Unger of Megan Robertson's Designs. "I love the Nestig Acorn wallpaper," she adds. "It is so sweet in a subtle way, and great strength with pattern." Unger says Nestig's Dash wallpaper is similar to what she used for her own daughter's nursery when she was a baby. Unger adds, "She is now six years old and I still love it! Plus, the wallpaper holds up really well." 
Ginger Curtis of Urbanology Designs.  agrees. "We are seeing a greater shift in nursery design towards rooms that are intentionally designed to last beyond the baby years," she says. The key, she adds, is "striking the perfect balance of imagination, whimsy, and longevity." There are a couple of ways to go about this. "One way you could achieve this is by pairing a more sophisticated wallpaper with playful art and decor," Curtis notes. "You could also flip this and a more playful wallpaper with a more sophisticated unexpected artwork."
Or Take a Risk!
Maybe you are happy to make frequent design changes and want to design a nursery that's solely for the Baby stage. "The length of time we have our babies in a nursery goes by so fast, so don't be afraid to go outside your comfort zone," says Noelle Isbell of Noelle Interiors. "Wallpaper is often the highlight of a space, because of the 'wow' opportunity it provides."
Identify a Style First
No matter what you're inclined to do when it comes to wallpaper pattern, you will want to nail down your desired aesthetic for the nursery before making a purchase. "Establish the style theme you want for the space in order to drive the pattern and color palette you source," Isbell explains. Maybe you're looking to design a nursery that features some sort of animal theme—Nestig's Safari wallpaper is an excellent pick. Love the grandmillennial look? Say hello to Nestig's Busy Brook wallpaper!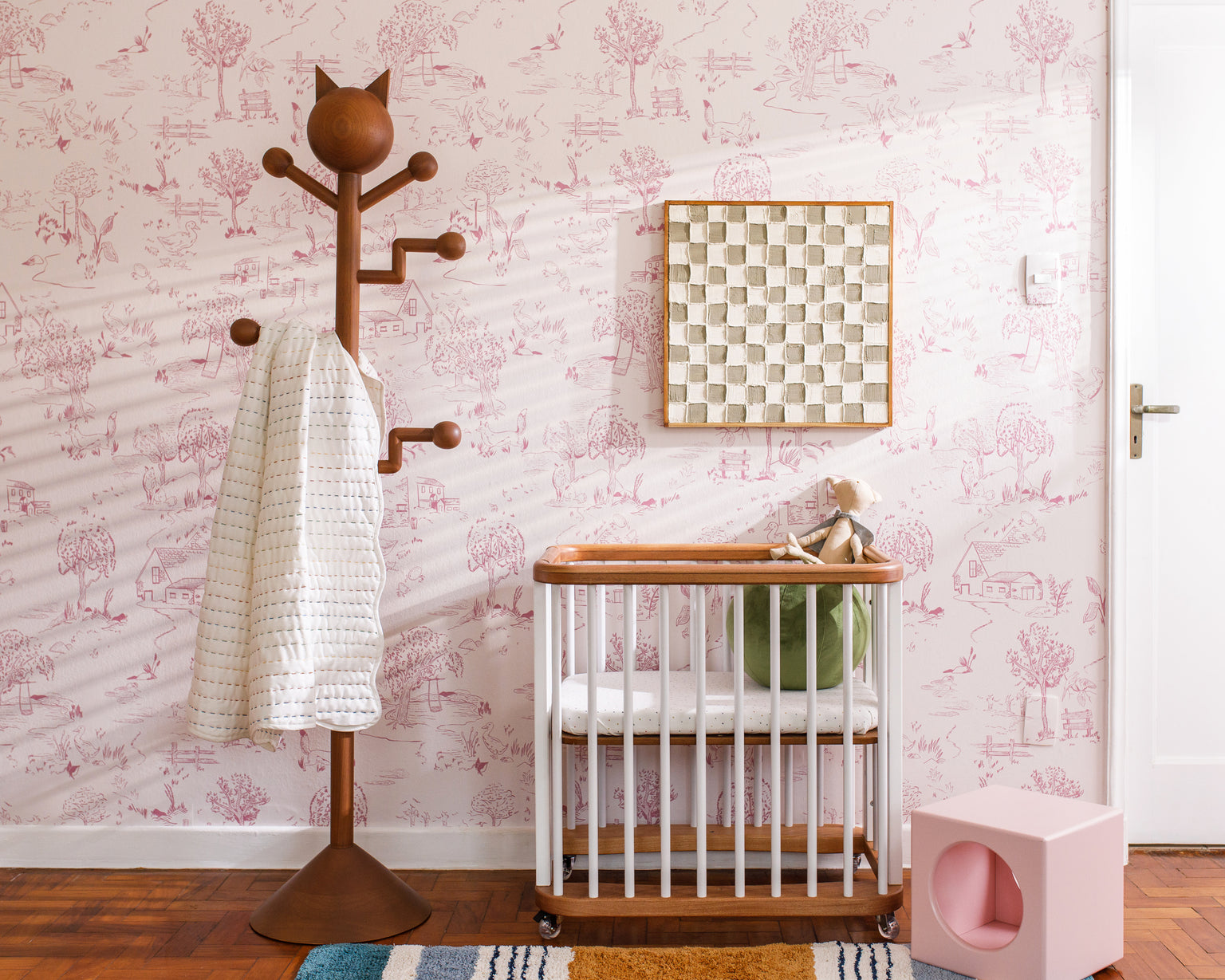 Order Samples Ahead of Time
As with any wallpaper purchase, you will want to order a sample ahead of time to inspect a pattern in person and see how it looks over the course of a day as lighting changes within a given room. Nestig makes it easy to do just that; for just $5, you can receive an 8 by 11.5 inch sample of any wallpaper pattern that speaks to you!