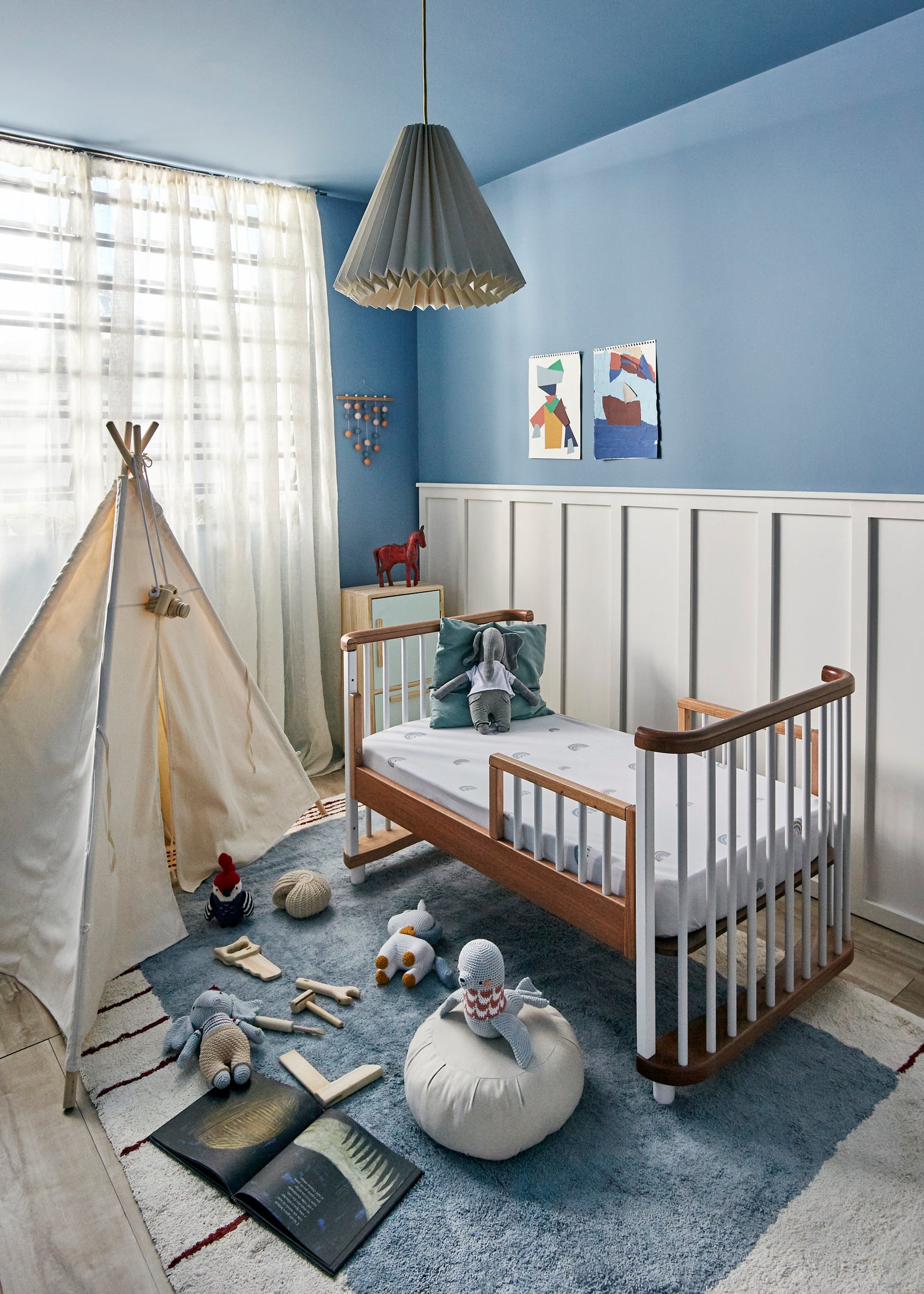 Design Advice
Wintry Touches to Add to Baby's Nursery
Halloween is now over and evenings are getting darker and chillier. But the good news is that winter and all of the fun it brings is right around the corner—and that means that it's time to deck out Baby's nursery in honor of a new season! Whether you're someone who goes all out with holiday decor or you're drawn to a simpler look, we've rounded up some easy ideas that can make your child's nursery feel a little more festive over the next few months.
Cut Out Paper Snowflakes
This craft project is oh-so-simple and will take you back to the good old days of when you were a little kid. You probably know the drill—but here's a quick tutorial if you need a refresher. Round up some craft paper and scissors and get to work. When you're done with your snowflakes, tape them to Baby's windows or hole punch them and make a garland to hang in the nursery entryway. This is a great activity to complete if you have older kids. They'll enjoy exploring their creative side, and if they're not old enough to do their own cutting, you can encourage them to color and decorate the snowflakes that you cut out. Make this project extra fun by stocking up on sparkly stickers, gemstones, or whatever else strikes your fancy!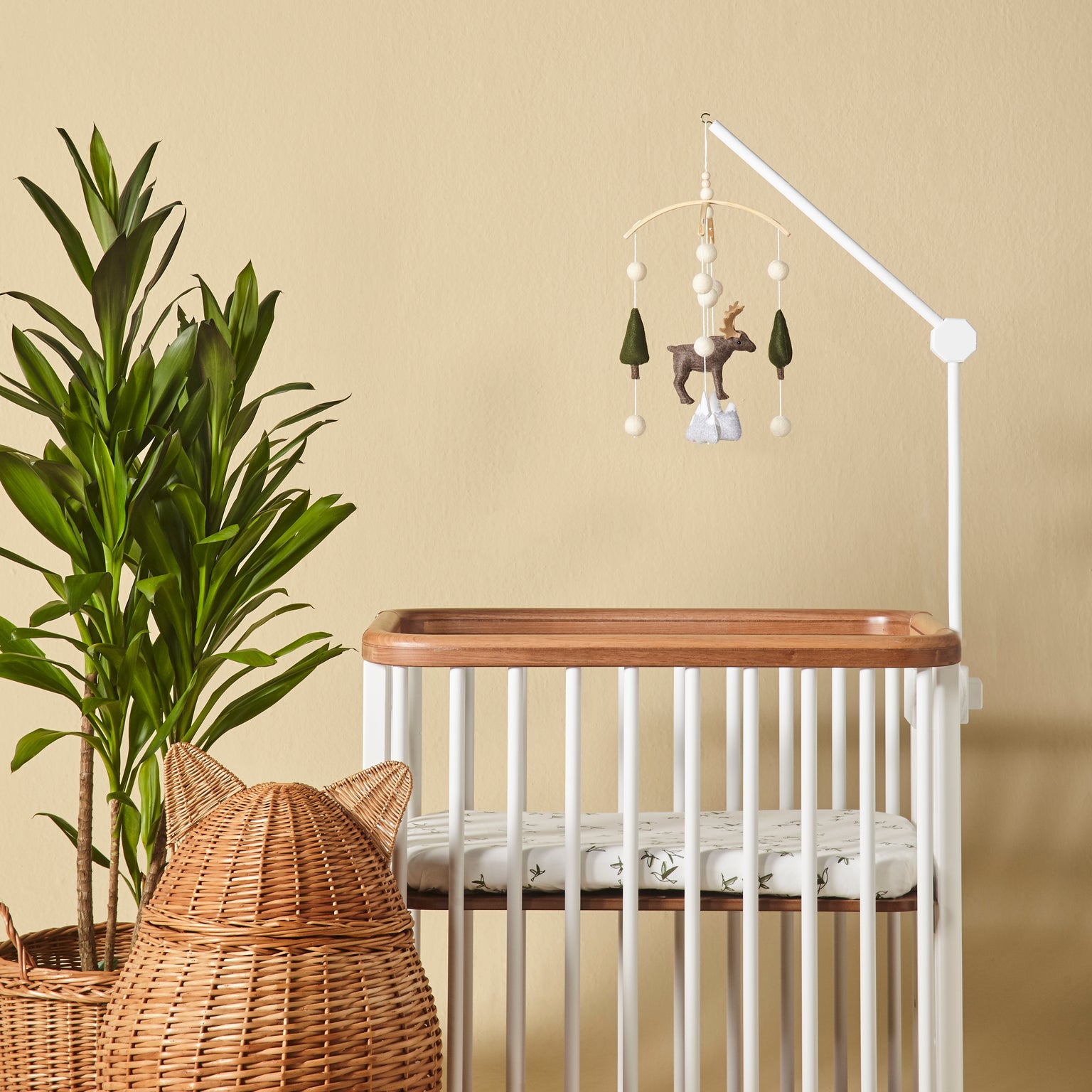 Swap Out Baby's Mobile
New season, new mobile? Hey, why not! Give the nursery a little refresh for winter by hanging up one of Nestig's mobiles that fits the mood. The Snowcap mobile literally depicts a wintry scene—your little one will enjoy having something new to look at, and this small change will help everyone get into the winter spirit.
Add Some Holiday Decor
Maybe you've already started jazzing up the rest of your home in honor of the upcoming holiday season—so why not bring a little bit of magic to the nursery, too? Take some of your favorite decorations from other rooms of the home and bring them into Baby's space—place some bottle brush trees or a menorah on the dresser and place a snowman stuffed animal within eyesight of the crib. Of course, be mindful of your little one's age and ability to pick up objects before setting out decor to keep Baby safe.
Try Some New Crib Sheets
You likely need to stock up on another pair of crib sheets anyway, so why not pick a design that can be viewed as seasonal (but will totally work the rest of the year as well)? Nestig's Juniper sheets are reminiscent of majestic forests, making us think of wintry outdoor excursions. Note that this is actually part of a sheet set that comes with a solid bright white sheet as well. Best of all, Nestig's sheets are always non-toxic, made with all natural dyes, and made to machine wash and dry.
Hang Up Holiday Cards
Maybe you're starting to receive holiday cards and just don't know where they should go…well, you can always display a few on a memo board in Baby's room! This is an excellent way to "introduce" your little one to special friends and relatives, too. You can make a special display of cards just from cousins, for example, and help your child get to know people who perhaps they have yet to meet!
Display Winter Themed Art
You may think that shopping for art means investing in a costly new piece, but keep in mind that there are so many affordably priced digital downloads available these days that are wonderful for spaces like the nursery. We like looking around on Etsy and related sites to find pieces that cost just a few dollars and can be printed out at home or at a nearby print shop—there's truly a world of options out there; narrowing down everything you find will be the challenging part! Search for winter scenes, holiday motifs, or anything also that inspires you and hang a little gallery wall that you can change out over the course of the year as you wish. Keep in mind that opting for matte or glossy paper will make any artwork look more professional and presentable.