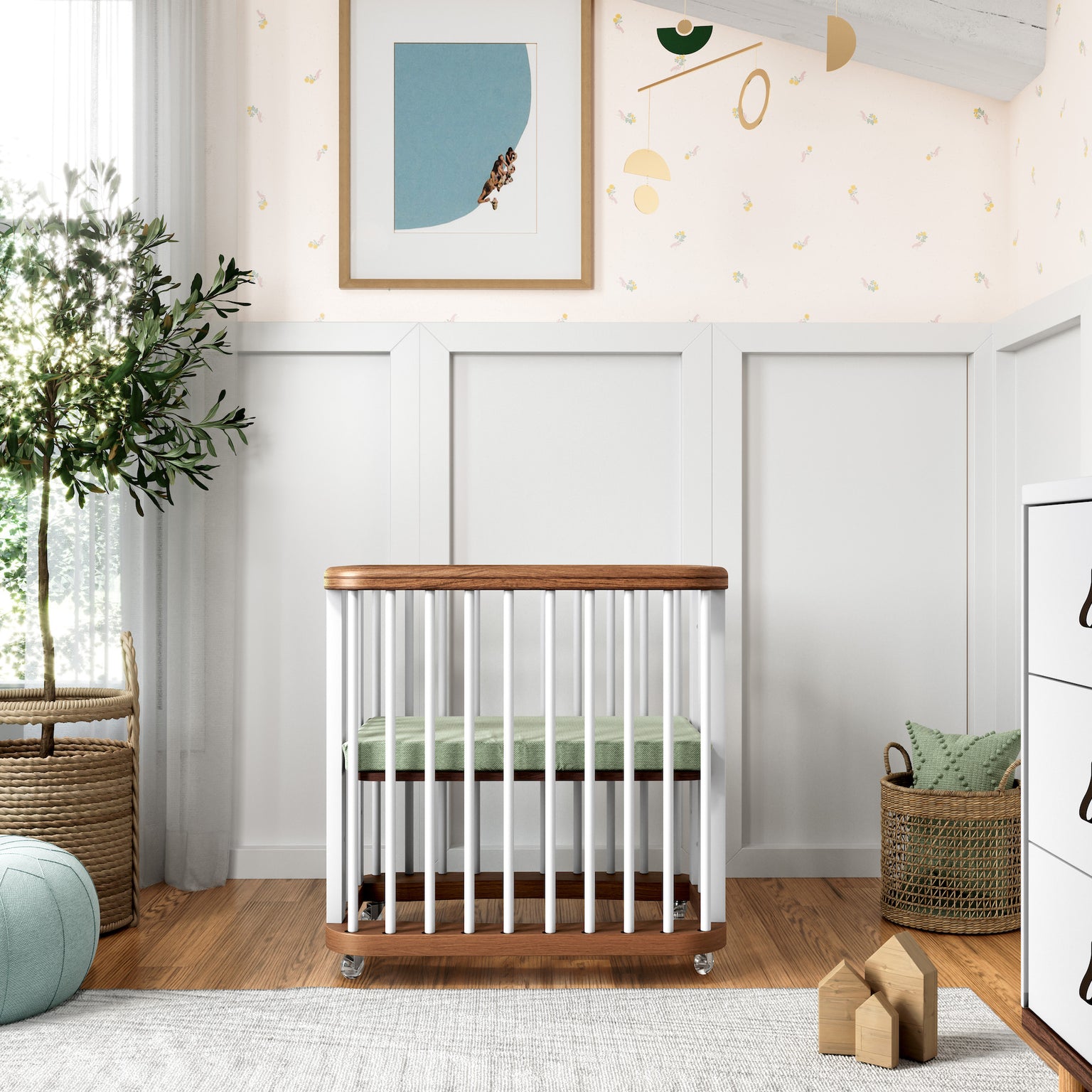 Design Advice
Bassinet vs. Crib: What's the Difference?
We all know how many decisions are involved in the process of waiting for Baby to arrive. There's picking a name, thinking about a nursery setup, and of course, selecting the specific products you'll need once your bundle of joy is born.
One decision that every parent makes is where their baby will be sleeping. Most parents decide between a bassinet, a crib, or both. What are the differences between the two and how can you choose which option is best for you and your baby? Let's get into it.
Why Parents Buy Bassinets
Bassinets are popular for a number of reasons. First of all, they're generally mobile, which is great for parents who wish to share a room with Baby, whether due to living in a small space or simply wanting to make midnight feedings a bit easier. Additionally, bassinets come in a variety of sizes and look right at home in other parts of the house, like the living room, come naptime. Parents who'd like to hang out with their little one while he or she snoozes will definitely appreciate this option. 
As an added benefit, these small beds tend to be on the cheaper side, which is great for the budget-friendly parent.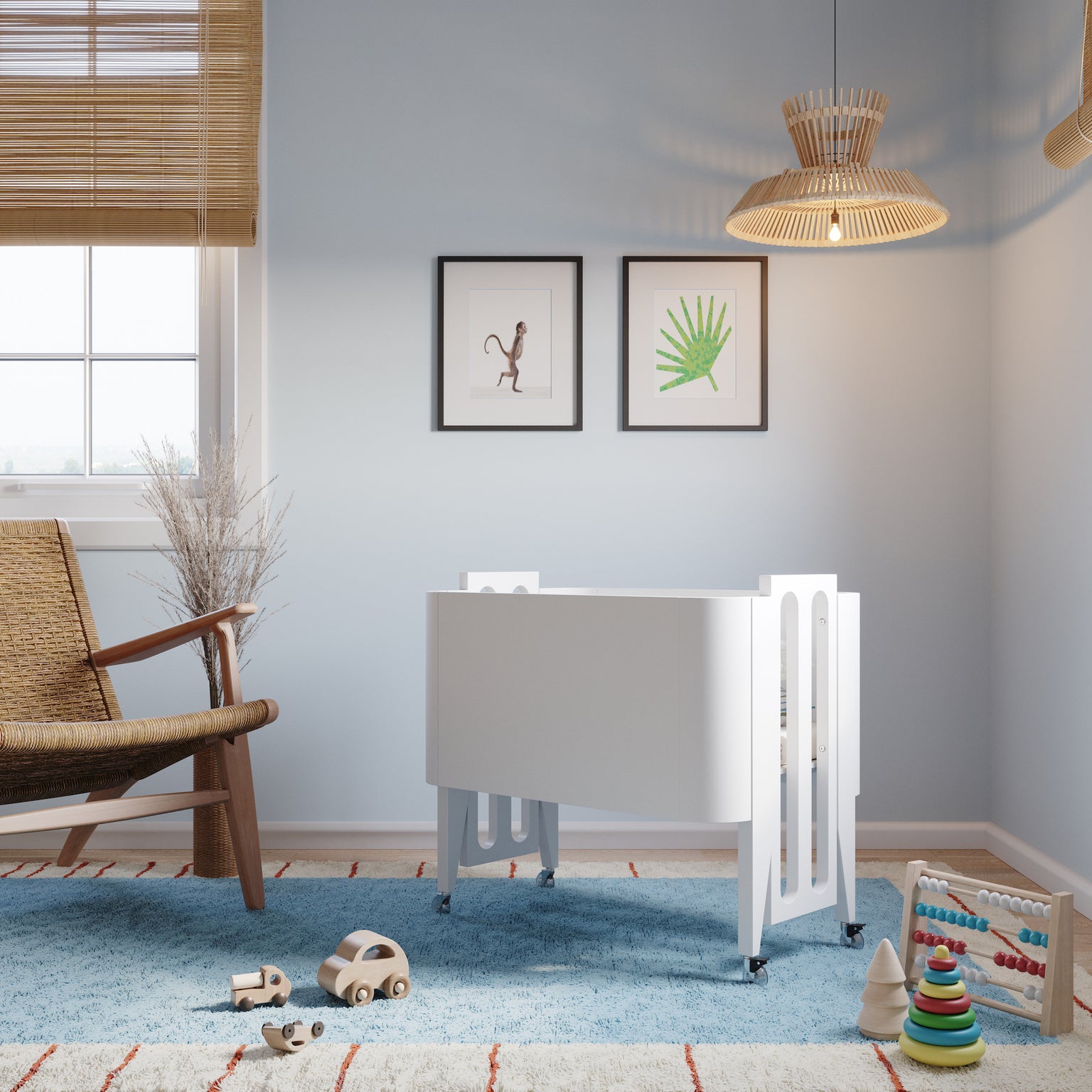 Why Parents Buy Cribs
On the other end of things, many parents buy cribs rather than opting for a bassinet. Cribs are a larger investment up front but can last longer given that they can accommodate a child as they grow. Bassinets are also usually smaller in length compared to a crib, so as your child is growing and getting taller, they will outgrow the padded space inside where they would be sleeping.
Bassinets are great for when babies are very small and unable to sit up or pull themselves up. As children get older and become more mobile, they can potentially fall out of a bassinet due to its structure. Cribs, however, allow you to adjust the distance between the mattress and the top of the crib, so as your child gets bigger and can stand up, there's an ability to change the crib to make it safer. You can lower the mattress, making it so your little one cannot climb up and over, potentially falling out of it.
Cribs are also made to be more durable and be better quality, given that they are designed to last many years. They also are a quintessential part of any nursery, and many parents appreciate incorporating them into their child's bedroom design. That said, cribs are much larger than bassinets, so carving aside sufficient space is key.
Why Parents Buy Both
Given that bassinets and cribs each have pros and cons, some parents will choose to buy one of each.
Many parents appreciate being able to roll their bassinet around the house and make any room, including the primary bedroom, a place for safe sleep for their child. 
At the same time, designing a nursery includes adding a crib more times than not. Parents want to make their baby's room special and cozy, so a crib is a go-to pick! Plus, your child will need one anyway once they move past the newborn stage and outgrow their bassinet.
Are Both Considered Safe for Sleep?
Ensuring that your little one is safe and sound while catching ZZZs is of the utmost priority, to say the least. The good news is that both bassinets and cribs are places where babies can practice safe sleep. However, making sure that your baby is not sleeping in the bassinet past certain developmental stages will ensure the space you have your baby sleeping in is indeed safe.
How to Get the Best of Both Worlds
When it comes to picking out a crib, some models are more versatile than others. You will want to invest in a piece that is safe, functional, and aesthetically pleasing, and The Wave Crib is an excellent pick given that it checks all of these boxes and is also convertible.
This three-in-one bed can transform from a mini crib for newborns to a full-size crib and then to a toddler bed when needed. Therefore, this one crib can serve the purpose of three separate beds. The crib also comes with wheels which makes moving it a breeze—it has a bassinet-like quality in this respect.
Figuring Out What's Best for You and Your Family
As you get closer to shopping for a crib for your baby's nursery, consider these options and what works best for your baby and family. Does buying one or the other fit better into the way you would like to do things, or does investing in one quality crib that can last years down the road?
If you'd like to learn more about Nestig cribs, click here to read our FAQ section!