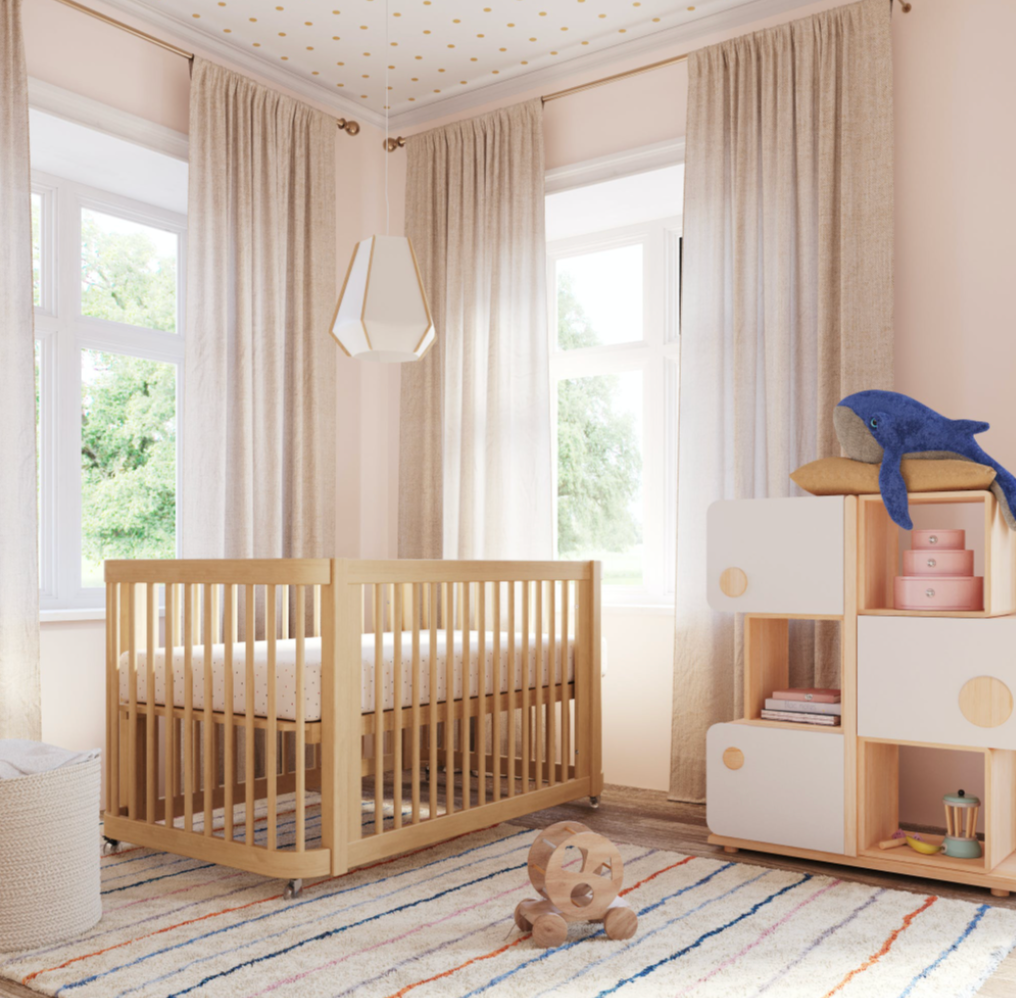 Design Advice
14 Unexpected Nursery Themes for Every Personality
Your baby's nursery is so much more than just a room for them to play and sleep in. It's an opportunity for you to create a magical space that evokes a feeling as soon as you walk in; a place where you and your baby will find rest and where unforgettable memories will be made. 
As you start thinking about the interior design of your little one's space, it might be helpful to choose a theme to be your north star. We recommend choosing something that feels true to you—a love for something that you want to pass along to your little one for them to enjoy for years to come. 
Keep reading to get inspired by 14 unique and unexpected nursery themes that will ensure that your baby's nursery feels fresh, lively and full of personality.
Combining vintage school style with dashes of nautical, a preppy themed nursery is a simple way to give any space sophistication without taking itself too seriously. Instantly get the look with classic patterns like plaid, gingham or stripes as accents in wallpaper, quilts, rugs or sheets. A great way to give the room a personal touch is with artwork that features letterman jacket-style names or nautical flags spelling out their initials—too cute! For a pop of color, look to blue (navy is perfect!), yellows, reds and deep green—simple go-tos that feel timeless, yet still on trend. Also, our Wave crib, with its light Brazilian pine is the perfect wood tone, subtly calling back to golden sands. Lastly, choose shelves that are designed to highlight books—a perfectly practical way to get that spunky scholastic feel. 
Mid-century modern is a hugely popular trend in the interior design world, but it's broad enough that you can still truly make it your own. Often seen with dark, rich woods and bold architectural elements, we love the more minimalist approach which feels sweet and serene. You can make this look your own by choosing boldly-designed furniture pieces that feature softer colors—our Candy Cloud Crib is a perfect example! We also love the addition of indoor plants (placed safely out of baby's reach of course), minimal textiles and dreamy vintage travel posters that will give your baby's nursery an aesthetic worth dreaming about.
Ah, Paris! There are few places that are so loved and so dreamed about which make it, in our opinion, the perfect place for nursery inspiration. Here, think high style—literally! Floor to ceiling curtains, pendant lights, painted ceilings, this is a great opportunity to incorporate design elements that bring the eye up. Keep any patterns simple and chic, tiny polka dots or the classic French Breton stripe are a lovely place to start. For color, we're inspired by the pastels of macarons—ballet slipper pink, green, pearlescent white, often the classic colors that you think of for a baby girl's nursery.
If you believe that there's no such thing as too much of a good thing, a maximalist themed nursery might be your go-to. Accent walls, vibrant rugs and design-forward details lead the way in this modern and Instagram-ready nursery trend. With this design direction, more is more, which can sometimes get a little tricky! To avoid the room looking chaotic or thrown together, we recommend pulling from a specific color palette when picking patterns or accessories. Once you've picked hues you love, mix and match to your heart's content!
Here's a slight twist on a classic girl's nursery theme that we're loving—wildflower garden! Led by delicate "ditzy" florals, this theme is all about evoking the feeling of a breezy, summer day under the clouds (and we're loving our Arches mobile as the cherry on top). When picking your colors, imagine your dream wild garden, the cream of Queen Anne's lace, the bright yellow of chamomile, the rich blue of bluebonnets—spritely tones that instantly uplift. This theme is a perfect opportunity for a lived-in look with vintage elements combined with modern touches.
Beach-themed nursery decor will never go out of style, but if you're looking for a unique twist, we're looking to one of our favorite moments for inspiration—a seaside sunrise. Combining the cool tones of the morning sky with those of soft sand and pale waves, this nursery instantly creates a haven for calm. Choose soft textiles that feel light and breezy and furniture with delicate elements. Recreate the warm glow of the sun rising over the water with warm-toned bulbs in lamps and lots of natural light.
If your idea of a dream Saturday is one spent browsing the latest contemporary art exhibit, you might find some inspiration on the gallery walls for your baby's nursery. Pull in architectural elements with bold furniture (may we suggest our beautiful Cloud Crib?) and lighting that give your space that substantial, modern feel. Don't shy away from patterns and textures, but think more about big graphic or abstract prints rather than more classic patterns like plaids, gingham or tiny florals. With color you can really get creative, combining swaths of bright tones with more muted hues; we love looking to modern color masters like Matisse or Ellsworth Kelly for inspiration.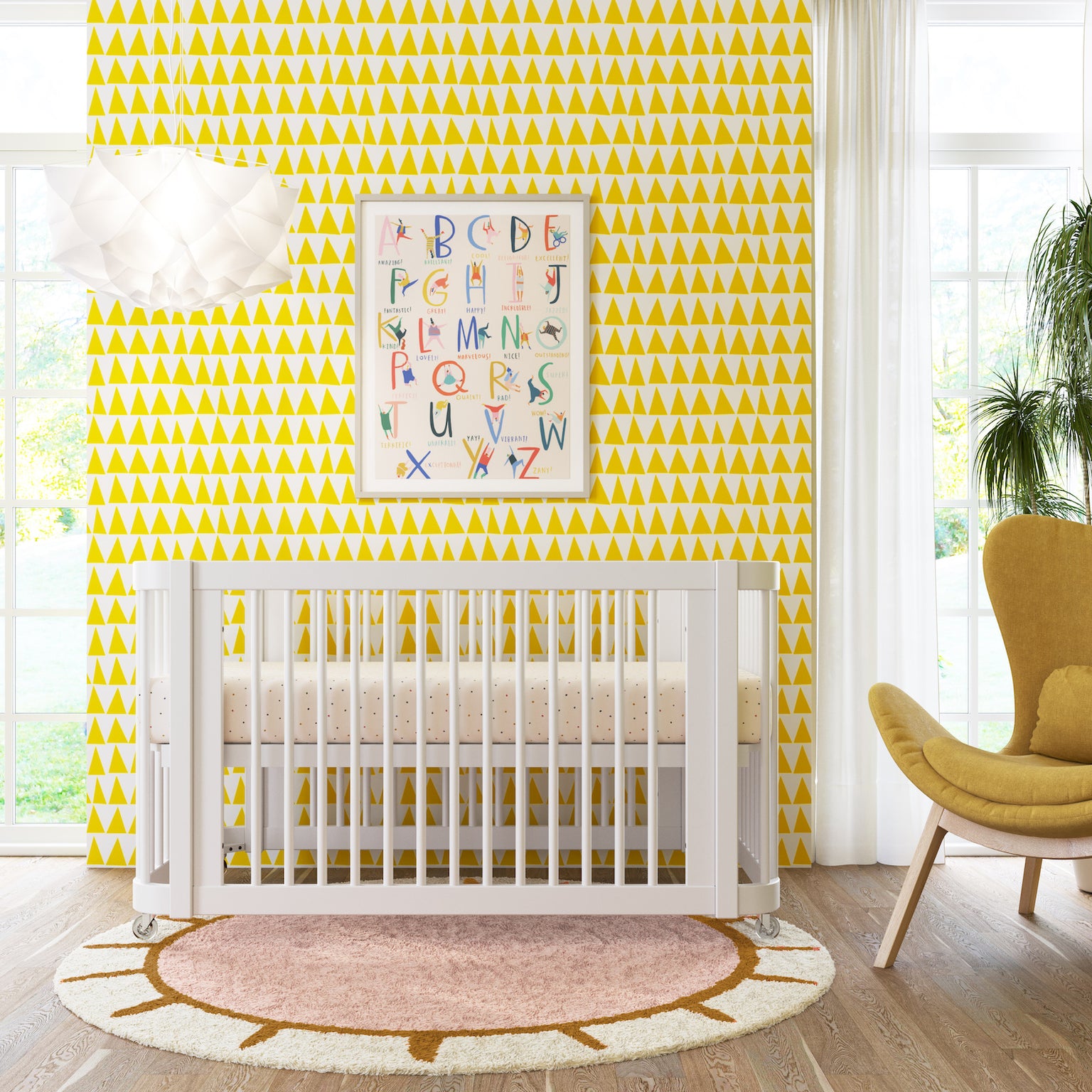 Grab your colored pencils and construction paper and craft yourself the perfect art class-inspired nursery. Using vibrant pops of color and geometric shapes instantly recalls days of creativity and imagination. This theme is a great opportunity for playful art or even a mural accent wall. Though any modern looking crib could work in this setting, we love our white Wave crib, which instantly evokes the endless possibilities of a blank page.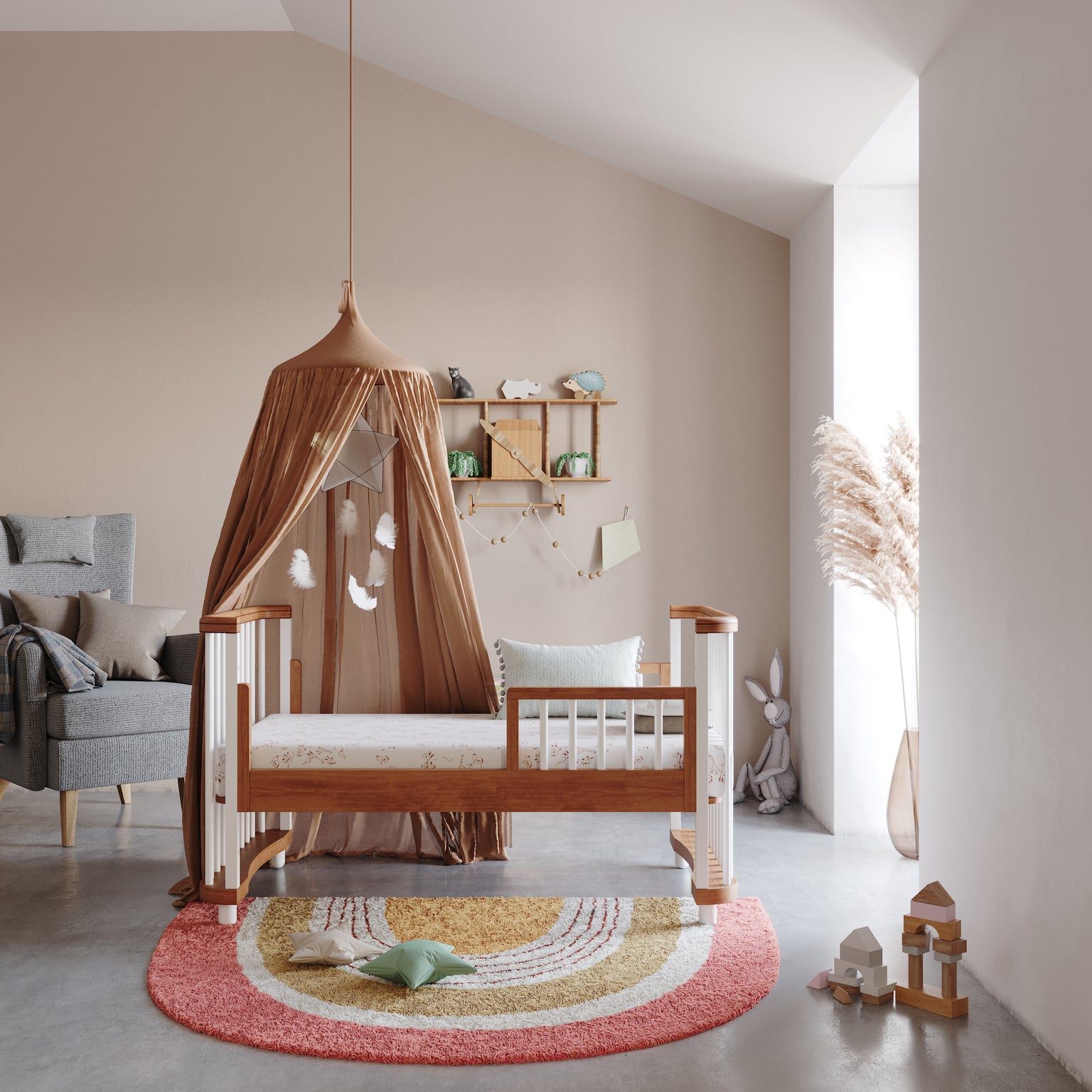 Boho is one of the more popular nursery trends that we see, but there are always ways to make it incredibly unique and feel special and specific. Choose a color palette that's desert-inspired; look to terracottas, warm woods, sage greens to give your space warmth and a feeling of richness. Our Arches rugs are the perfect accessory to this trend with their vibey color palette and wavy lines. Boho style never takes itself too seriously so it's a great opportunity to bring in a lot of playful and magical elements. Out-of-reach plants, crystals and lush textiles add life and texture. We recommend building the room around a focal point crib (our Cloud can't be beat!) with a canopy for maximum impact.
Inspired by a cool classic, a newspaper themed nursery will be an unexpected, yet instant classic. The bold typefaces and minimalist color palette are a great way to bring some modern energy into your space while still keeping things fresh. Our Candy Cloud in Black Licorice is a dynamic addition—the black against the pine accents gives off that cool-kid mid-century style, which fits perfectly with the Mad Men-adjacent theme. Our Castle rug also happens to be perfect for this style, recalling the blank boxes of the daily crossword. For art, we'd choose anything text-based (and black and white of course!) like some of your favorite quotes, song lyrics or even your little one's name written out in cool typeface.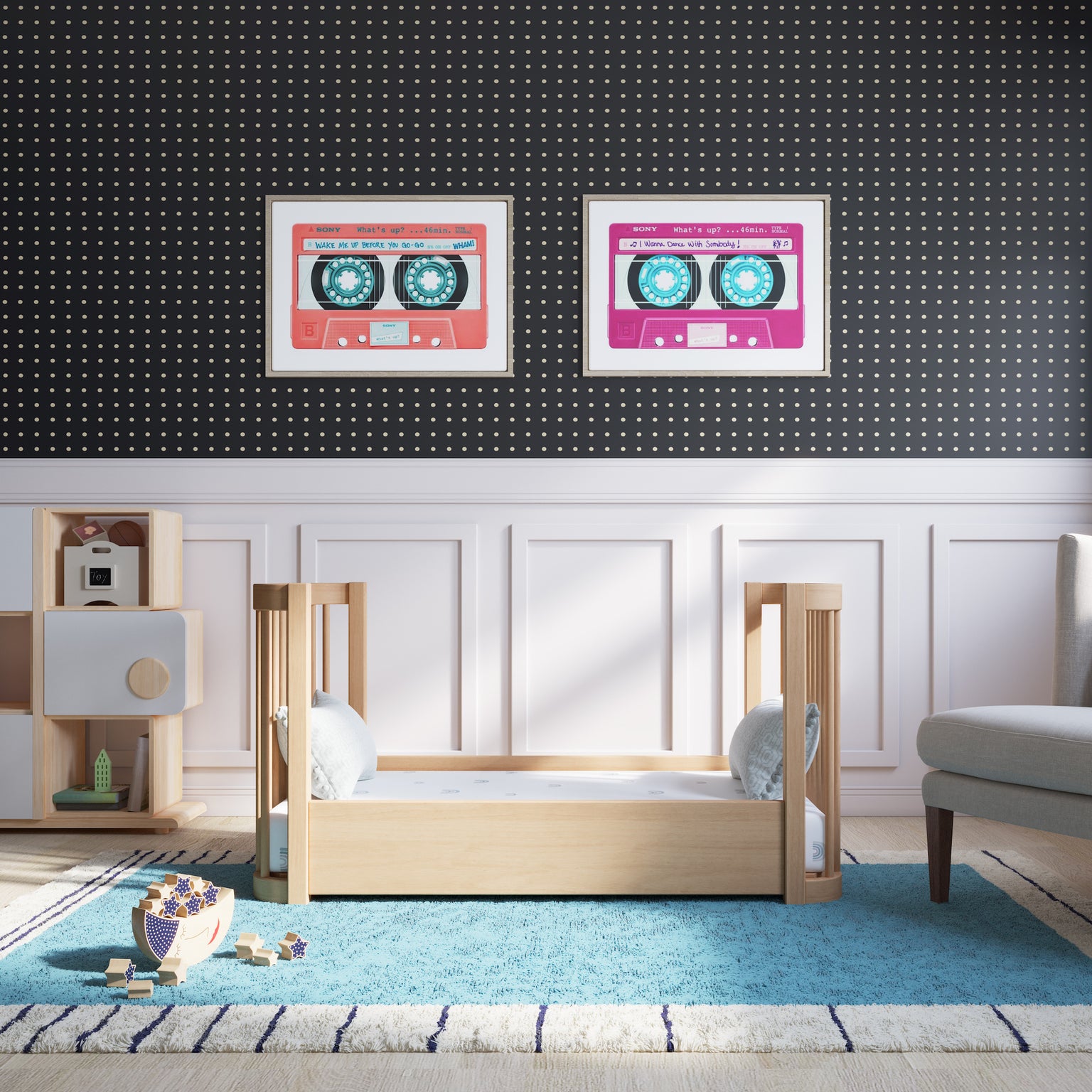 If your interior design style focuses on the good ole' days, this nostalgic, retro style is the perfect thing to consider. Everyone's favorite time in the past is different, but here we love the throwback to the 90s with bright pops of color against a black and white background. This style is a great opportunity to show off items from your own childhood—we love the look of framing clothing or other fun memorabilia to hang on baby's nursery wall. The key with this theme is to be selective about your decor elements as to keep things looking stylish and clean and not over the top.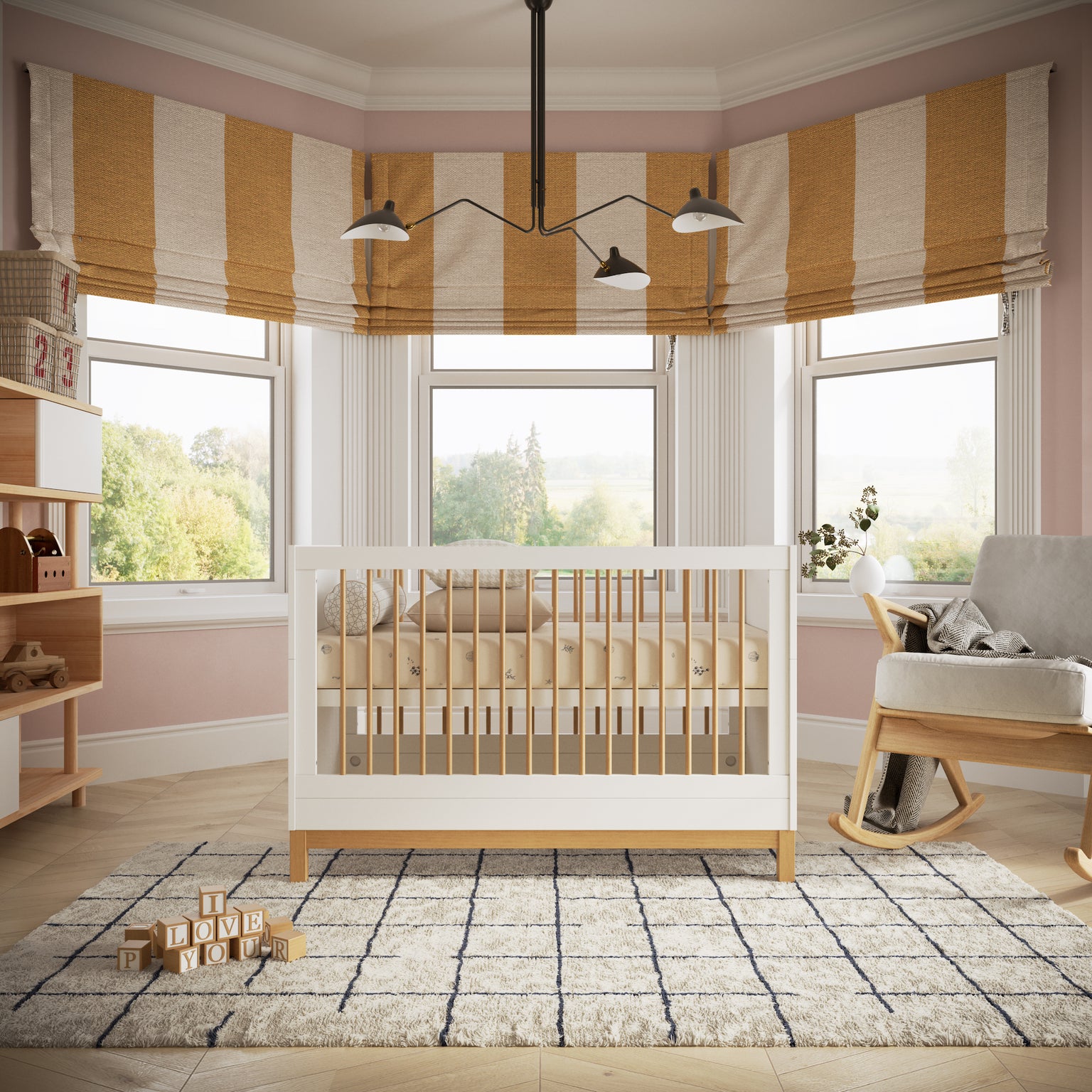 There's nothing more storybook feeling than classic English countryside decor and we love this look for a baby girl's nursery. Pale pinks with marigold accents or navy and green with micro-florals capture that instant old world charm. Our Mountain Crib has traditional elements that fit beautifully into this concept while still feeling modern and polished. This nursery theme is also a great opportunity to get a little whimsical—think Secret Garden or Beatrix Potter, let your imagination run wild!
Another spin on a classic, this wild animal themed nursery goes all in. Wall murals are an incredibly impactful way to style your baby's nursery wall—they're an instant imaginative world for your little one to dream about. Pick one wall (often the one behind your crib!) and build your space around it. When picking something bold like this, we recommend keeping other furniture elements clean and light so that they don't pull focus away from the statement wall. An animal theme is also one of the easiest to find nursery accessories for—we're partial to our Savanna sheet set which showcases safari animals like elephants and giraffes in a beautiful sunset color.
If you want to feel light and airy every time you enter your baby's space, a fresh linens-inspired nursery is a dreamy place to start. Inspired by the breeziness of white sheets sun drying on the line and the cozy, homey smell of laundry right out of the dryer, this style will keep your head clear and your heart full. Look to natural textures like cotton and linen in pale cream, white or gray tones to compliment the light colored wood accessories. Keep all of the furniture items plush, nothing too dark or too heavy to weigh down the look. This is also a great style for the minimalists who want to keep things free of clutter. Tastefully chosen artwork, small shelving and attractive storage are finishing touches that we love.