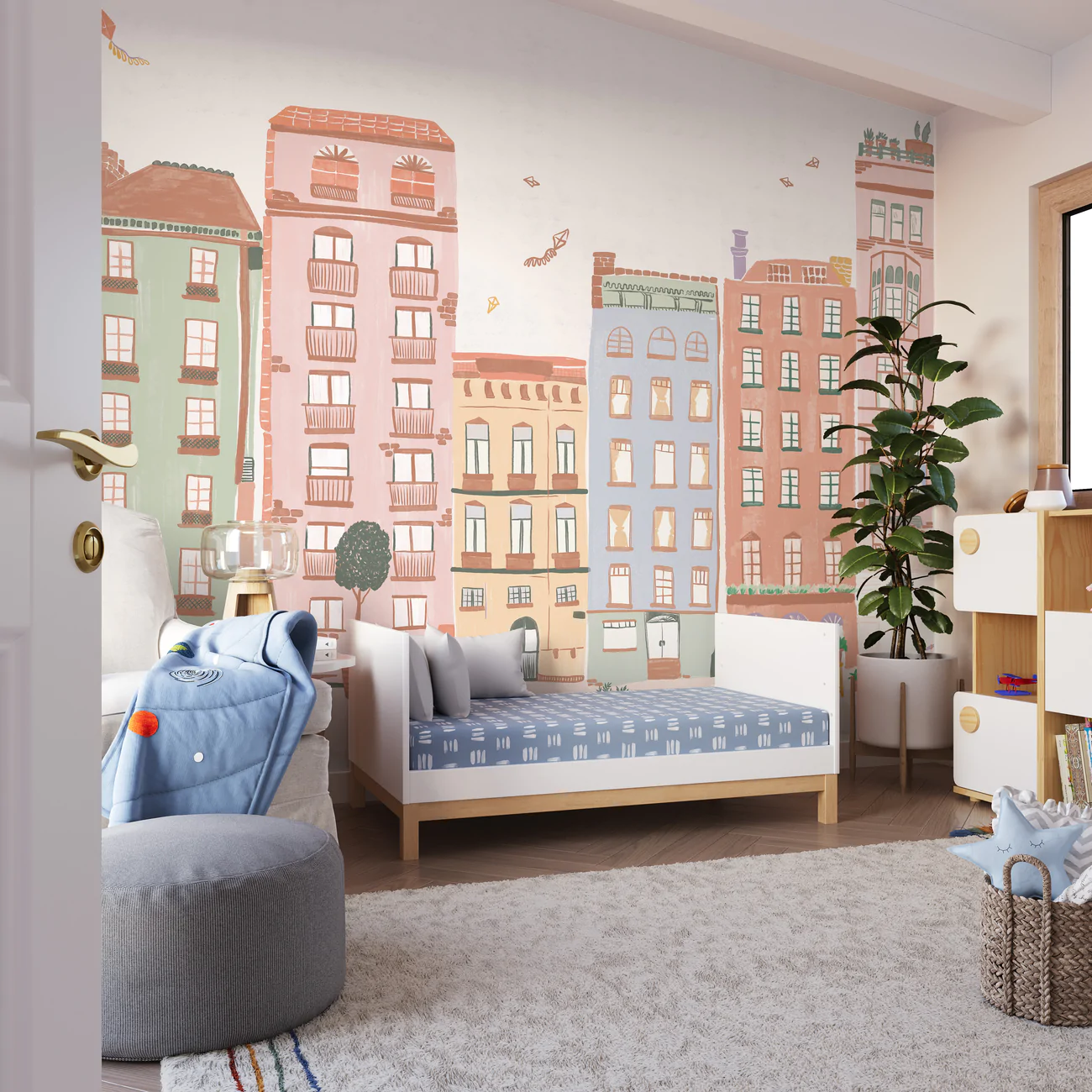 Design Advice
3 of our Favorite Underrated Nursery Themes
One of the most exciting parts of anticipating your baby's arrival is getting to set up the nursery so that it's all ready to go once your son or daughter makes an entrance. You'll need to stock up on all of the essentials, of course, but then you'll get to do a bit of decorating that's purely aesthetic, too! While themed nurseries are super cute, perhaps you're looking to go in a direction that isn't nautical, jungle, or circus related. That said, it can be difficult to brainstorm a nursery theme from scratch, and that's where we come in! Read on to learn more about three of our favorite underrated nursery themes that will inspire you.
Madeline
What's not to love about little red haired Madeline? The children's book has been a classic for over 70 years and is full of charming illustrations by Ludwig Bemelmans. We can't get enough of the idea of a Madeline-themed nursery. Such a space can lean both literary and Parisian, and what's better than teaching your little one to appreciate books and the City of Lights? 
To design your own Madeline-themed nursery, we suggest stocking up on tons of books from the series (there are over a dozen in total) and displaying those on your baby's shelves. If you're looking to get creative, you could purchase a few extra book copies and frame favorite pages for your little one to admire from her crib. We suggest checking eBay or the thrift store for this project so that you aren't wasting perfectly good new books! Once these are up on the wall, the end result will be absolutely stunning. After all, the Madeline books are known for being so colorful and impeccably illustrated; the pages will add so much charm to your baby's space. 
Because Madeline's story takes place in Paris, you'll of course want to add some Parisian flair to the nursery. It may seem difficult to introduce a Paris theme into your baby's space without falling back on cheesy looking decor, but trust us, you certainly don't have to go that route. In this instance, we suggest going glam and ornate rather than plastering Eiffel Tower decals all over Baby's walls. Not sure where to begin? Addressing the nursery's existing lighting and mirrors will make a major impact. Take down that bland builder grade fixture and hang a sparkling chandelier in its place. Say goodbye to any mirror choices that lean too modern and pick up something nice and ornate to go above Bebe's dresser. When it comes to textiles, opting for whites, pinks, and blues will add more subtle Parisian charm to the nursery.
For a finishing touch, display a stuffed animal version of Madeline's beloved dog, Geneveieve—she will always be there to greet your little one (and if you have a real furry friend at home, Baby will particularly love having her own!). 
New York City
Wild about the Big Apple? Raise your little one to become a proud city slicker by designing a NYC-themed nursery that will be the talk of the town. What's particularly excellent about this approach is that when it comes to picking a color scheme, you can truly go in any direction that you wish—after all, we see so many different hues across the city! 
First things first, you'll want to tackle the walls. These days, there's lots of adorable wallpaper on the market that features a New York City motif, and you can even opt for peel and stick options if you're a renter. But just because you've hung your wallpaper doesn't mean you're off the hook. You'll need some wall art, too! Why not pay homage to Mom and Dad's favorite NYC spots by hanging some framed matchbooks on the nursery walls? Whether you choose to go the DIY route or support one of the many artists that offer these types of creations, you can't go wrong. Snag an elusive Polo Bar matchbook or honor your first date spot!
Another piece of wall art that we love is the NYC alphabet print by Mr. Boddington's studio. This is oh-so-whimical and perfect for a child's room. Once your baby gets older, he or she will love identifying some of the words and pictures showcased on the chart (can you say "everything bagel?"). 
Lastly, no NYC themed nursery would be complete without a mobile that reflects the sights and sounds. Look for something featuring taxi cabs, skyscrapers, and other quintessential city landmarks. Beep beep!
Travel Bug
If you and your partner are always on the go, your little one will likely have some wanderlust, too! Prep Baby for a life full of adventure by designing a travel-themed nursery that reflects some of your most memorable journeys. Print out photos from explorations you and your spouse have enjoyed and pop them into frames. If you've saved any maps from foreign cities, consider framing those, too—maps both big and small are always so eye-catching and make for great artifacts. 
Then, select some of your favorite souvenirs—whether they're from all across the country or across the world—and display them on the nursery bookshelves. You want your little one to grow up with a sense of wonder and curiosity, after all! Just choose items that aren't too breakable or precious; when Baby enters his or her toddler years, things will most likely get knocked over at some point. 
Every nursery needs some blankets and pillows, and if you've collected various textiles during your travels, why not incorporate these into your room design? Maybe you're handy with a sewing machine and can create your own pieces, or you can turn to a professional to have something custom made. 
Finally, any travel bug's nursery should contain something suitcase-inspired! Skip the boring plastic storage bins you see everywhere and instead use a vintage suitcase to hold toys or off season clothes. It will fit right in with the nursery theme while keeping the space nice and neat—it's a win-win!