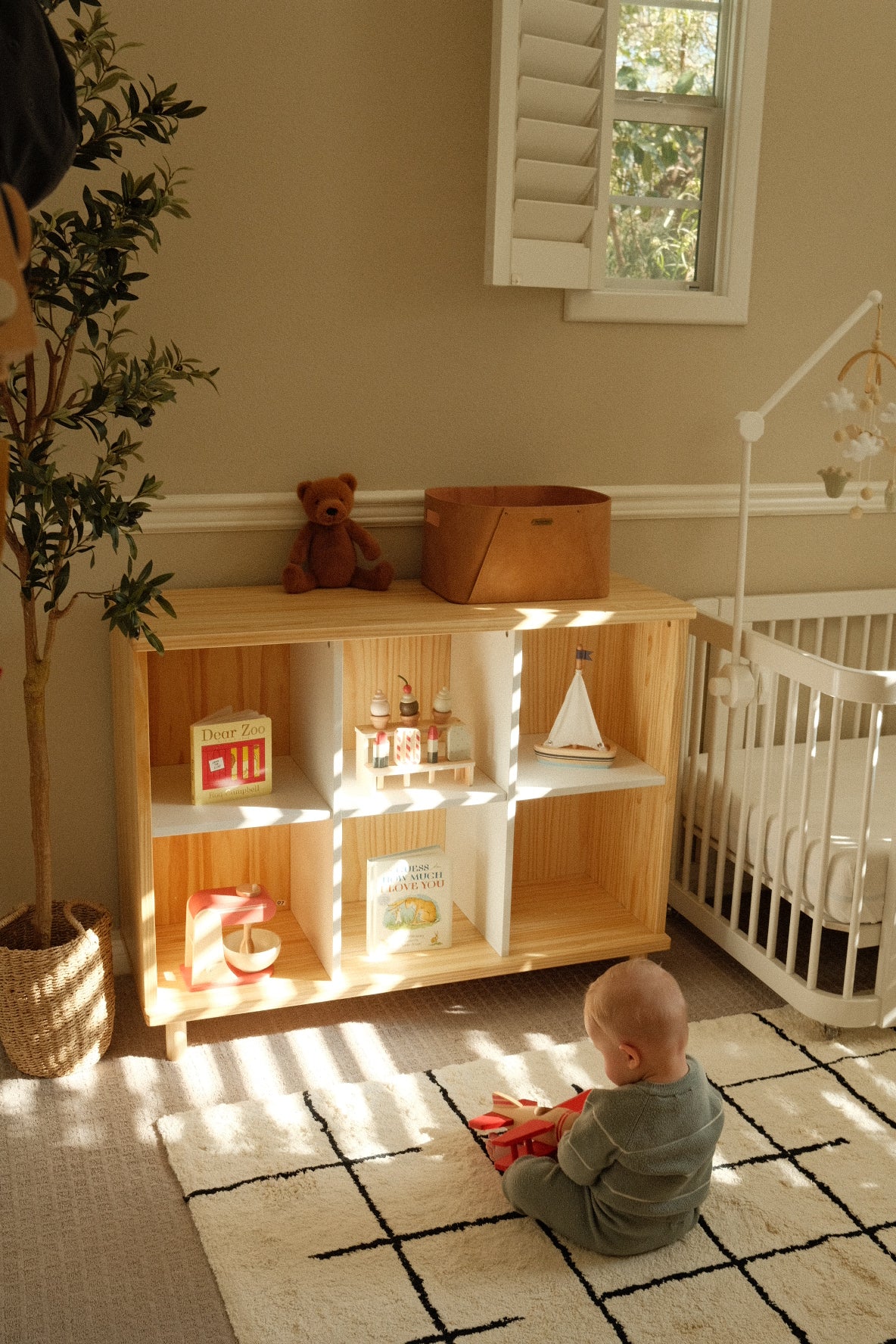 Design Advice
5 Ways to Use Our Discovery Shelf
Standing almost 35 feet tall and featuring six cubby-sized compartments, our Discovery Shelf is an incredibly versatile piece that can be used a number of different ways in Baby's space. We're outlining five of our favorite uses for this shelf below—it's a nursery game changer for so many different reasons.
Store Books
As a new parent, you're likely going to be receiving lots of board and picture books as gifts from family and friends. Plus, you may even have some childhood favorites on hand that your own parents have held onto all of the years. All of these good reads need a home, and our Discovery Shelf doubles as an excellent bookcase. Arrange books in color order, by subject, or however else you please!
Store Clothing
Whether you don't have space for a chest of drawers or just need a spot for overflow clothing, grab some baskets and tuck them into the Discovery Shelf's cubbies to turn this versatile piece into a makeshift dresser. Opt for woven baskets to play off of the shelf's beautiful natural wood color scheme and to make the setup look more cohesive. Finally, a spot for things like onesies, clothing that is just slightly too big, bibs, booties, and whatever else you need!
Display Stuffed Animals
Your little one will enjoy admiring all of his or her stuffed friends from the crib. Place favorite animals on the various shelves to add a touch of whimsy to the nursery. As your child gets older, he or she will be able to easily point to or grab animals to play with, too.
Stash Away Foldable Items
Babies come with tons of blankets, play mats, sheets, towels, and more. Keep all of these items within reach by folding them up and placing them on these shelves. You'll always be able to access these practical items in a hurry, whether you're rushing out the door or dealing with cleanup following an accident!
Sleep-Friendly Enhancements
What parent isn't crossing their fingers hoping that their little one will be a great sleeper? "Every new parent wants to make sure that bright sunlight will not wake up their baby," says Cory Connor of Cory Connor Designs. "I will often do motorized blackout shades on the windows with a pretty decorative window treatment over it."
House Health and Diaper-Related Items
Wondering where on earth you're going to keep all of those extra diapers, wipes, and the like? If you're using your dresser as a changing table, you may need to get creative with storage for these types of items. And that's where the Discovery Shelf comes in. Again, purchase some baskets (clear ones are fine, too, since you'll want to easily be able to identify where all of your practical items are located) and designate bins for things such as first aid supplies, extra diapers and wipes, pacifiers, burp cloths, and even essentials such as soap, shampoo, moisturizer, and other bath-related gear.