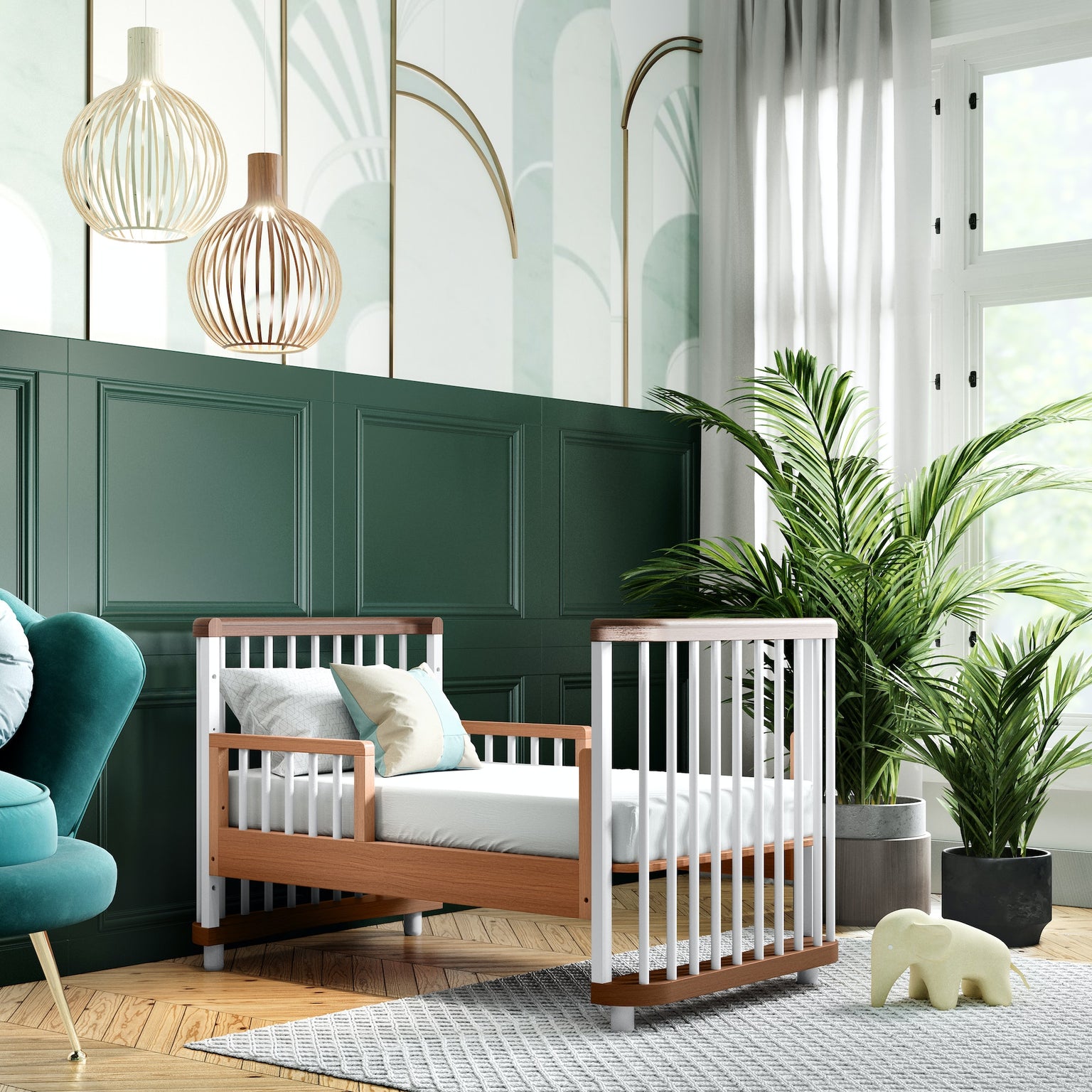 Design Advice
How to design a nursery so that it grows with your child
It may sound silly if you're pregnant and still waiting for your little one to arrive, but when you're in the process of designing a nursery for your baby, it's important to think beyond the here and now. Don't get us wrong: It's most definitely key to set your sights on putting together a fabulous space for your little one to enjoy during those precious early days. But trust us—during the decorating phase, you'll want to stay mindful of the toddler and childhood years to come, too! While it may seem incredibly difficult to imagine your tiny baby growing up in the blink of an eye, somehow it happens! 
If you're wondering how to design a nursery so that it grows with your child, there are a few key points that you'll want to keep in mind. We've outlined a few of them below to help guide you as you deck out your child's space.
Shop for Furniture Pieces That Will Continue to Serve Your Kid
First of all, you'll want to be mindful when it comes to making furniture purchases. Let's face it: Furniture is expensive, whether it's designed for adults or tiny humans! So you'll want to be judicious before spending your hard earned money on just any old piece. For example, it may not make sense for you to buy a tiny, newborn-sized dresser when you'll just have to upgrade it to fit all of your child's larger clothes a few years down the line. Investing in a more spacious dresser up front may end up saving you valuable amounts of time and money in the long run. And then there's the crib to consider. Not all cribs are created equal, and you'll want to invest in a piece that will stand the test of time. To that end, Nestig's Cloud Crib is perfect for growing children, given that it can convert from a newborn crib to a full crib to a toddler bed. And it comes in several amazing colors to boot. This means that you only have to buy a piece once while taking advantage of its benefits for a span of several years! Even after those larger pieces are taken care of, there are smaller items to consider. It can be helpful to set up some side tables in the nursery on which to set toys, bottles, and decorative items, but why not opt for something sleek? Nestig's Criss Cross Side Table embraces classic mid-century style, meaning that it's majorly in style and doesn't look at all "nursery." It's the prime example of a piece that really will grow with your child through all phases of life. 
Skip The Themed Wall Border and Say Yes to Cutesy Sheets Instead
Now that you've crossed the big ticket furniture items off your list, you'll also want to think about your growing child when it comes to nursery decor—particularly if you're considering taking on a time-intensive DIY project. If you're hanging wallpaper or a border, you may wish to opt for something that's cute for a baby but won't appear too dated or juvenile when your little one enters preschool. After all, unless you're super crafty, you won't want to have to spend the time or money redecorating the nursery walls every year.
But maybe you just can't resist incorporating that adorable bunny pattern into the mix somewhere, and we totally understand. In that case, why not go ultra cutesy when it comes to bedding and keep your walls a bit more generic? Nursery bedding isn't designed to hold up forever, and you'll need to replace it as your child changes crib sizes, so it doesn't hurt to experiment with a fun design or two, knowing that it's temporary. You'll thank yourself later when you aren't dealing with messy wallpaper supplies on a weekend afternoon because you got tired of that baby animal pattern! 
Hang Artwork From Any Room in the Home
We strongly believe that no nursery is complete without a bit of art on the walls! Another way to design a nursery so that it grows with your child is by selecting artwork that is playful and whimsical but doesn't scream "baby." You can most certainly still have fun with bright colors, animals, and other classic kid-friendly motifs, just focus on selecting works that will continue to resonate with your little one as he or she begins to walk and talk. There's no rule that you have to hang kid-specific art in the nursery, though. Why not use the nursery design process as an opportunity to showcase pieces from other rooms of the home that deserve a little bit of attention? If you're an art lover, it's more than likely that you have extra frames and canvases that have been stored away and need a little bit of love! Display these in Baby's room if they fit your existing color scheme, and there you have it—fabulous art that was absolutely free (well, at least this time around!).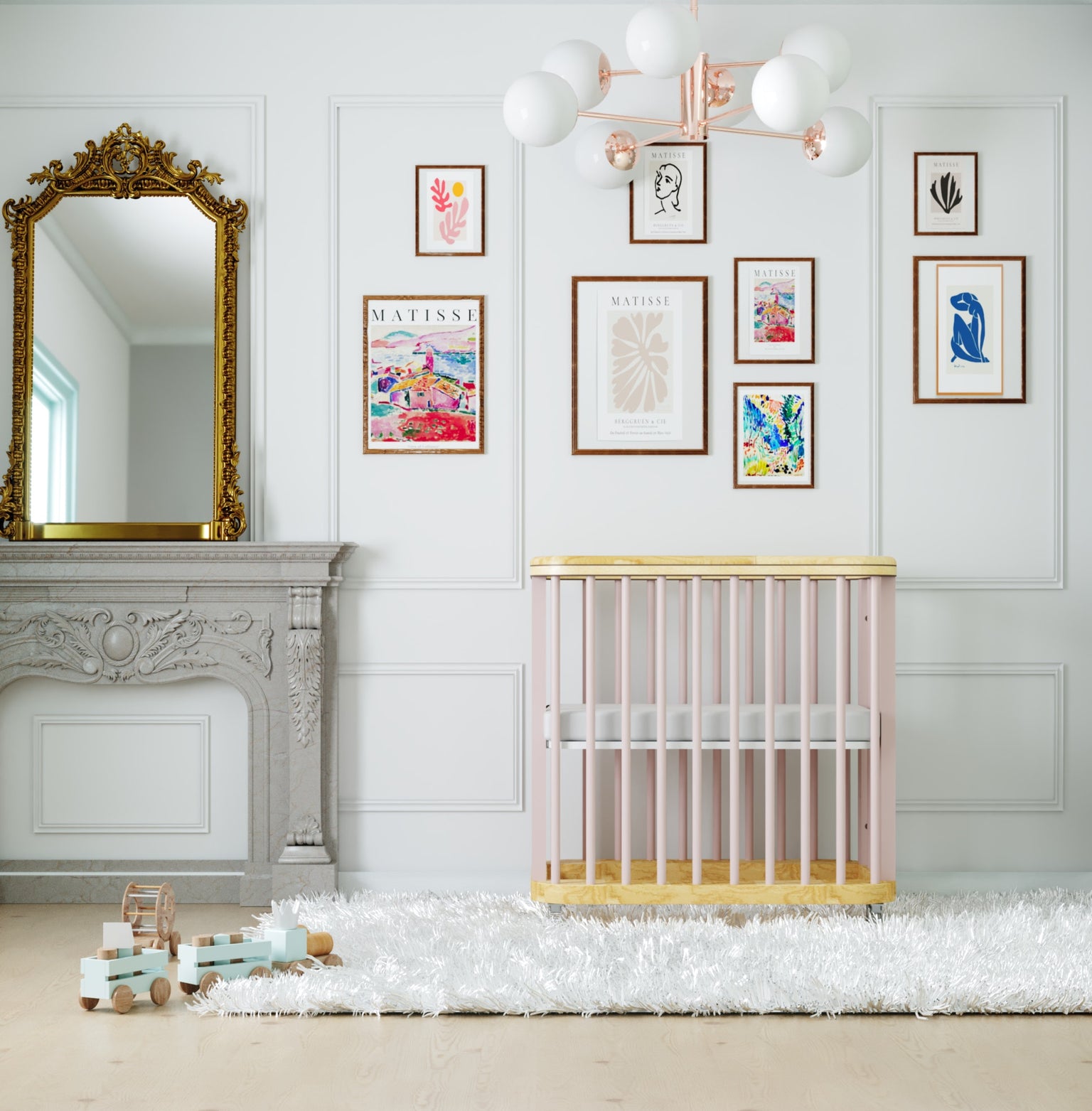 Don't Forget an Area Rug
Last but not least, no nursery is complete without an area rug. After all, kids need a comfortable place to sit down and play! Once again, Nestig's rugs are designed for the growing child. Filling your nursery with tons of bright and cheerful colors? The Sunrise Rug is a go-to choice. Embracing your country roots? This rug, shaped like a cowboy hat, is a total statement maker. No matter which design you choose, you can feel confident that all of Nestig's rug styles will stand the test of time. 
As you can see, there's still plenty of room to have fun when designing a nursery that will stand the test of time. By no means does this process mean creating a space devoid of any whimsical touches or personality; it simply involves being mindful about the purchases that you make and the colors and patterns you choose to weave into a space.