Design Advice
Trendy Nautical Nursery Ideas
Ahoy, baby! Why not welcome your little one home to a nautical nursery? Designing a nursery with a theme can be a great way to hone in on specific decorative pieces, patterns, and colors. After all, shopping for nursery items can be quite overwhelming when there are so many products to choose from, so it can be helpful to hit the stores with specific styles top of mind. 
We love the idea of a nautical theme because of how serene and calming an ocean-inspired space can be, and we find that nautical nurseries are excellent for boys and girls alike. Here's what you'll need to do in order to bring the space of your dreams to life before baby arrives. 
Choosing a Color Scheme
Whatever color scheme you choose, remember to keep it simple. Choose two main colors and add a third accent color to really bring your theme to life. Once you have chosen the color scheme that pleases you the most, it is time to start choosing the large pieces for your room.
In terms of nautical colors, navy is of course a front runner, as is white. If these aren't your favorite hues, you could also tie in reds, grays, blacks, and lighter blues. Navy and white are excellent choices, though, given how versatile they are. You'll be able to easily repurpose many navy and white pieces such as lampshades, picture frames, and throw pillows in your baby's "big kid" room down the line, if you desire. 
When it comes to the walls, don't feel pressured to paint if your walls are already white, gray, or blue. You can work a lot of magic with wallpaper (whether permanent or peel and stick, there are plenty of options for everyone!), wall decals, and other decorations such as flags, which are ultra-nautical in nature already. Removable wall hangings of this kind are excellent to include in kids' rooms in general, given that young ones change their decor preferences so frequently, and it's nice to be able to quickly rejigger things without worrying about endless paint project or new holes in the wall.  
If you're an experienced DIYer or are just feeling a little adventurous, consider incorporating an accent wall into your baby's nautical nursery. You can do so with wallpaper, by adding shiplap, by installing board and batten, or going another route entirely. No matter your skill level, you should be able to create a focal point that is aesthetically pleasing and engaging—both for you and Baby!
Choosing the Right Furniture
When shopping for furniture, your nursery theme plays less of a significant role. After all, the primary function of a nursery is to be a practical space for parents and Baby to play together, get ready for the day, and wind down at night. Furniture that will stand the test of time and grow with your child is important. The crib is the biggest and most important investment you will make in the nursery. Take your time and do your research!
You will want the crib to be safe while giving your baby a peaceful, long night's sleep. Choosing a three-in-one crib is one of the best options. As your baby grows and begins to move, they will start climbing. The Snow Crib is a practical and safe option. It is a bassinet, crib, and toddler bed all in one. 
The lead-free white paint is perfect for your nautical nursery. Pair it with the Deep Blue Sea-fitted crib sheet for a classic blue and white combo that will evoke feelings of being by the water. 
In terms of storage pieces like changing tables, dressers, or bookshelves, going with a white hue is never a bad idea. White furnishings will complement any type of decor over time. If your child decides in three years that she'd like an all-pink and purple room, white case goods will still fit into that space perfectly. Save the colorful touches for textiles and accessories and your wallet will thank you!
Now that you've tackled the main furniture pieces for your nautical nursery, look to the floor. Rugs are so key for any room but they're especially necessary in a nursery, where you and your little one are bound to spend a lot of time crawling and playing on the ground. Choosing the right rug will help you tie everything together. In your nautical-themed nursery, it can function as a soft sandy beach or a beautiful ocean come playtime. 
Try one of these options to add some warmth and vibrance to your space. Note that even if your nursery is already carpeted, you don't need to shy away from an accent rug or two. You can still layer a rug atop wall to wall carpeting to add extra comfort or color to a space. Additionally, rugs can help create specific zones within a nursery.
Putting It All Together
As noted above, zones are a great way to practically divide up your nursery space. When laying out furniture, keep in mind specific nooks that you may wish to create for your child, such as a sleeping zone, a reading or nursing home, and a play zone. Then simply arrange your furniture to follow suit. 
Now is definitely the time to have fun with the nautical theme you've selected. For example, display nautical-themed books in Baby's reading zone, set out some ocean creatures in the play zone, and opt for a throw pillow featuring an anchor design to place in the nursing zone. You can also set out a comfortable white and blue striped chair or a soft cream chair with a navy throw.
Accent Pieces
Once you've laid out the basics, it's time to add cute accents to your child's nursery. We've rounded up a few picks that are nautical in nature and sure to strike your fancy. 
Rope
Rope can be purchased at the craft store and used for all sorts of room decorations. You could use the rope to spell out your baby's name, attach it to a mirror or picture frame, or glue it around a lampshade for some nautical flair. Why not enjoy a little DIY while you customize Baby's sleep space? 
Maps and Compasses
The term nautical has everything to do with sailing and navigation. Maps and compasses are a terrific way to elevate your theme. Plus, kids will find this type of decor ultra interesting as they get older. Frame some old maps, opt for map-themed wallpaper, and use compasses as well decor. These solutions are both eye-catching and affordable! 
Pictures
It shouldn't be too much of a challenge to find some cute yet classic (not cheesy!) nautical-themed art for this space. Choose images that portray coastal living to bring the beach to you—think seashells, lighthouses, and sailboats. Flags, as we mentioned earlier, are excellent options for the walls. You can do a bit of research on nautical flags (where each flag represents a letter or number) and use them to spell out your baby's name on the wall, or even create a special message for your little one. 
Toys
By no means does your little one need to be bombarded with toys—a few special pieces will do, especially if your child is very little—but of course, it's fun to pick out some stuffed animals that Baby will be able to admire and eventually play with. Note that stuffed animals are a safe choice for babies because they are soft with no loose pieces; just make sure that nothing goes in the crib with your child.  
Stuffed animals will make a perfect addition to your play zone. Choose ocean animals to really bring your nautical theme to life. The colors can accent the theme and provide some whimsy and joy to your baby. A cute red lobster or crab, a cuddly octopus, a soft whale will be friends to your captain and provide your baby with a little fun.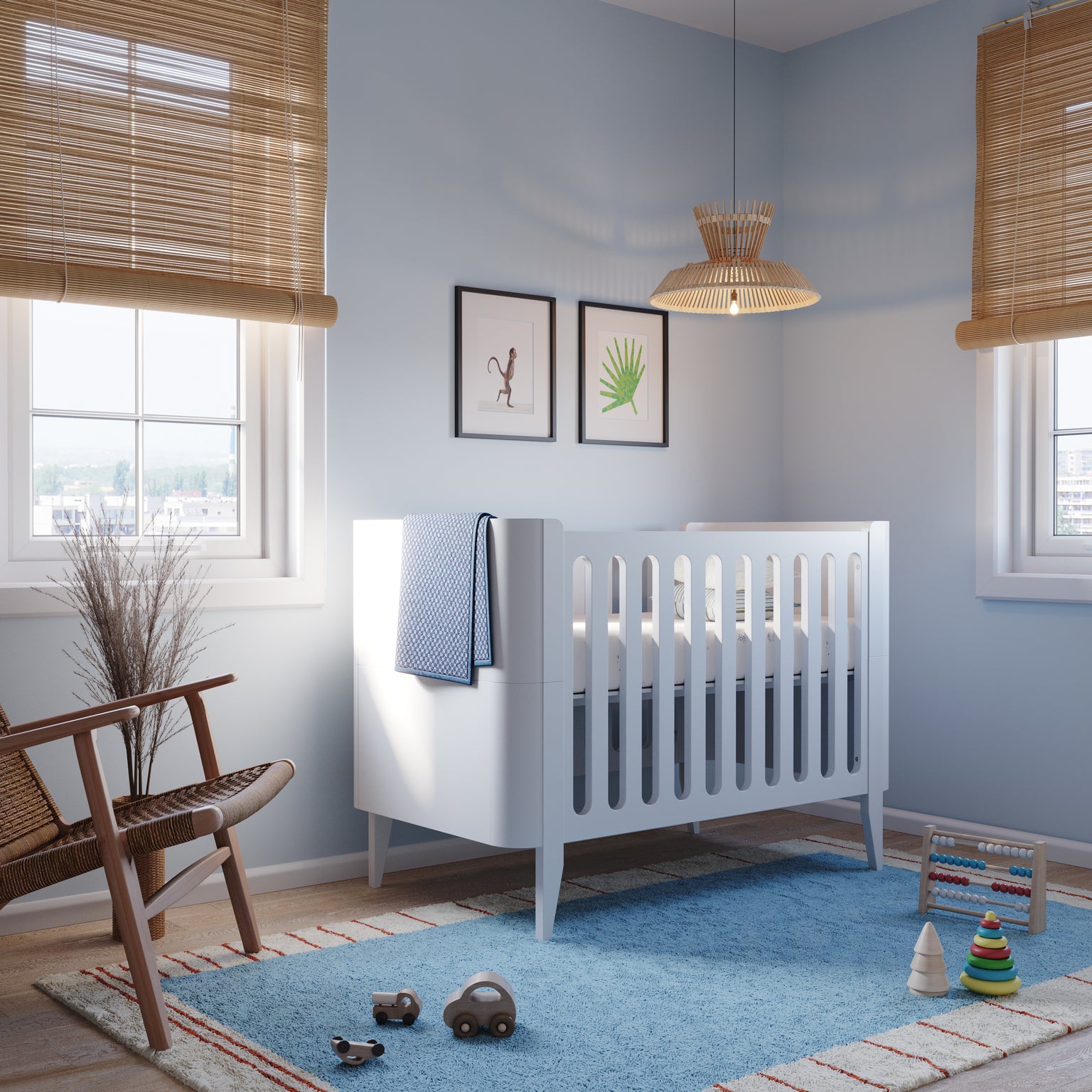 Sail Away to Dreamland
No matter what you end up creating in your room, enjoy those special moments that you will share with your newborn. A trendy nautical theme is timeless and so precious!