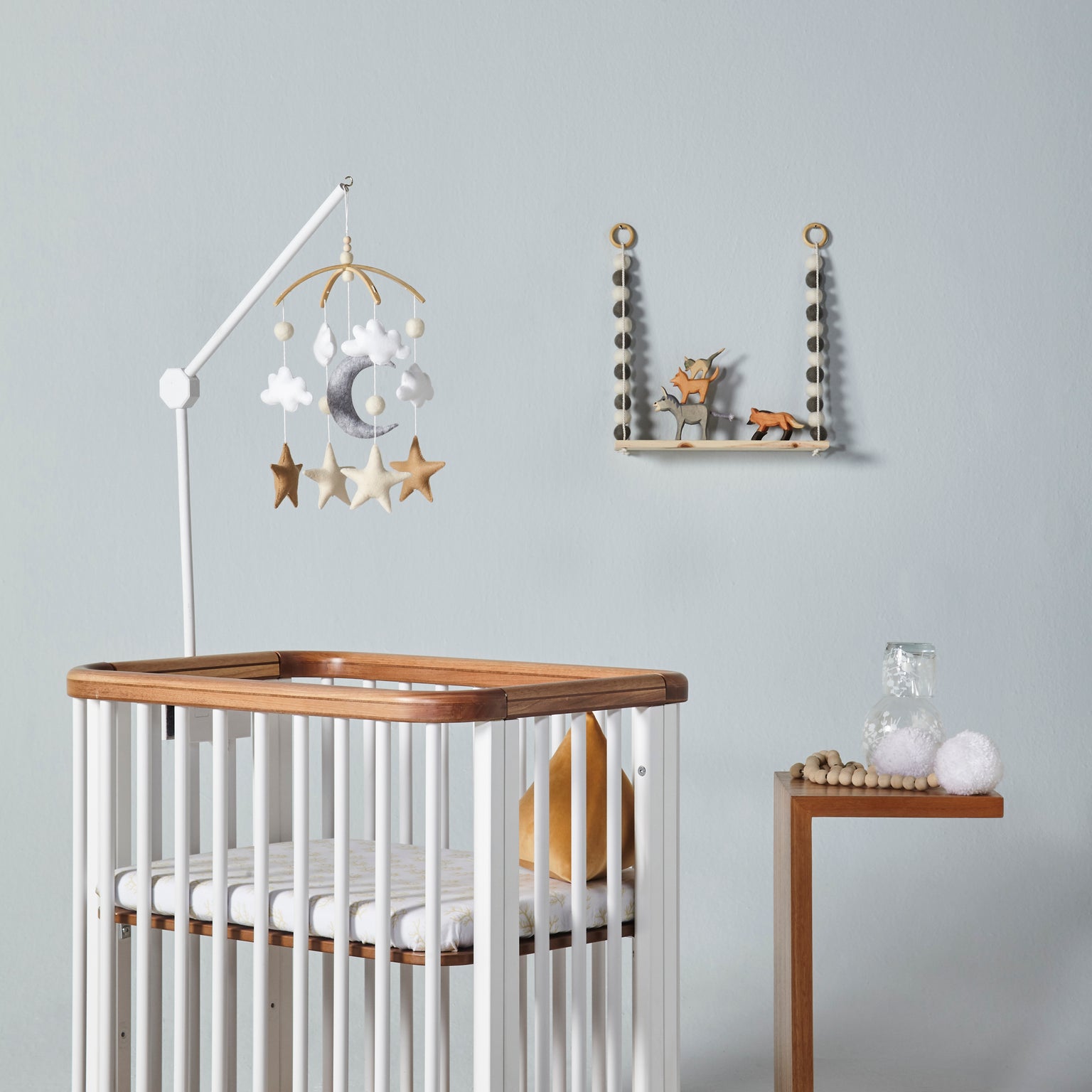 Design Advice
The Right Mobile for Your Baby, Based on His or Her Zodiac Sign
Wondering just how you'll ever settle upon the right mobile to hang in your little one's nursery? Truthfully, there are so many options to choose from—Nestig offers a wide range of different designs ranging from the animal themed to the simple and geometric. To make things fun, why not select a mobile for your child based on their Zodiac sign? Whether you read your horoscope everyday or an astrology newbie, this one is for you! Below, we're sharing a bit about each sign's characteristics along with the Nestig mobile that is right for each…and we have to admit, there are some pretty top notch matches!
Quirky, off the beaten path, and full of ideas…that's an Aquarias! Nestig's Deep Sea mobile is equally innovative and whimsical, just like your little one.
Pisces are known for having their head in the clouds, but hey, who said that's a negative quality?
Known for being tough and brave, your little Aries is a force to be reckoned with. This sign is the leader of the pack and is ready to win the race—just like the darling horse that's part of this bridle mobile!
A Taurus is self-sufficient, much like adorable little monkeys!
Two is better than one! This flamingo mobile will have you seeing double (or actually, quadruple) and represents how this "twin" sign is known for being open to new people.
The Cancer sign is associated with warmth and empathy—a Cancer is filled with emotions and is always looking out for others. A rainbow mobile reflects your Cancer baby's sweetness and love for all those around them. What could be more darling?
Featuring a lion, this mobile is already perfect for your little Leo from the get go, but what we love even more is that it features a whole group of animals, which pays a nod to Leo's sociability! Why not get the party started from day one? Odds are, there will be a lot of
Virgos are known for being Type A and orderly—they won't take any distractions! A simple mobile—like Nestig's Daydream style in a classic cloud grey and dusty rose colorway—will appease your Virgo's analytical mind.
Libras are all about harmony and maintaining balanced relationships. They're collaborators and like to be part of a group—just like the swans that make up this soothing mobile.
Scorpios are known for being a bit mysterious—just like Mystery the Seahorse, from SpongeBob! Given that Scorpios are also a water sign, a seahorse mobile is especially fitting. This little guy is surrounded by adorable starfish, too.
Sags love to explore the world around them and prioritize adventure. Why not inspire your Sagittarius to think big from day one by installing the Starship Mobile above their crib? Sure, space travel may seem a little out there, but who knows what Baby's future might bring!
Capricorns are known for being hard workers and dedicated to a job well done. They're not impatient or looking to take short cuts, either. Capricorns are represented by the mountain goat—but a moose, as seen on Nestig's Snowcap Mobile, is pretty close, right? Better yet, this mobile reflects the chilly time of year in which your Capricorn made his or her debut.