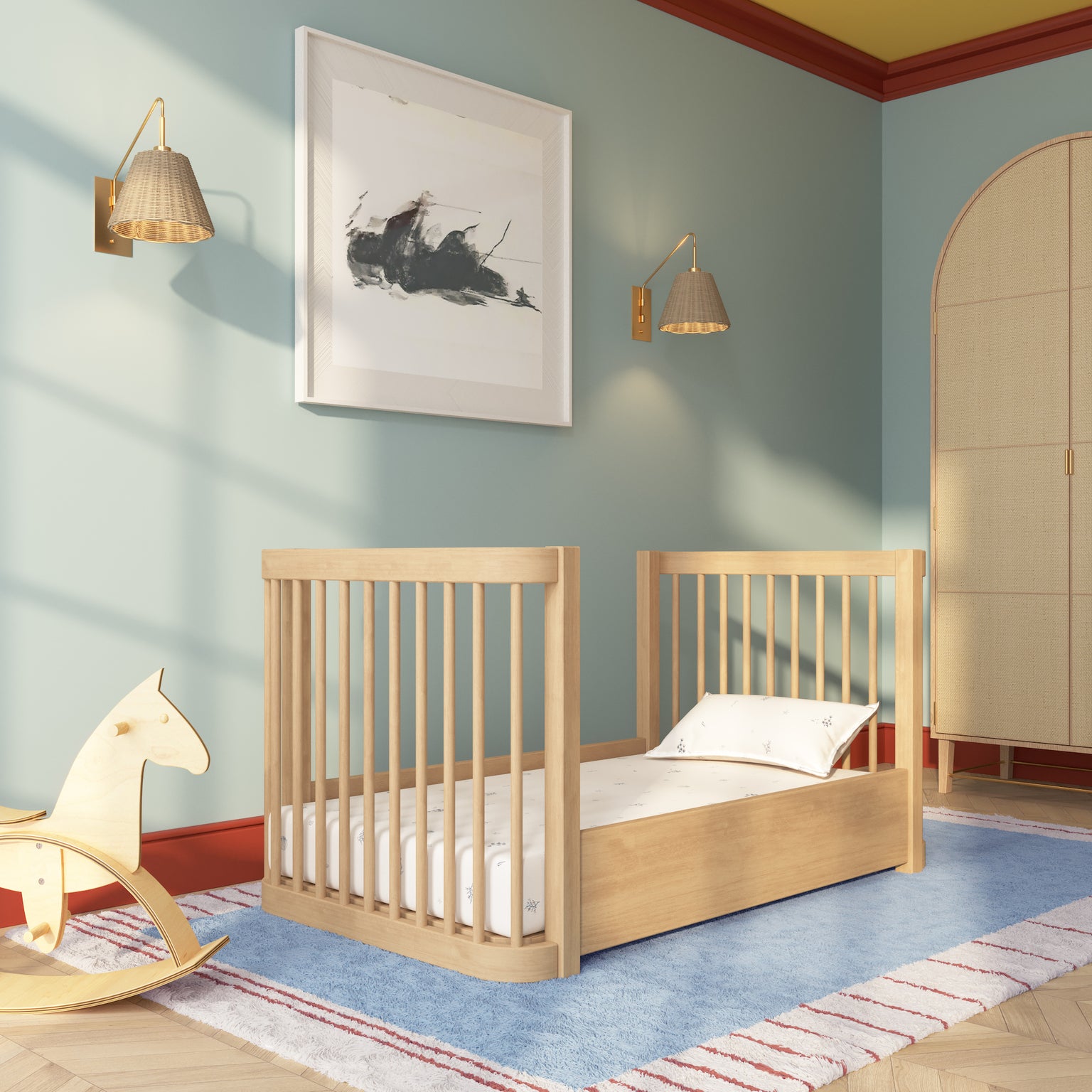 Design Advice
When To Transition to Toddler Bed: A Complete Guide
Watching your little one grow can bring about a range of emotions. Of course it's exciting to watch your child develop and showcase more independence, but it's normal to miss that soft, snuggly newborn, too! 
When children begin to transition out of their baby years, parents always wonder when to begin looking into toddler beds. Truthfully, there is no definite answer to this. Since every child is different, it varies depending on your child.
Some key markers to be aware of when knowing when is the right time include:
- Your child expressing they are or want to be a "big kid"
- Your toddler is able to climb out of their crib (childproofing doesn't work)
- They have outgrown their crib and can no longer sleep comfortably in it
- Your little one is potty trained
- They want a big kid bed
- They have trouble with naps in their crib
- You have another baby on the way
These are just a handful of signals that will give you the indication that it may be time to begin that transition from a crib to a toddler bed. If your child is showing other signs, you can always use your intuition as a parent (or talk to your pediatrician) to determine when to make this move.
Your Child Expresses They Are a Big Kid
As children grow, so does their need for autonomy and independence. Naturally, your child will begin seeking opportunities and experiences to feel like a "big kid." Whether they want to prepare their own lunch plate or put on their own coat and shoes, they will start taking steps to feel more independent. 
When you see this happening, it may be a good time to assess whether your little one is ready for a toddler bed. After all, if they are saying they're a big kid, it's a good idea to have a conversation with them. You can share that when you become a big kid, it's time to move into a new bed! 
Your child will likely be excited by the idea that being a big kid means switching to a more grown-up bed. Rather than this being an anxiety-producing event, your kid will look forward to their new bed and the independence it signifies. 
Your Toddler Can Crawl Out of Their Crib
Another indicator that it may be time to start thinking about a toddler bed is when your child is able to transition out of their crib on their own. As children grow and explore, they can find themselves getting adventurous and taking risks, such as climbing up and over the top of their crib. To be as safe as possible, you'll want to get ahead of your child and prevent injuries that can be caused from falling from the cribs. Even if a child really loves their crib, steps can be made to get them comfortable with their toddler bed to ensure their safety.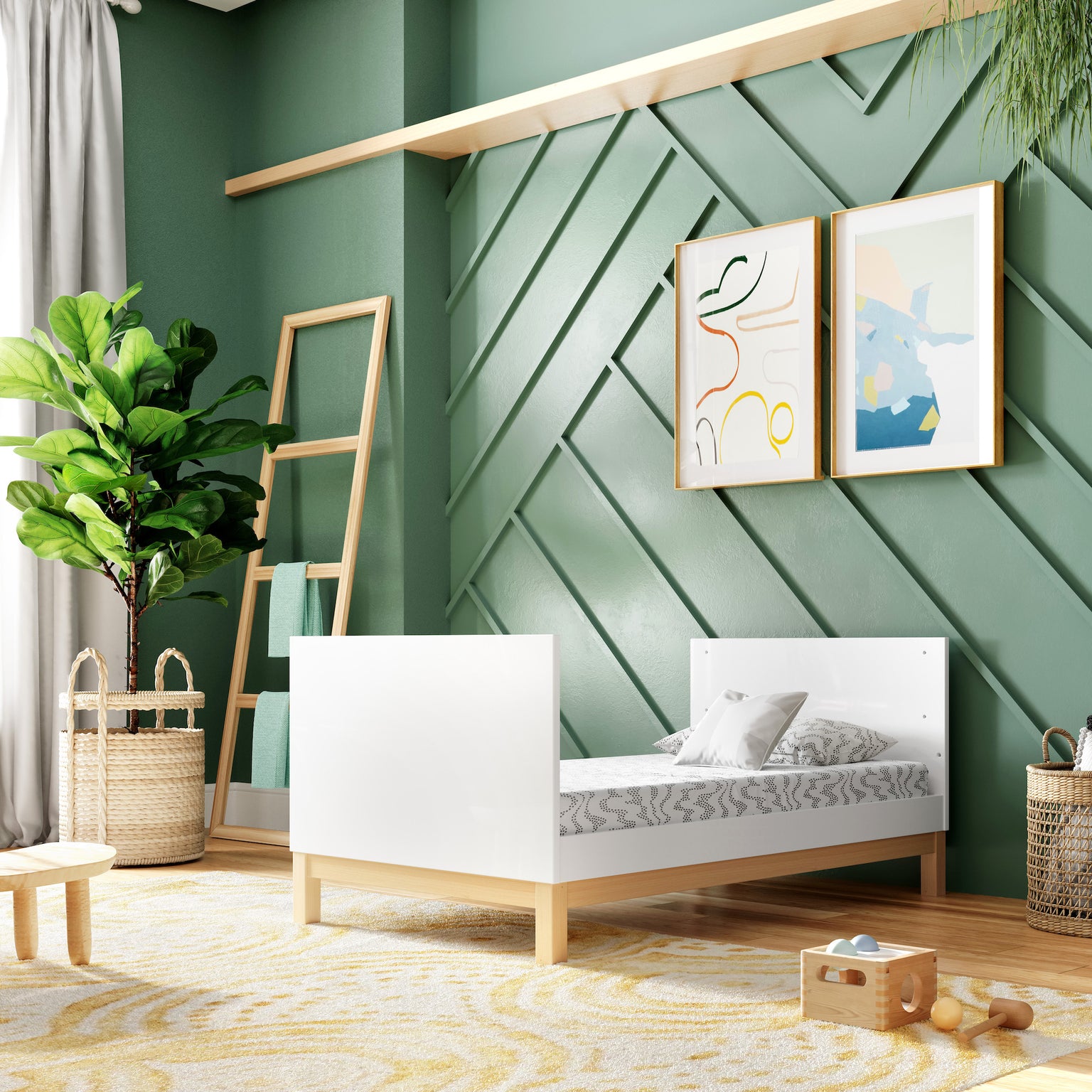 They Have Outgrown Their Crib
Children grow at different rates, but as your child gets into their older toddler years, you will notice they are running out of room to sleep comfortably. Again, this is a key indicator that it's time to move to a toddler bed. 
As a bonus, your little one will likely sleep better in their new bed as they will be able to stretch out and move around as they sleep. Sometimes, kids accidentally wake themselves up from bumping into the sides of the crib. Giving them the space they naturally need will eventually give them a better sleep (which results in benefits for the whole family!).
Potty Training
Potty training can be a lengthy process and sometimes it can be stressful for your child to handle any other changes when they are learning to use the toilet. If your child is already potty trained, it may be easier for them to embrace this transition and let go of their familiar sleeping situation. 
If you're noticing your child is at risk of injuring themselves due to them climbing over the crib rail, but they happen to also be potty training at the time, both transitions might be too much. Therefore, you may wish to pause one of these transitions and wait until they are ready to take on the other one. If you are worried about regression, talk to your doctor. 
If your child is already potty trained, then moving them out of their crib and into their toddler bed is a great next step to encourage your child to begin getting up when they need to use the bathroom. With open bed rails on the side of the bed, it will be easier for them go to the bathroom on their own. 
Although it is totally normal for already potty trained toddlers to not be able to hold their bladder the whole night, giving them a toddler bed is a great way to encourage them to get out of bed and go potty if they happen to wake up feeling that urge.
They Want a Big Kid Bed
If your child has expressed that they want a big kid bed, that is a great sign that it may be that time. It's always encouraging as a parent to see your child ready for the next step as they grow and hit developmental stages. When they take that step, a great way to be supportive and help them is by walking alongside them in that next stage with confidence and encouragement.
A couple of questions to ask yourself to know if your child is ready for that transition are:
Are they at least 18 months old?
Have you explained to them the process of transitioning into a big kid bed and what that means?
Do they have an established bedtime routine that brings familiarity to that change they will go through?
If your child is 18 months or older, they are of the right age to begin transitioning them into a toddler bed—this is generally the suggested age to go off of, but of course, you can make decisions based on your own family's needs. 
Children like to have an understanding of what's going on; when a child is having a hard time coping with their emotions in situations, it may be because they do not understand what is happening around them and feel like they have no control. A great way to prevent tantrums is to get down on their level and explain each part of the process, how things will change, and what they can expect is going to happen. You want their new sleeping arrangement to bring them excitement, not anxiety, after all. 
When big changes are made, something that can help children ease into them a little bit better is having other familiar routines or objects with them to bring familiarity to a situation that feels new and different. New changes can feel scary for children, so making them as familiar as possible will lessen the stress. Continue the same bedtime routine with them and give them the same pacifier or stuffed animal to snuggle with that brings them comfort. Stick with your sleep training or naptime as usual, as well.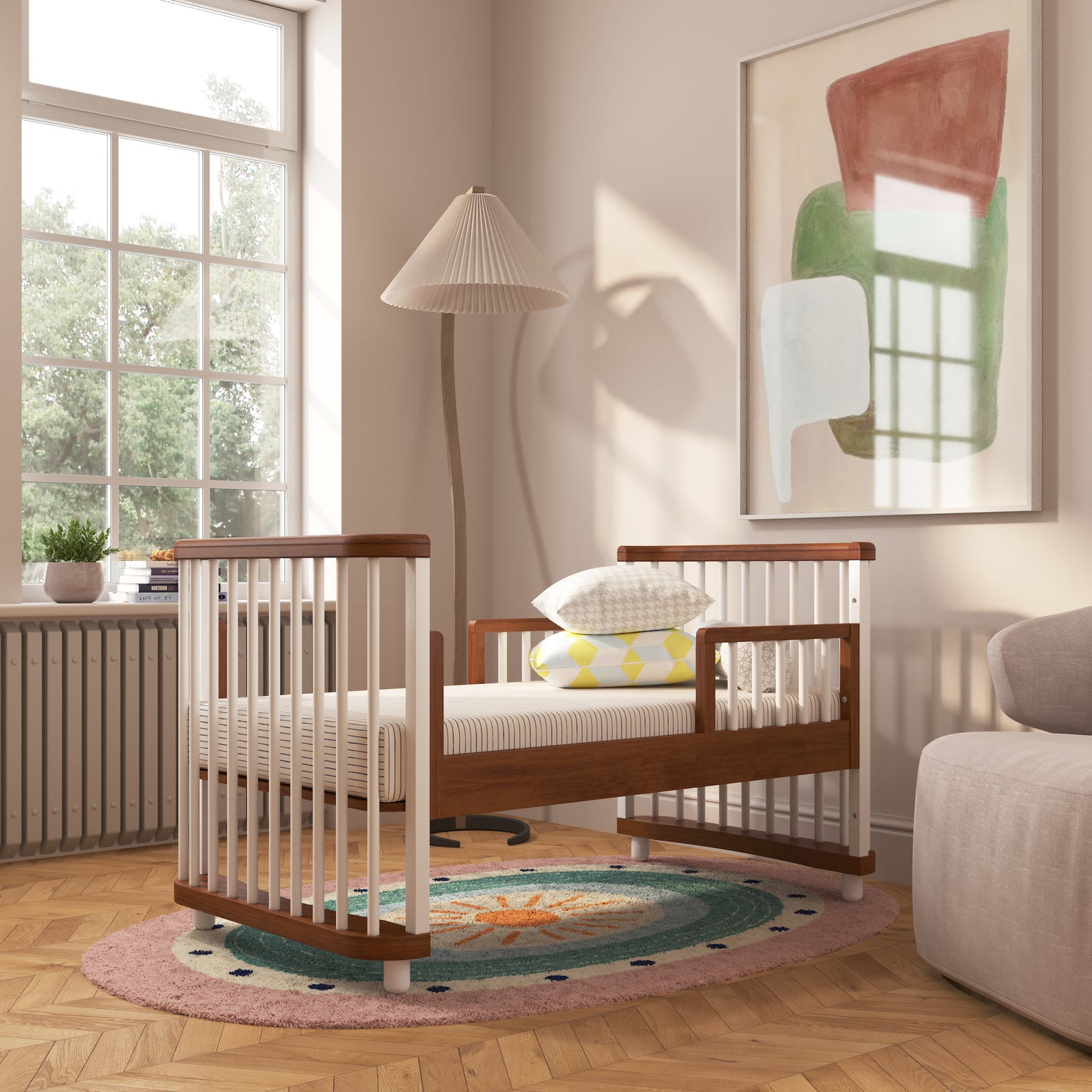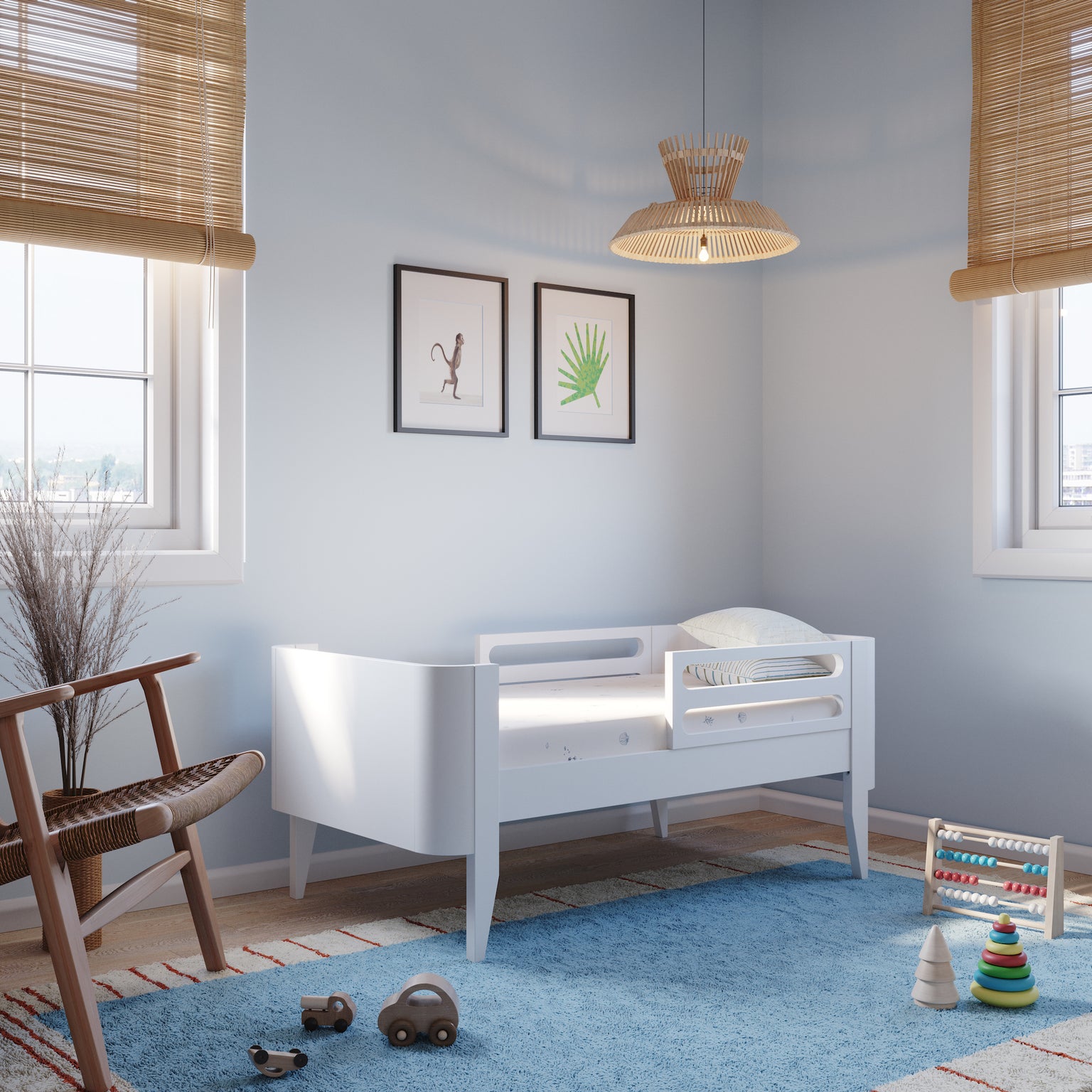 You Have Another Baby on the Way
Welcoming a new baby to the family is an incredible experience for parents and siblings alike. Getting to see your child become a big sister or big brother is so heartwarming and emotional. With the addition of a new family member, lots of other changes also take place, to say the least!
If you have a toddler who has not transitioned into a toddler bed and you are currently pregnant, it may be a great time to start that process, for multiple reasons. 
Adding another sibling to the household creates a shift for the whole family. Sometimes children find this shift to feel like a lot in the beginning. Just like with potty training, creating too many changes at once can be hard for a toddler to cope with. Getting them transitioned and used to sleeping in a toddler bed will ease the stress on everyone by not having to deal with too many changes while caring for a newborn.
Becoming a big sister or brother gets toddlers in the mindset that they are the big kids in the home. If leaving their crib seemed like too big of a change before becoming the big kid in the house, now they can see it as an honor and a really cool role. Explain what a big sibling is, why it's so much fun, and the perks that come along with it—like getting a new bed. 
If you have a crib that your toddler is sleeping in and you plan on using it for your expecting baby, then transitioning them out of it will help you not have to buy a second crib.
Toddler Beds to Invest In
When it comes to buying a bed for your child, it's always a wise investment to purchase a piece that offers quality and longevity.  
Our three-in-one crib can serve as a mini crib for those newborn days when you want them to sleep near your bed. The mini crib configuration is small enough to fit next to your bed like a bassinet and has wheels so you can roll it wherever around the house you need it.
When your child grows out of the mini crib, you can transform it into the full-size crib to last until they're ready for their toddler bed.
The final stage of this crib is the toddler bed. No need to find another bed to pay for or worry about how to get rid of or store your baby's current crib; just transform this three-in-one crib into a toddler bed! The crib mattress fits throughout the transition. With tons of different colors and styles to choose from, as well as mattresses and sheets, you can give your little one's space a custom look while shopping smartly.