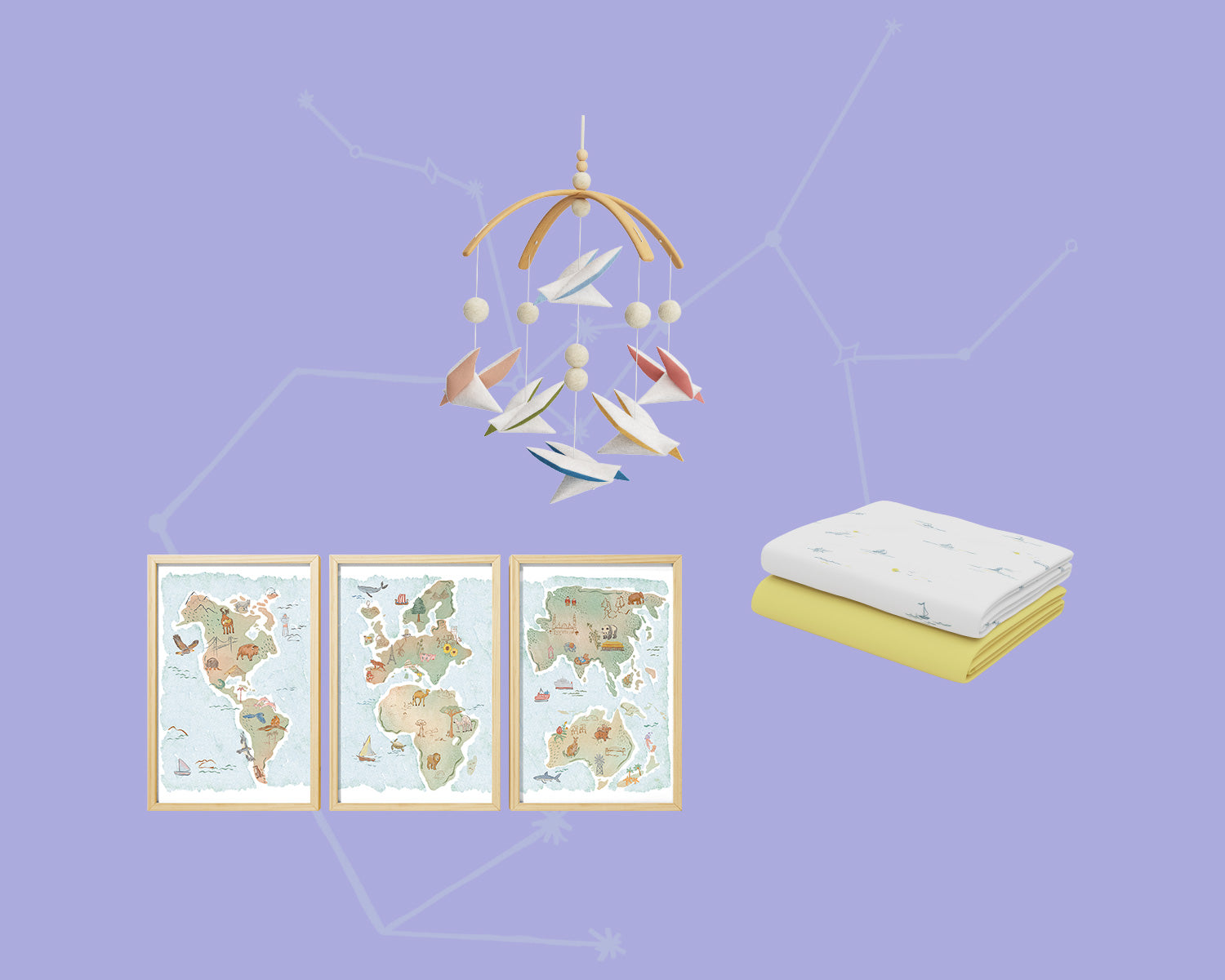 Design Advice
Nestig Picks for Sagittarius Babies
Sagittarius babies, born between November 22 and December 21, are known primarily for being curious, adventurous, and idealists. Often avid travelers, Sagittarians are eager to explore the world around them—so designing a nursery that supports this passion is a no-brainer! Below are some of our favorite picks for these energetic adventurers.
Our World Framed Wall Art Set
Allow your little one to learn more about the world from the comfort of their crib with this wall art triptych, which comes pre-framed for your hanging convenience. These prints are available in two sizes (9 by 12 inches and 12 by 18 inches) and in three frame colors (natural wood, white, and walnut), making it easy to customize your child's space in a snap.
Flock Mobile
Given that Sagittarians love to take flight, literally, a bird-themed mobile like this one is the perfect fit for your child's nursery. It's vibrant and full of cheer.
Aviator Mobile
As an alternative, consider our Aviator mobile, made in collaboration with Lindsay Lohan. It is similar in theme and pairs nicely with the colors present in the sheet set and wall mural below, should you choose to go that route. Yellows, whites, and blues are great choices for a gender-neutral nursery.
Set Sail Sheet Set
Your little one should feel free to explore the world around them however he or she would like—even if that means setting sail on a long journey! These boat-themed sheets are sure to set the mood and inspire your child to embark on a big adventure.
Morning Light Wall Mural
Pair the above sheets with this beautiful wall mural, which represents adventure but is also soothing and colorful. Your intellectual Sagittarius needs some time to think and recharge, after all.