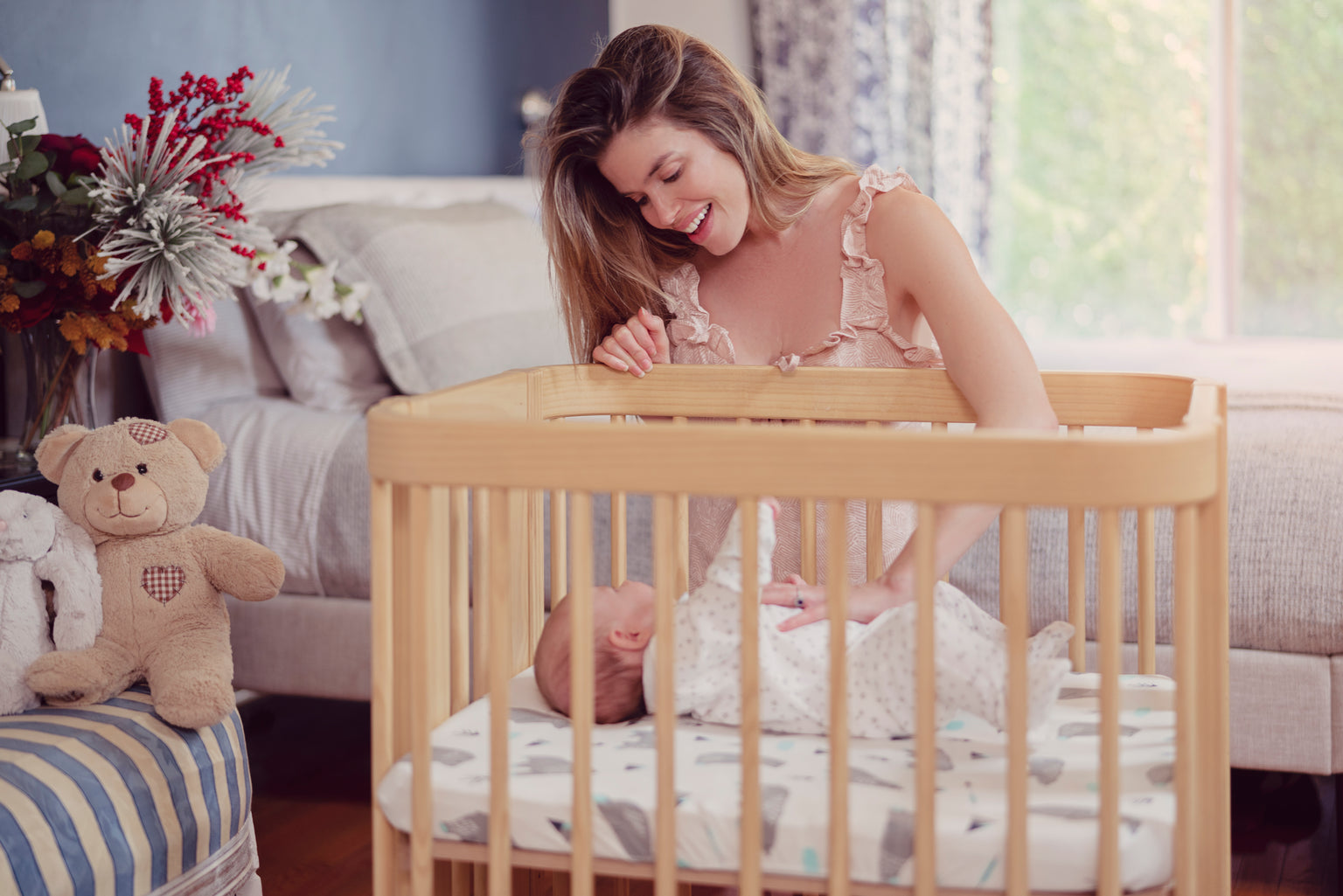 Design Advice
Making Room for Baby in Your Primary Bedroom
If you're a small space dweller, you may be planning to share your main bedroom with your little one when he or she arrives. So how can you make room for your bundle of joy and all of their needs without sacrificing your entire sleep space? Designers weigh in with helpful tips below.
Make Small, Yet Impactful Design Choices
Designer Amber Guyton of Blessed Little Bungalow urges parents to "put energy toward small yet impactful design choices that go a long way." What exactly does this entail? For one, it means being mindful about use of space. "For instance, with a bedroom that has an alcove, perhaps consider putting the bassinet or crib there, and wallpapering just the alcove area to give it some personality and separate it from the rest of the room," Guyton suggests. Her advice also pertains to mindfulness surrounding color and pattern choices. "Instead of going for an overly baby themed wallcovering though, consider a more 'adult' pattern or color that would still work for the rest of your bedroom," she adds.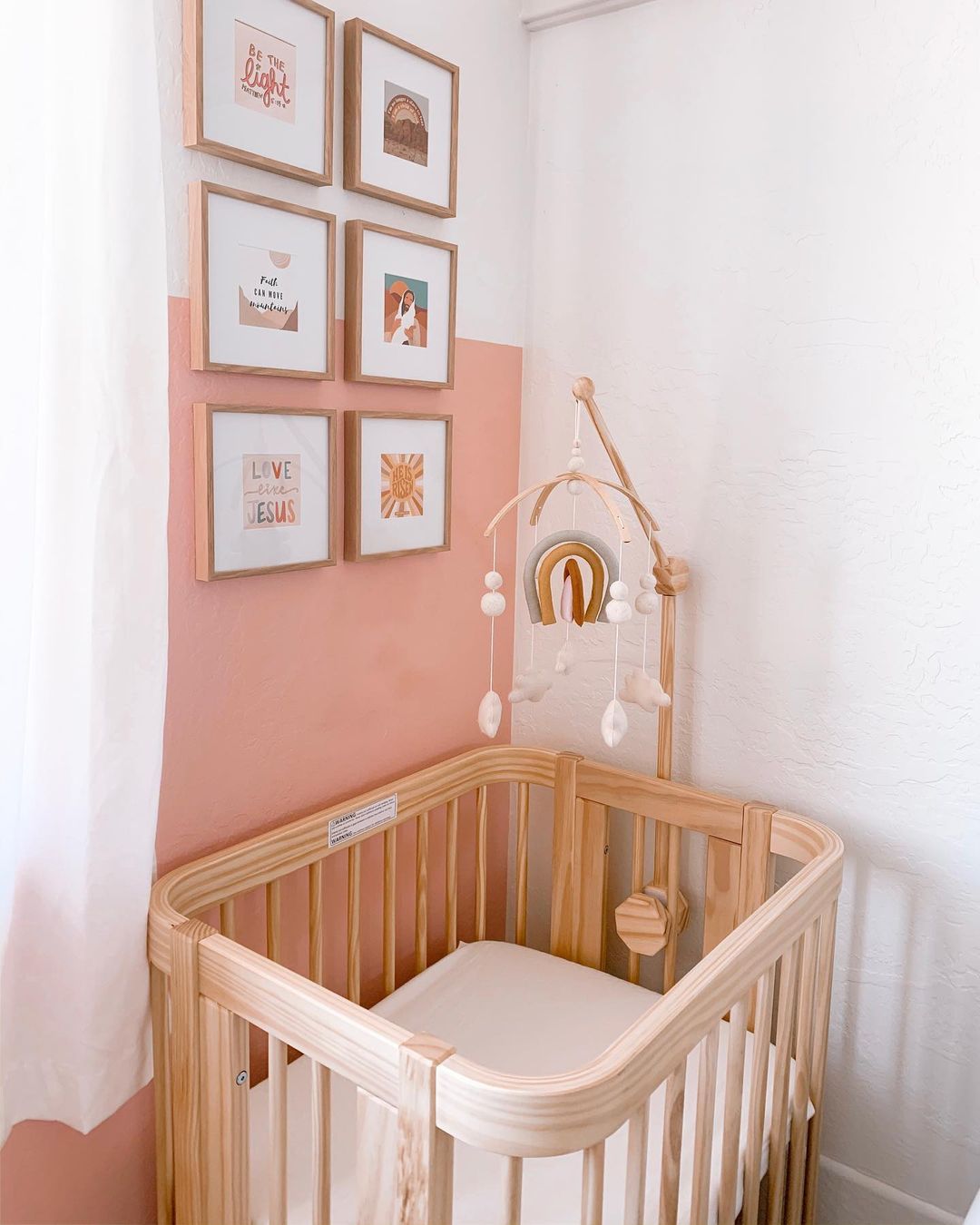 Keep Aesthetics in Mind
When buying new items for Baby, look for pieces that will match your existing space. "Create solutions with a design aesthetic that works with what you like, and makes you happy," explains designer Noelle Isbell of Noelle Interiors. She adds, "We suggest purchasing changing accessories in colorways that compliment the color scheme of your primary bedroom." After all, the space is still yours, too. "Keeping some semblance of an adult vibe alive in our primary rooms is helpful for parents," Smith says. "It reminds us that we're more than diaper changers, even if some days that does feel like the only job in town."
Cut the Clutter
Before your little one makes their debut, you'll want to part with excess items in your primary bedroom, notes Courtney B. Smith of Courtney B. Smith Interiors. "End of bed stools are great, but can easily be moved to living areas temporarily to make more room for baby (you'll be happy to have one less thing to stub your toes on in the wee hours of the morning!)," she advises. "That chair that doesn't rock and takes up room in the corner could be replaced with something more suitable for late-night nursing sessions—just be sure it will stand the test of time, and serve you down the road." Have a bedside table that doesn't offer much storage? Sub in a skirted table instead. These pieces "hide a multitude of items you may not want to look at on the daily, like nursing pumps, extra diapers, and off-season clothing items," Smith comments. Clunky bedside lamps can also go. "Bedside lamps use valuable real estate and can be moved to other areas of your home and replaced with wall-mounted sconces," Smith suggests. "Now, you'll have more room for a tray that holds baby items like pacifiers and bottles, as well as some space for a vase filled with fresh flowers and a coaster for tea!"
Create Zones
Designer Megan Unger of Megan Robertson's Designs says that creating zones in a shared room is of the utmost importance. She notes, "An organized system of storage and clear zones will keep your space peaceful and functional!" What types of zones should you set up in your space? A sleeping zone should house both your bed and Baby's, Unger explains. This type of setup offers additional benefits. "Most parents are pretty sleep deprived, so keeping your little one close by is an easy way to minimize the time you are out of bed in the evenings," adds Kristin Bartone of Bartone Interiors. As your little one gets older, you can always tweak things a bit. "Consider adding a freestanding screen you can place to partially block the view from the baby seeing you at night," Bartone shares. "They'll still be close by, but it's a great way to start the transition to their own space." 
Next, a dressing zone should contain your little one's changing table as well as your own dresser. "This is where a chest of drawers does wonderful double duty," Unger adds. Be sure to keep all changing supplies readily nearby. "It's important to change those nappies quickly so the crib and changing supplies should be close together," Bartone says. 
A play zone can contain a basket of books and toys as well as a large armchair, and a closet zone will provide additional storage for clothing and supplies.