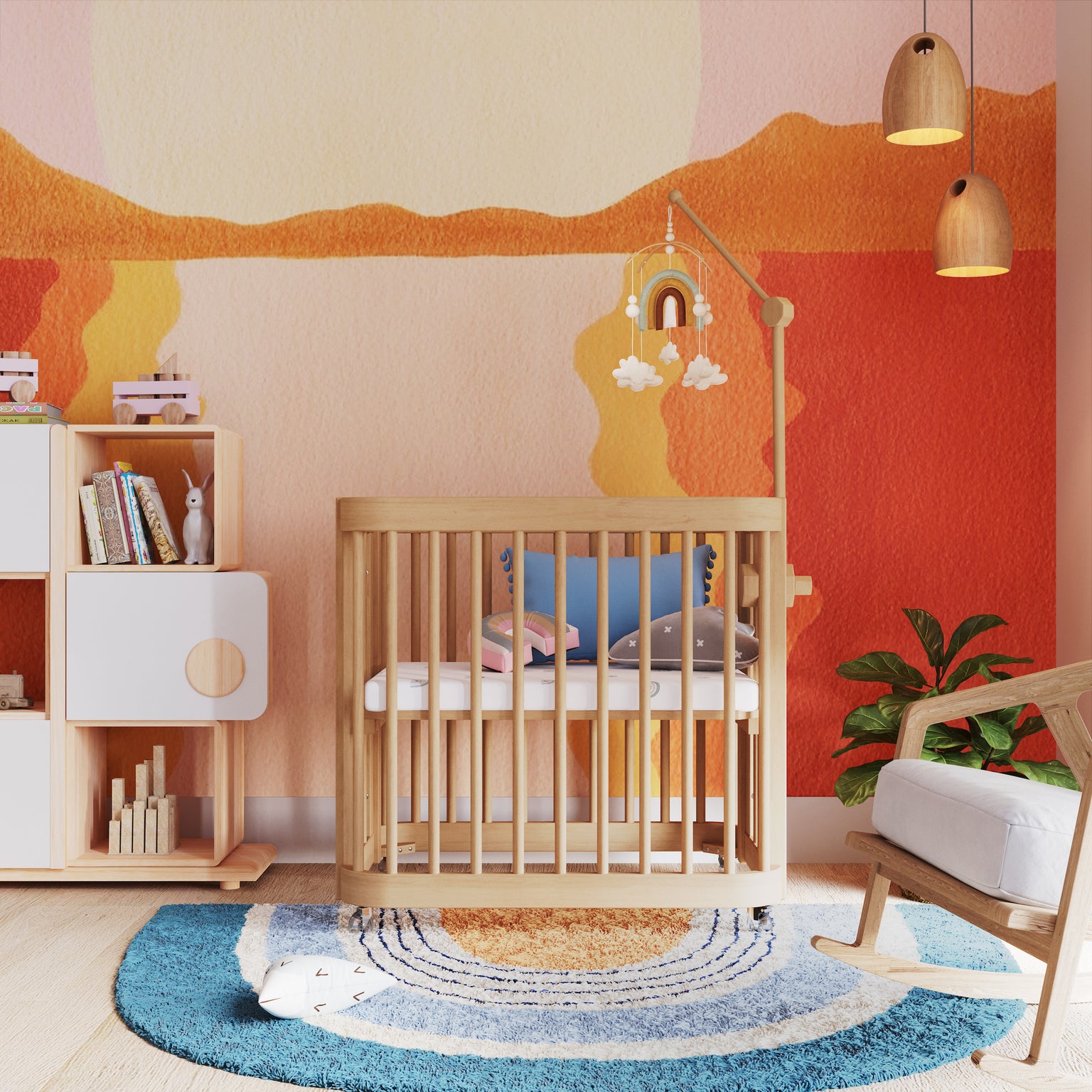 Design Advice
Your Guide To: Breathable Crib Mattresses
There are so many decisions to make when putting your baby's nursery together. From the crib to the rug, decor and so much more. Many parents don't put much thought into which mattress they purchase for their baby's nursery because let's be honest, at first glance, they all seem so similar! 
However, not all mattresses are made equal and we encourage you to learn more before you decide which one to add to your baby's crib. Here, we're covering one of our favorites, the breathable crib mattress. Read on to learn more and discover why they're so beneficial for your little one.
Why Breathable Mattresses? Aren't All Mattresses the Same? 
Turns out, they're not! Breathable mattresses have some important benefits that help promote safe, comfortable sleep.
They're Made of Clean, Natural Materials
It's important to know what materials your baby's mattress is made from as it can affect their health and safety (and of course, your peace of mind!). 
Many old crib mattresses—and even some new—are covered in flame retardant chemicals that are not safe for babies to come in contact with or to breathe in. In the past, these chemicals were used on mattresses as an added fire safety precaution, however it's been determined that they do more harm than good; the chemicals are highly toxic and have been shown to cause a handful of health complications.
Other harmful chemicals are also found in crib mattresses such as vinyl, phthalates, PFCS, and polyurethane foam. While less threatening than the flame retardants, these chemicals may pose health risks when babies are spending many hours of the day and night sleeping on surfaces that are made out of these chemicals.
Because of this, finding a breathable crib mattress that is non-toxic and has no flame retardant chemicals is a highly recommended first step to take when considering which mattress to buy.
They Promote Safe Sleep
Breathable crib mattresses are also wonderful for promoting safe sleep. They are designed for airflow which means that they are easy to breathe through if and when your baby sleeps on their stomach. You can even hold them up to your own face to try!
Choosing a breathable crib mattress for your baby's crib also reduces the risks of injuries or suffocation. The increase in circulation helps prevent overheating and sweating which helps your baby sleep safer, instantly giving you more peace of mind.
They Have Ample Safety Certifications
Good quality, safe crib mattresses are approved and certified by trusted, thoroughly investigative professionals. They take the time to go through many safety checks in order to confidently assure you, as a parent, that the crib mattress you are buying is non-toxic and safe.
What certifications should you look for when buying a breathable crib mattress? 
Greenguard Gold Certification is one of the best third-party programs that test the chemical emission levels on products. If a product guarantees they are Greenguard Gold Certified, then they are ensuring that their products release the lowest level of emissions compared to other products.
Another certification that's important to consider is a GOTS certification, which guarantees that the materials used in the product are organic and free of toxic compounds. And finally,making sure the breathable crib mattress you purchase also passes ASTM safety requirements means that it meets the standards set for safe products.
Breathable Mattress Buying Guide
The topics mentioned above outline several important things to keep in mind when it comes to choosing a breathable crib mattress—the materials they're made from, how the breathability can affect your baby's sleep, the important certifications and how a non-toxic mattress can all positively affect the long-term health of your child. 
After learning what goes into finding a quality, safe mattress, you might feel a bit overwhelmed. But, have no fear! Here are some Nestig-approved options that check all the boxes. 
The Naturepedic Organic Breathable mattress is made with organic GOTS certified materials and is also Greenguard Gold Certified. This mattress is a great, high-quality option and even comes with a washable cover for easy clean-ups.
The Lullaby Earth Breathable mattress is another Greenguard Gold Certified mattress, made with organic materials that offer 360° air circulation.
The Newton Breathable Original mattress is also Greenguard Gold Certified with a breathable, machine-washable cover.
Nesting x Lullaby Earth Breeze Air Mini Mattress is a Greenguard Gold Certified mattress made out of organic materials, with a breathable, waterproof cover. This mattress specifically fits our mini cribs and is guaranteed to be safe and breathable.
As a parent, we know you want the very best for your little one. Learning and gaining knowledge, especially about baby products, helps you make confident, informed decisions that you can be proud of! 
All in all,  breathable crib mattresses are great for babies from day one, as they're growing and developing the strength to be able to roll themselves over and the many days (and nights!) beyond. They promote safe and comfortable sleep by increasing airflow, making it easier to breathe and helping to regulate their body temperature throughout the night and during naps. 
Plus, you can be confident they're made with all-natural, non-toxic materials so that you can have the peace of mind that you're doing what's best for your baby's long-term health.
If you have any additional questions during your buying process, never hesitate to reach out—we love assisting parents as they make their first decisions for their little ones!