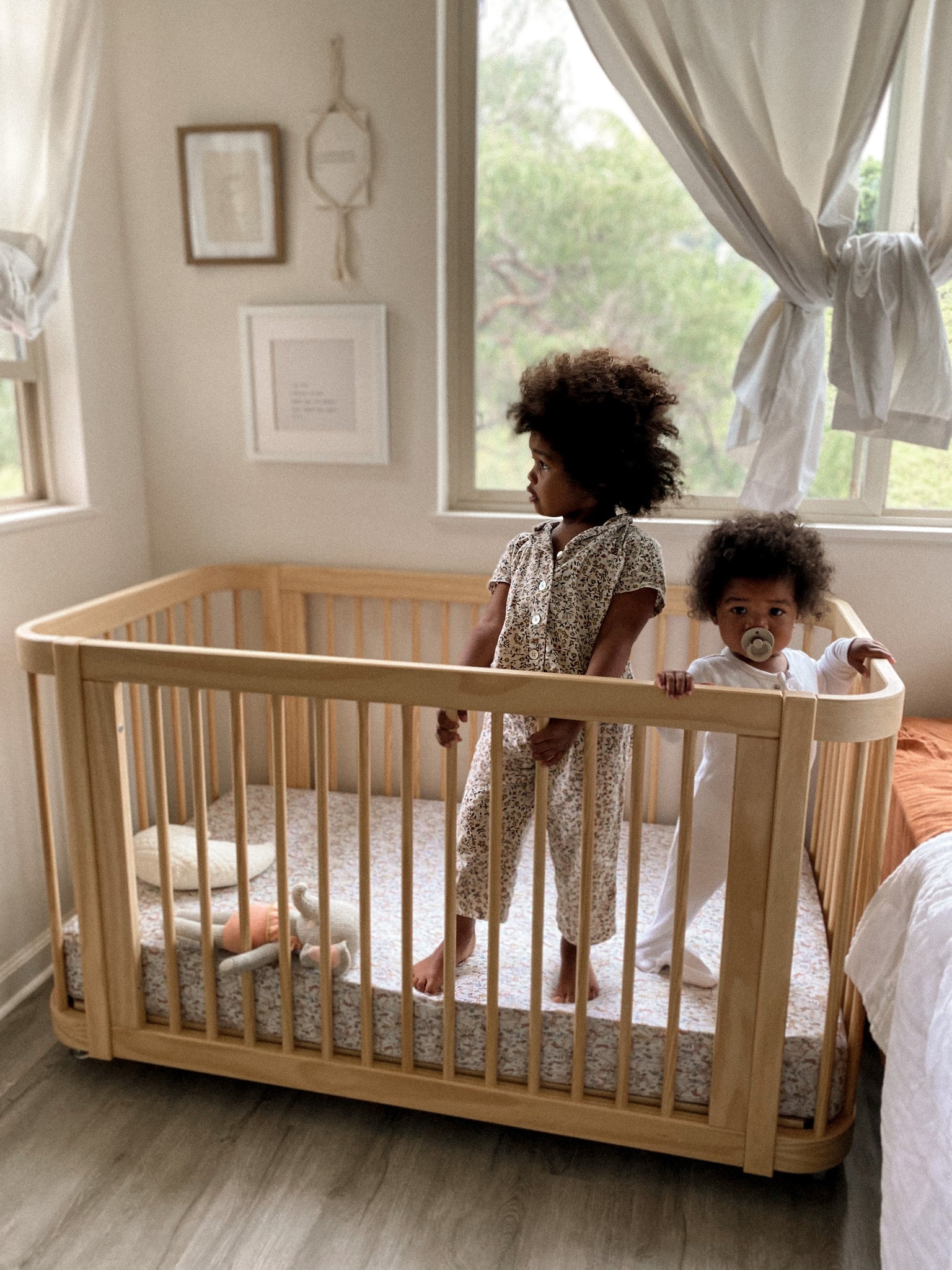 Design Advice
How to Design a Room for a Baby and a Toddler
If you're in the process of creating a space for two little ones to share and are feeling a bit stumped, you'll want to keep these tried and true tips from the pros top of mind. Below is some valuable design and organizing advice that will make your kiddos' shared space shine. 
Establish an Intention Through Your Design
First, think about the purposes you would like this room to primarily serve—doing so will shape the design process. As Laura Fox of Laura Fox Interior Design notes, "I think it's incredibly important for them to understand that their room is for quiet play, story time, and bedtime.  Giving them a space that is creative and has some color, but in a quiet, calm way." A child's space, especially when it is shared, does triple duty and should be equal parts inviting and relaxing.
Designate Separate Areas and Keep Layout Top of Mind
Many designers highlight the importance of space planning. "In space planning, use each corner of the room for a different purpose to separate baby from toddler," Samuel notes. "This creates synchronicity in the room as they both grow." Molly Machmer-Wessels of Woodland Design Co is also a proponent of doing some space planning. "We always allocate specific space for each child," she explains. "This ensures the older child feels like they have a private retreat when needed. Meltdowns happen, folks!"
Need suggestions on how to make each kid's space feel personal?  "Creating vignettes that give each kiddo their own designated area is crucial," Machmer-Wessels says. "Use details to make each area special: A canopy over the bed, or wallcovering behind the crib make up little moments for each child." Lucy O'Brien of Tartan and Toile is also a fan of setting up designated spaces. "It will also help your toddler feel that he or she still has his own special space and is not getting pushed out by their new sibling," she notes. "For example, create a very special bed nook for your toddler with his or her books organized nearby, special lighting, and bedding just for them." 
When keeping areas separate, you will want to focus on the layout of the room and each kiddo's needs. "Since an infant will need more tending to during the night, I like to position their bed closest to the door to avoid waking the toddler as easily," notes Danielle Chiprut of Danielle Rose Design Co. "I also love to make sure there is a clear path from the door to the crib, and then over to the changing table or rocker for overnight feeds or changes."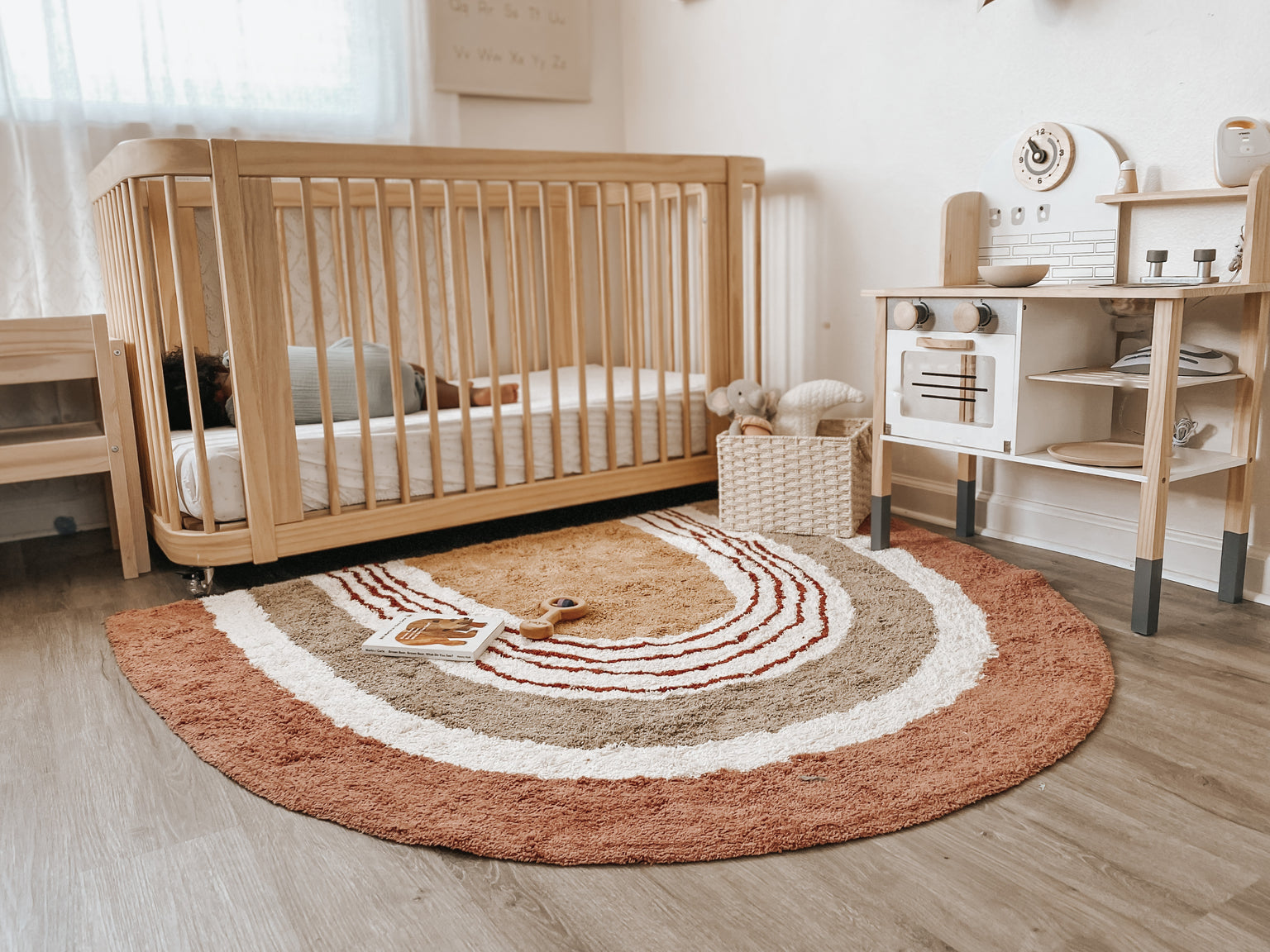 Baby and Toddler Proof Your Space
This practical piece of advice is always something you should keep top of mind, and in this case, you'll want to remember that your newborn and your toddler each have different safety needs—simply proofing a space with your littlest one in mind won't cut it, Nichole Samuel of Goddess Interiors reminds us. "If you're using plants for decoration, make sure to use faux plants or use flower pot covers to keep toddler fingers out of the soil," she states.
Try Some New Crib Sheets
You likely need to stock up on another pair of crib sheets anyway, so why not pick a design that can be viewed as seasonal (but will totally work the rest of the year as well)? Nestig's Juniper sheets are reminiscent of majestic forests, making us think of wintry outdoor excursions. Note that this is actually part of a sheet set that comes with a solid bright white sheet as well. Best of all, Nestig's sheets are always non-toxic, made with all natural dyes, and made to machine wash and dry.
Prioritize Storage
We all know that little kids come with a lot of stuff! O'Brien offers some tips as to how to best keep clutter at bay in a room for two. "Break down everything you need for the new baby and everything you need to keep in the room for your toddler," she suggests. "One thing with both of these age groups is that they go through stages and items very fast. Keep just what they need now in the room for easy switch over." As for specific storage solutions, you really can't go wrong with a number of different options. O'Brien recommends baskets/dividers, shelving, color coordinated hangers, fun containers, and more.
Keep Decor Neutral and Timeless
Caroline Agee of Tuckahome Home offers a few useful tidbits to keep in mind with regard to the actual decor and design scheme of your combined baby and toddler room. "One consideration when designing a room for a baby and a toddler is the gap in ages, and in turn, their interests," she comments. "It would be important to focus on timeless decor that grows with the children, rather than decor that the children will quickly outgrow. This way, the older child will not feel that their room is a 'baby' room, but a fun and soothing space to share. I would focus on this particularly when choosing artwork and bedding." Additionally, if you're looking to design more of a gender neutral space for your two children, colors such as blues, greens, yellows, and ivory are all excellent bets, Agee says. 
Cortney McClure of Cortney McClure Design agrees. "Utilizing gender-neutral colors for larger investment pieces is another way to provide longevity," she says. "This way you can customize the smaller items that are time-sensitive—items that the child will interact with the most. Another upside of gender-neutral hues is that they tend to create a cozier environment." 
Keep bigger furnishings more subtle. "As far as larger furniture goes, utilizing organic accents is a must," McClure explains. "This not only creates a natural environment, but also allows for age ranges and color preferences." 
In terms of specific types of furnishings, there are plenty of ways to take a more timeless approach. "In our Delaware project's nursery, instead of adding a changing table, we utilized a timeless chest of drawers and a removable diaper changing pad," McClure says. "While the need for a changing station will end, storage will always be a must," she adds.