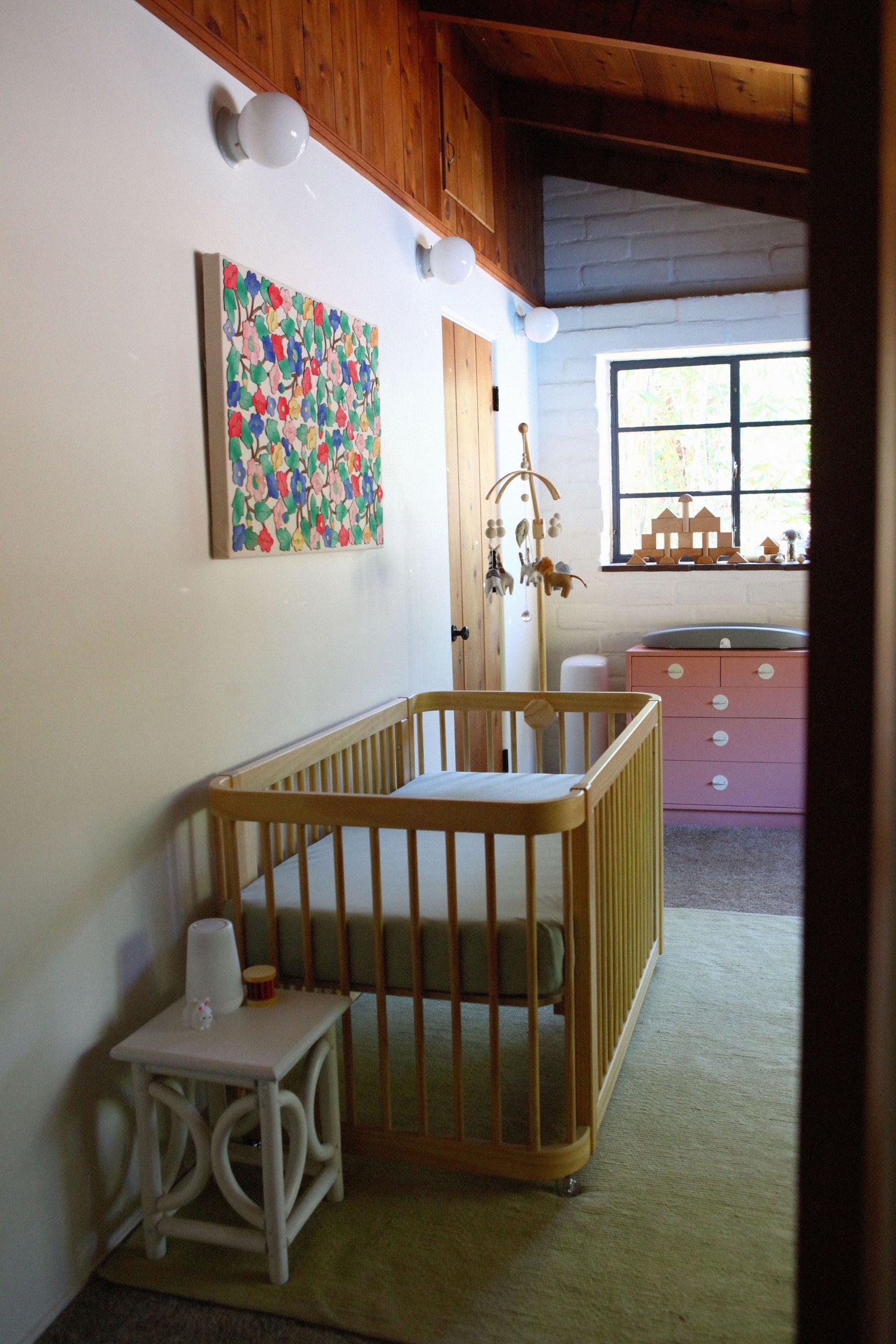 Design Advice
Mixing New and Vintage in the Nursery
While it's best to buy pieces such as cribs brand new due to ever-changing safety regulations, it can be fun to work some special heirloom pieces or vintage finds into the mix as you design your little one's nursery. If you have pieces from your own childhood room or antiques that you've sourced at a favorite flea market that you think would look lovely in your baby's space by all means, incorporate them! Designers share their tips and tricks for how to best combine new and vintage pieces in the nursery.
Go Vintage When Selecting Small Furnishings
There are so many fun ways to incorporate small vintage furnishings into the nursery. Georgia Zikas of Georgia Zikas Design likes the idea of styling a wicker toy chest or tiny caned side chair in a little one's space. Hayley English of Hayley English Interiors agrees that "weathered, vintage trunks" are wonderful additions. "They bring an unexpected texture to the space while providing much needed storage," she says. 
Don't be afraid to paint vintage furniture to give old pieces new life, notes Cara Mayes of Grey House Interiors. "Try a high sheen paint or lacquer to give it an extra twist," she suggests. 
Jen Dulac of Jen Dulac Interior Design is a fan of this approach as well. "I had a vintage chest of drawers refinished in vibrant coral paint and contemporary brass hardware installed," she shares. "Now the piece has an entirely updated feel. The shop that painted the chest also made sure all the drawers opened and closed smoothly so the piece functions as good as new, so if you do use an older piece, be sure to ask the refinisher to make any repairs to it."
Purchase a Vintage Rocker
You're going to need a nice chair in the nursery, so you may as well go the vintage route! "I always see beautifully aged wooden rockers when I peruse vintage shops," says Ashley Fiocco of Ashley Fiocco Designs. "They can be made cozy and comfy with a soft throw and pillows for those many long nights with your baby."
Hang Vintage Art
Don't forget about vintage works of art, too. "Old framed vintage paintings, aged signs and/or slightly worn prints hung on the walls also bring in loads of personality, whimsy, and color to the nursery and help to create a space as unique as your new addition that you won't see everywhere else," Fiocco says. Turning to nature is another great idea, too. "I like to pick up vintage Audubon and botanical books at estate sales whenever I come across them," Dulac says. "These books have colorful full-page illustrations of birds and flowers and plants." 
When it comes to framing, you have a few options."Keep the original mismatched frames for a more collected look, or re-frame in simple white or maple frames for cohesion," Zikas suggests. And don't forget about darling needlepointed pieces. "Framed needlepoint often incorporates bright pops of color, flexible for various nursery color palettes," English comments. 
You can also create an accent wall featuring a vintage style floral wallpaper or a fun collage wall, Mayes says. "The collage can be a collection of old paintings along with an old piece of [framed] clothing from when you were a baby," she notes. "You can include family photographs in the mix." 
Mirrors count as art, too! "Sourcing a vintage mirror is an easy and fun way to make a space feel larger," English says. Plus, she adds, it makes for adorable parent and baby selfie opportunities.
Install Vintage Lighting
Don't just settle for a bland, builder grade fixture in the nursery! Instead, make a stylish statement with your lighting choices. "Incorporate a traditional chandelier and sweet antique accent lamp on a side table or a dresser," Mayes suggests. Dulac agrees. "I've used [a vintage chandelier] as the overhead light in a little girl's nursery that has these lovely dainty milk glass tear drops hanging from it," she says. "I gave it a more updated, youthful feel by using opal globe bulbs with a candelabra base instead of traditional candelabra style bulbs. When lit, it throws beautifully patterned shadows on the ceiling and is truly the jewelry in the room!" 
Mayes suggests sourcing these types of items at flea markets. "You can clean it up by adding a new shade but keep the vintage detail by selecting a scalloped or pleated shade," Mayes adds. "You and baby spend a lot of time in this room, so it's really important that it's warm and inviting."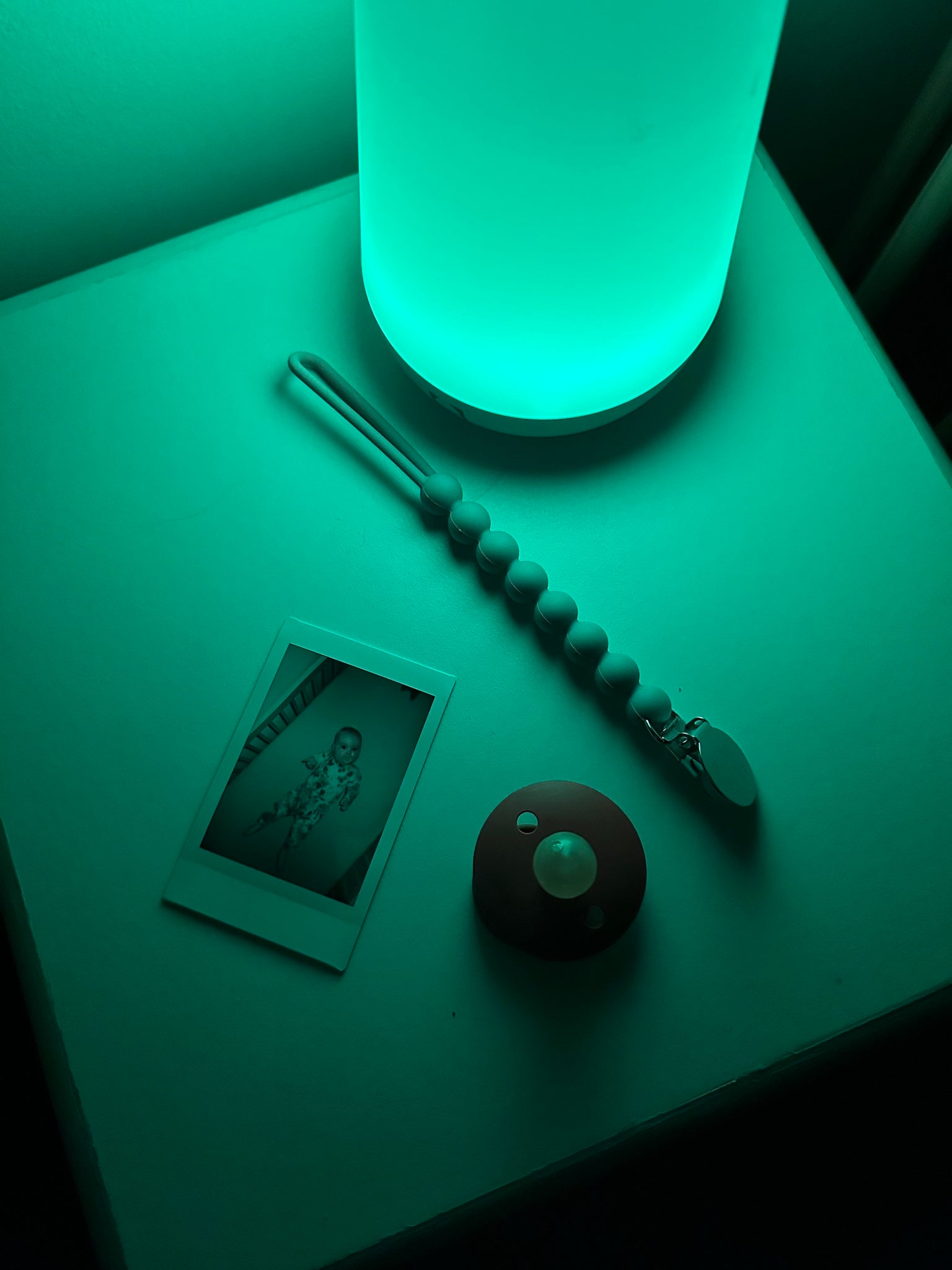 Sleep-Friendly Enhancements
What parent isn't crossing their fingers hoping that their little one will be a great sleeper? "Every new parent wants to make sure that bright sunlight will not wake up their baby," says Cory Connor of Cory Connor Designs. "I will often do motorized blackout shades on the windows with a pretty decorative window treatment over it."