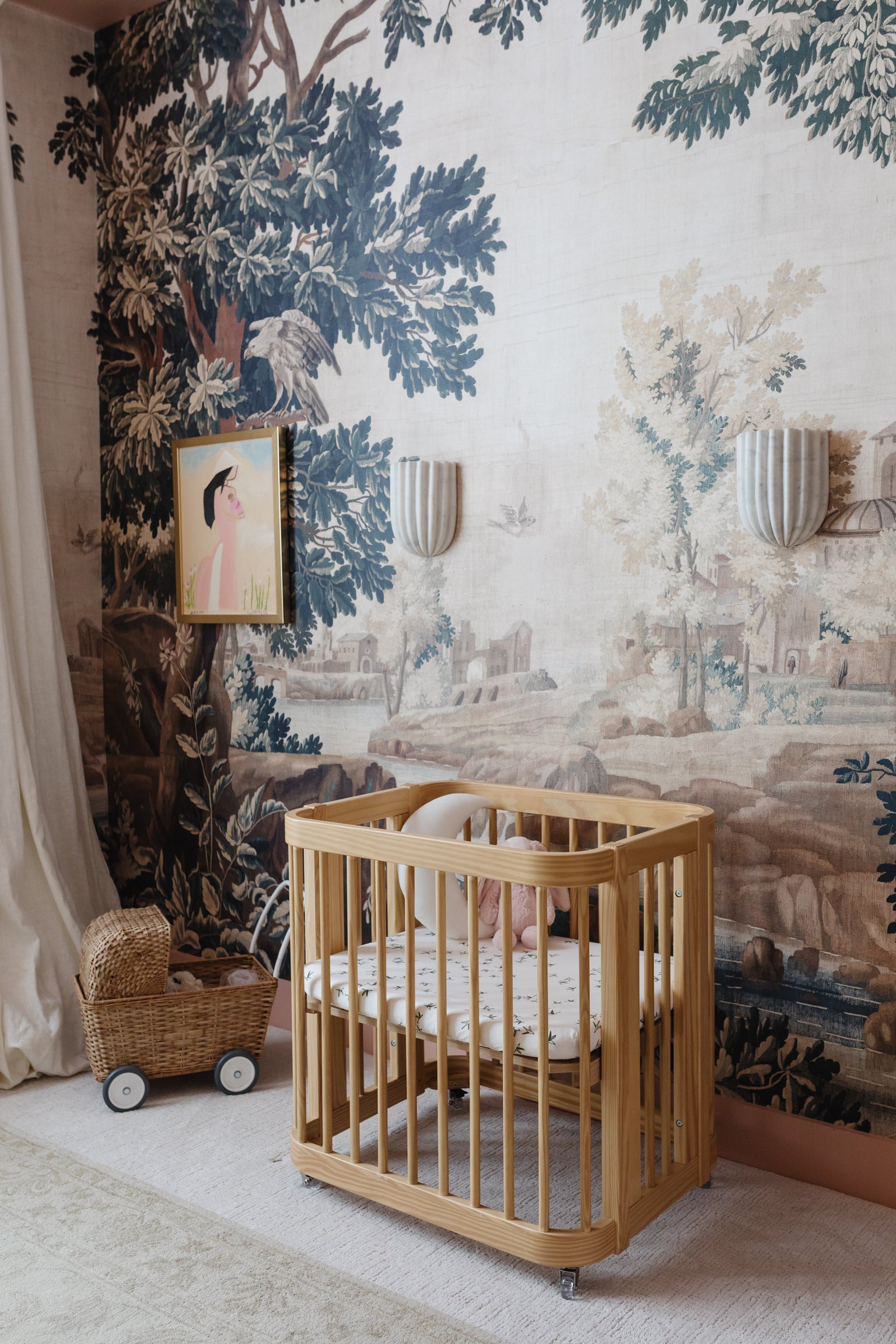 Nursery Tour
This Nursery is a Maximalist, Whimsical Dream
Texas-based creator Hoàng-Kim designed a nursery that is nothing short of stunning. With its scenic wall mural and ornate fixtures, the space transports you to a maximalist, whimsical world. Read on as Hoàng-Kim shares her moodboard, how she worked with interior designers, and the special story behind the wall mural.
First off, tells us a little about yourself!
I'm Hoàng-Kim and storytelling is my passion. Before becoming a full-time content creator, I worked as a TV reporter and anchor in Nebraska and Virginia. I come from a family of refugees and the only one to be born in America. While my husband and I got married in 2022, we've been together since 2010! We're so excited to be on this journey as new parents while also pursuing our careers and devoting ourselves to family and friends.
Interior style in 3 words:
Classic, livable and transitional!
What was the inspiration for the nursery? If you created an moodboard, we'd love to see!
We wanted something whimsical that would transport you to another world. It was important for the nursery to grow with our daughter. We don't plan on changing this room as she gets older, so we wanted pieces that would last.
What's one thing you learned from working with interior designers on designing a nursery?
Definitely stepping out of your comfort zone! We worked with Urbanology Designs and they presented us three different designs. The one we went with took our breath away, but also gave us a bit of a pause because we had never done something like that before. It is definitely a complete transformation of the room ad when you walk in, you instantly feel like you're in another world. Another key factor is to really trust their vision and expertise. While it can be expensive, we are so happy with how her room turned out and really going all in!
Are there any pieces, products or decor with a special story you can share?
There are a few! The name of the mural is Golden Age, which is what my name, Hoàng-Kim means in Vietnamese. Urbanology Designs didn't know this, but when I went to order the mural, I saw the name and it felt like it was meant to be!
The oil painting hanging on the wall is a gift from my Mom. All her life, she's sacrificed for her family, our family and never really got to do things for just her. My Dad suffered a traumatic brain injury in 2015 and after caring for him almost by herself for four years, I decided to pursue content creation full time so I could help her take care of him. She told me she wanted to take art classes so I took her to Michael's to buy her whatever she needed. Turns out, my Mom is talented! She painted an image of me wearing the traditional Vietnamese long dress, called an ao dai, holding my daughter in a field. I'll treasure it forever and I hope our daughter will, too.
Johnny and I are huge bookworms. We love to read and hope to instill this in our daughter. There are a few Vietnamese books my Mom brought from Vietnam or had sent here for my older brother when he was a young child. We asked all of our family and friends to give our daughter a book instead of a card for the baby shower and it's been so fun reading to her throughout the day and every night before bed!
What do you hope your baby will love most about his nursery?
I hope she loves all of it, but I most importantly I hope it encourages her to be confident in herself, creative and knows she's loved.
We like to think about nurseries as spaces for everyday magic, any favorite parenthood memories in the room so far?
Our daughter recently started babbling and we love it! We've been having conversations with her and we like to think when we're about to leave the room and it's sleep time, she's negotiating with us for a longer wake cycle, haha!