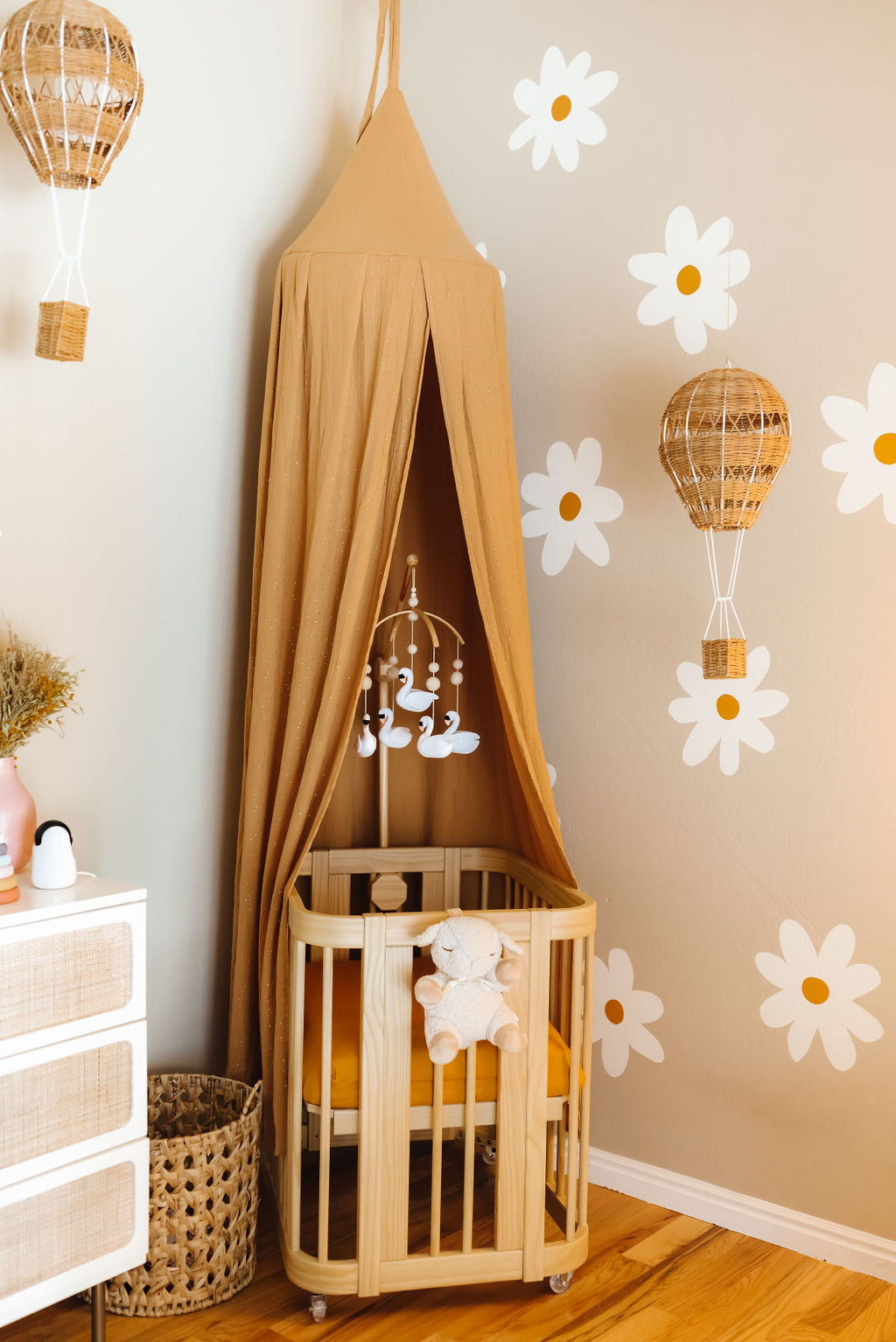 Nursery Tour
A Delicate, Dainty, Daisy-Filled Nursery
Be whisked away in a daydream full daisies, hot air balloons and birds floating about in Liz Barbosa's nursery. Accented by organic shapes and textures, this nursery boasts a classic floral theme that feels fresh. Read on as Liz chats about the inspiration behind her whimsical nursery for baby Isla.
First off, tells us a little about yourself!
My name is Liz, I live in Salt Lake City, Utah with my husband, daughter, 2 little frenchie dogs, a cat and 7 chickens. We are a designer family—my husband is a UX designer and I am UI/Visual designer with a degree in fashion design. When I'm not designing or taking care of my little farm, I love to spend time outdoors hiking, camping or trail running.
What is your interior style?
What was the inspiration for your nursery?
I wanted to create a natural, free spirited space—a room that feels warm, peaceful and magical by bringing a mix of organic textures, patterns, natural woods and colors.
We are absolutely in love with the daisy motifs—is there a special story behind these flowers?
I was looking for a statement wall, adding daisies was a way to add a feminine touch while still feeling natural and organic with that hand drawn look. It adds a soft touch to the room and brings in a whimsical vibe. 
What's one advice you would share with someone who's designing their nursery?
Think timeless back bones! And add lots of little details to make it feel magical. Everything I picked I made sure is something that will last forever. From the dresser, to the rocker, to the Nelson floor lamp to the Wave crib, I made sure it was all good quality materials and furniture that my daughter will have for many years.
What's your favorite decor in your space and why?
I love all the hanging pieces, the wicker hot air balloons, the canopy and the stork. They add texture, depth and a dreamy feel to the space. 
We like to think about nurseries as spaces for everyday magic, any favorite parenthood memories in the room so far?
My favorite moments so far are the mornings, when my baby is in a cheery mood and we spend quality time together. We rock on the chair while I breastfeed her and then we do tummy time on the rug. Lots of bonding time!