Nursery Tour
Creating Warmth, Calmness and Sophistication in the Nursery
When we came across Deanna Weise's nursery on Instagram, we were stunned by its elegance. Resembling a triptych that belongs in the MoMa, their forest wallpaper creates a jaw-dropping backdrop for the Wave crib. Green wainscoting bring tranquility, and playful details of Air Jordans and Ninja Turtles make the space uniquely their own. Read on as Deanna shares how she and her husband David designed their sophisticated nursery for baby Reagan.
First off, tells us a little about yourself!
Hi! I'm Deanna, and I live in Aldie, VA (about 45 minutes west of Washington D.C.) with my husband David and our two bulldogs, Bronson and Boomer. I am a procurement specialist for a government contractor, and David is a CPA. Aside from our 9 to 5's, I am an artist and frequent traveler. Over the past two years, I have also been involved with the D.C. based non-profit organization, District Cleanups, in which I help organize group cleanup events and create content for their social media presence among other brand accounts. David enjoys handyman work, woodwork, gardening, and horror movies. We moved into our new home that was built at the start of the Covid pandemic, and David keeps busy bringing my designs to life through various building projects.
What is your interior style?
Sophisticated, tranquil, inviting
What was the inspiration for your nursery?
The nursery started as a guest room which was inspired by a room from the Hoxton Hotel where I stayed in London. A day bed was added to host an overnight guest but with the intention to use it to rest with the baby if we were expecting. Once we became pregnant, our goal was to create a safe and inviting space to replicate the effects of apricity, the warmth of the sun on a brisk morning. Our home also contains many green tones throughout, one of our favorite colors, so a forest themed wallpaper came naturally in our eyes, and we were lucky to find a perfect match for our style. Final hints of our favorite things are also present within the nursery including: a tennis and puppy hanging mobile, baby Jordans, a Donatello Ninja Turtle doll I had as a child, and books that David grew up reading.
Those large framed wallpaper bring so much elegance to the space—tell us why you chose this piece!
The wallpaper was found through a UK based brand. The colors woven throughout the landscape wallpaper are all present throughout our home—from dark greens used in our great room and kitchen, to sage greens used for the nursery accent wall and custom bookshelves. We chose that particular scenery because it exudes an atmosphere of calmness, safety, and warmth not only for our baby, but also for us as new parents. Lastly, picture frame mounding and spacing was added to the wallpaper borders to create the appearance of windows looking out into the forest.
What part of the design process sparked the most joy? What was the most challenging?
We would say the wallpaper is our personal favorite piece of the room and brings us both great joy when viewing. We really did not have any challenges when creating the room other than ensuring we brought in inviting pieces and furniture. We were lucky to find our Nestig crib, with the perfect natural stained wood for a baby nursery feel. We are excited to see how the room changes with the expansion of the crib from bassinet to full child's bed.
Are there any pieces, products or decor with a special story you can share?
One sentimental item in the nursery is the Donatello Ninja Turtle plush doll that I've had since my childhood, especially since David grew up a massive Ninja Turtles fan as well. As a child it did not leave my side, and we wanted to pass along any and all mementos that we still have that were special from our childhood.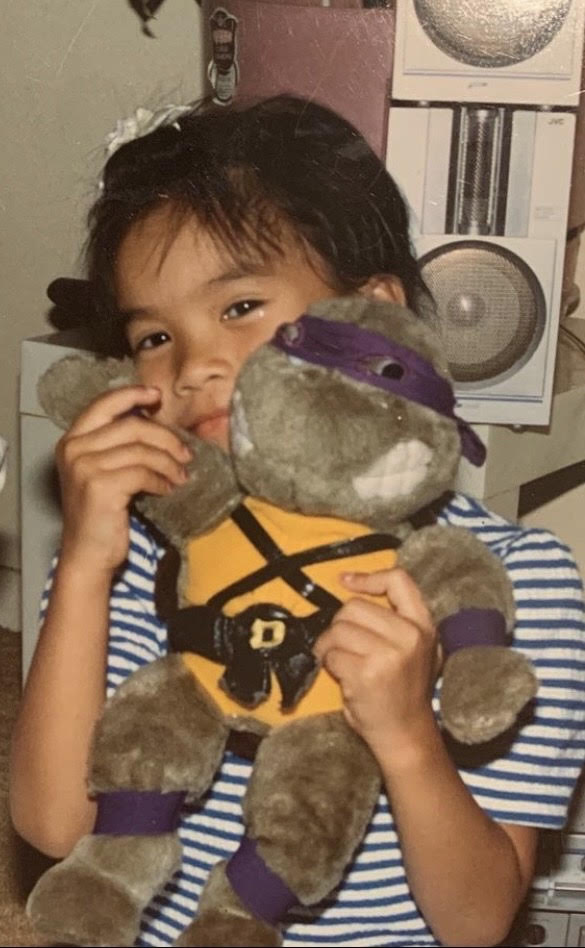 We like to think about nurseries as spaces for everyday magic, what are you most looking forward to in parenthood?
I am most excited for the quality time out and about and on the go with baby Reagan whether it is exploring coffee shops or traveling. I, being an avid traveler, am anxious to reach a point where I can teach and show my daughter all of the beauty the world offers. David is most excited for any and all quality family time and one-on-one time with Reagan. It has been a long road to parenthood so he wants to savor every moment he can whether it's chest sleeping or holding her tight, playing, and teaching her about his hobbies. We both want nothing more than to expose her to as many good things as possible and love her unconditionally.