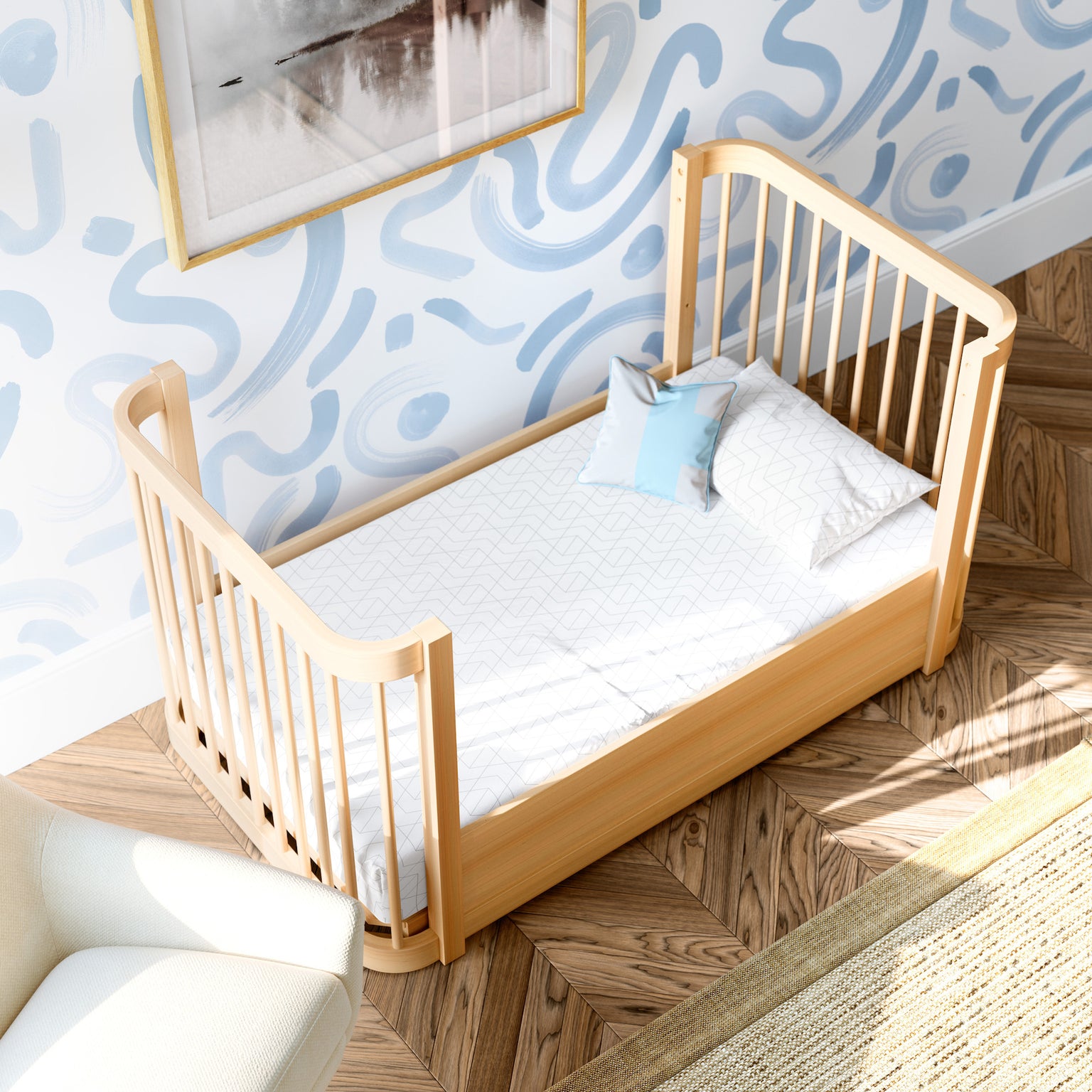 Here's Everything You Need to Know About Full Crib Mattresses
Are you transitioning to a full crib and are a bit confused about all the full crib mattresses before you? Fear not! Here, we'll lay down (a pun!) everything you need to look for in a crib mattress and help you compare your options.
First, let's look at which full crib mattresses we carry:
Lullaby Earth Full-Crib Mattress $259.00  |  This is a fully breathable and non-toxic waterproof mattress, with a washable, waterproof, breathable cover. 
Naturepedic Full Crib Mattress  $349.00 |  This is an organic full crib mattress featuring an organic cotton cover, organic cotton fill, a seamless waterproof edge, and a waterproof and washable cover. 
Newton Baby Full Crib Mattress $299.00 |  This full mattress features a fully breathe-through mattress and cover, which allows air to move freely for optimal breathability and temperature control.
In order to decide which mattress best suits you, let's look at four key questions:
1. Does the mattress have a cover?
The Lullaby Earth, Naturepedic and Newton baby full crib mattresses all have a removable and washable cover so you can machine wash it and have it back on your mattress in no time! :)
2. Is the mattress breathable?
What does it mean when we say a mattress is breathable?
A mattress is said to be breathable when your baby is lying on his/her stomach and can still breathe easily. Breathable mattresses are designed to allow continuous airflow and are perfect for babies to sleep on once they start rolling onto the stomach in the middle of the night. 
Which mattresses are breathable?
The Lullaby Earth and Naturepedic full crib mattress have a breathable cover, while the Newton full crib mattress features both a breathable mattress and cover
3. What are the mattresses made of? Are these materials non-toxic?
ALL of the mattresses that we sell are certified to be safe for your baby! Read on to find out more.
What materials should your mattress not be made of?
PVC is found in some mattresses, which contains dangerous chemicals such as phthalates, lead, cadmium, and/or organotins, which are toxic to children. These can potentially seep through and evaporate into the air over time, posing unnecessary dangers to children.
GMOs stands for Genetically Modified Organisms. The use of GMOs in mattresses could include using cotton that is modified genetically or synthetic fibers for GMO sugarcane. GMOs have the possibility of certain negative side effects such as allergic reactions. 
What are the Lullaby Earth, Naturepedic and Newton Baby full crib mattresses made from?
The Lullaby Earth full crib mattress is made of food grade materials and has a removable and washable cover. 
The Naturepedic full crib mattress is made of organic cotton cover and has a breathable and waterproof cover made also of organic cotton. 
The Newton crib mattress is a mattress which not only features a fully breathable cover but also a fully breathable mattress! It is hypoallergenic, and it's Wovenaire core is 90% free-flowing air and 10% food-grade polymer. It includes a cover which is both removable and machine washable! 
All three mattresses are made without vinyl/ PVC and avoid the use of chemicals such as formaldehyde, perfluorinated compounds (PFCs), pesticides, glues/adhesives, and GMOs. Additionally, all three mattresses are made without flame retardant chemicals or barriers.
Additional Things to Consider
What certifications do the mattresses have?
Each mattress is Greenguard Gold certified.
Which mattress would fit my full crib/ toddler best?
Each of our full cribs and toddler beds are designed to be compatible with any standard size full crib mattresses. As a result, any one of the listed mattresses would fit. While each one has a slightly different dimension (listed below), it all comes down to which one you like! :)
Lullaby Earth: 52" x 27.5" x 6"  |  Weight: 10 pounds 
Naturepedic: 52" x 27.5" x 6"  |  Weight: 11 pounds.
Newton:: 52" x 28" x 5.5"  |  Weight: 14 pounds
Do any of the mattresses have additional features?
The Newton mattress is the only mattress that is 100% washable! This is due to the proprietary Wovenaire® core the mattress is designed with. Click here for more care/wash instructions under FAQs
A super cool feature included in both the Lullaby Earth and Naturepedic full crib mattresses is that they include a dual-firmness feature which grows with your little one! One side is designed to be firmer for an infant and the other is more toddler-appropriate with some cushion! How useful is that?!