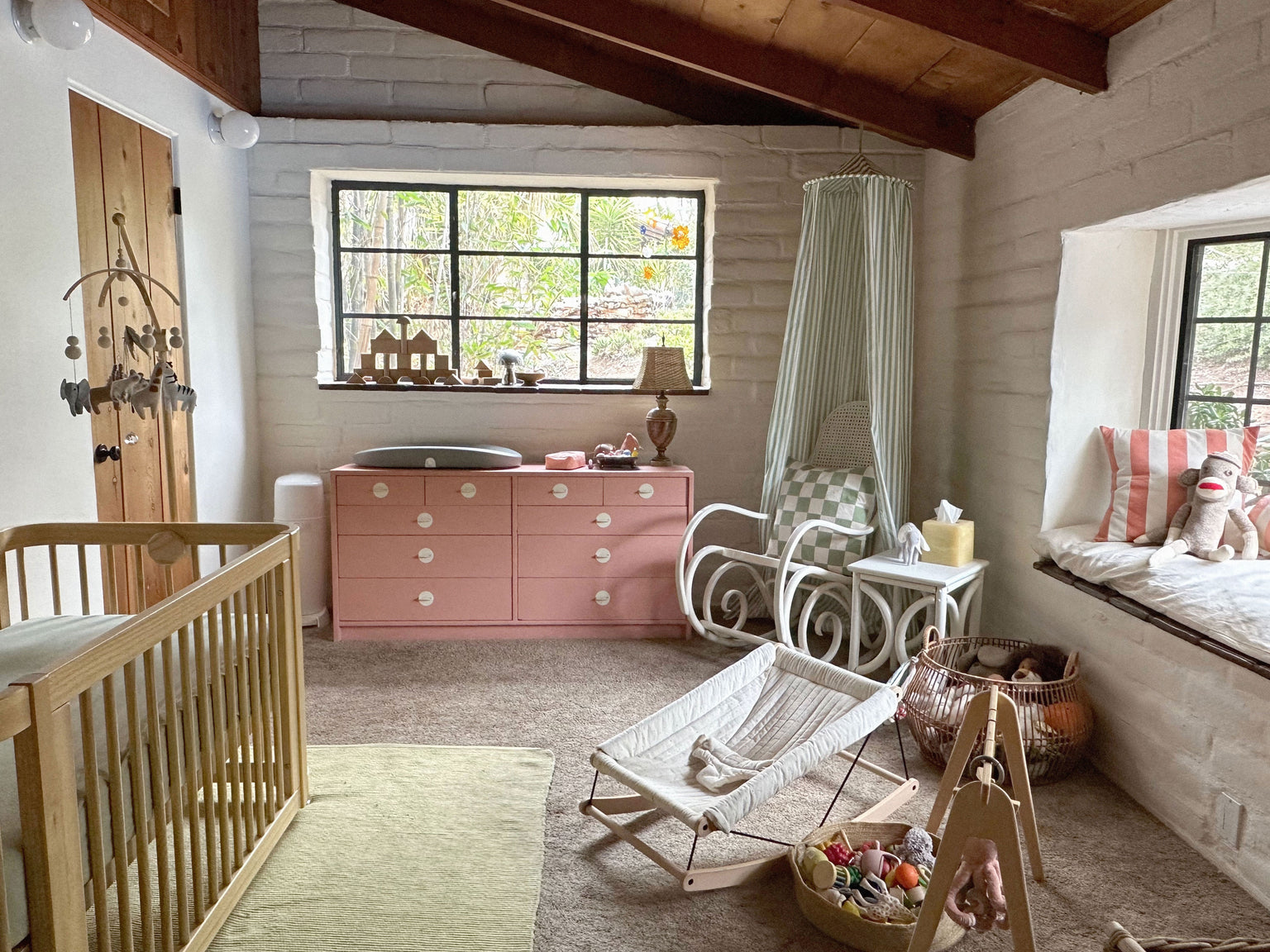 Nursery Tour
Thrifting Furniture and Handcrafting Decor for the Nursery
With each stitch, designer Emma Brooks sewed love into handmade decor for baby Penny's nursery. Each piece in this space is unique—from a vintage rocker, flipped dresser, upcycled pillow cases and crafted textile wall art. Read on as Emma shares how she created a nursery featuring pieces you can't find anywhere else.
First off, tells us a little about yourself!
I live in San Diego, California with my husband, two kitties, and baby Penny. We live in a 1950s adobe house on an acre of land. I'm a graphic designer and founder of Pair Up, a small sustainable clothing brand. I love making things with my hands while listening to good music. I'm constantly trying to learn new skills, as I get extreme satisfaction from doing things myself.
Interior style in 3 words:
Repurposed, inviting, peaceful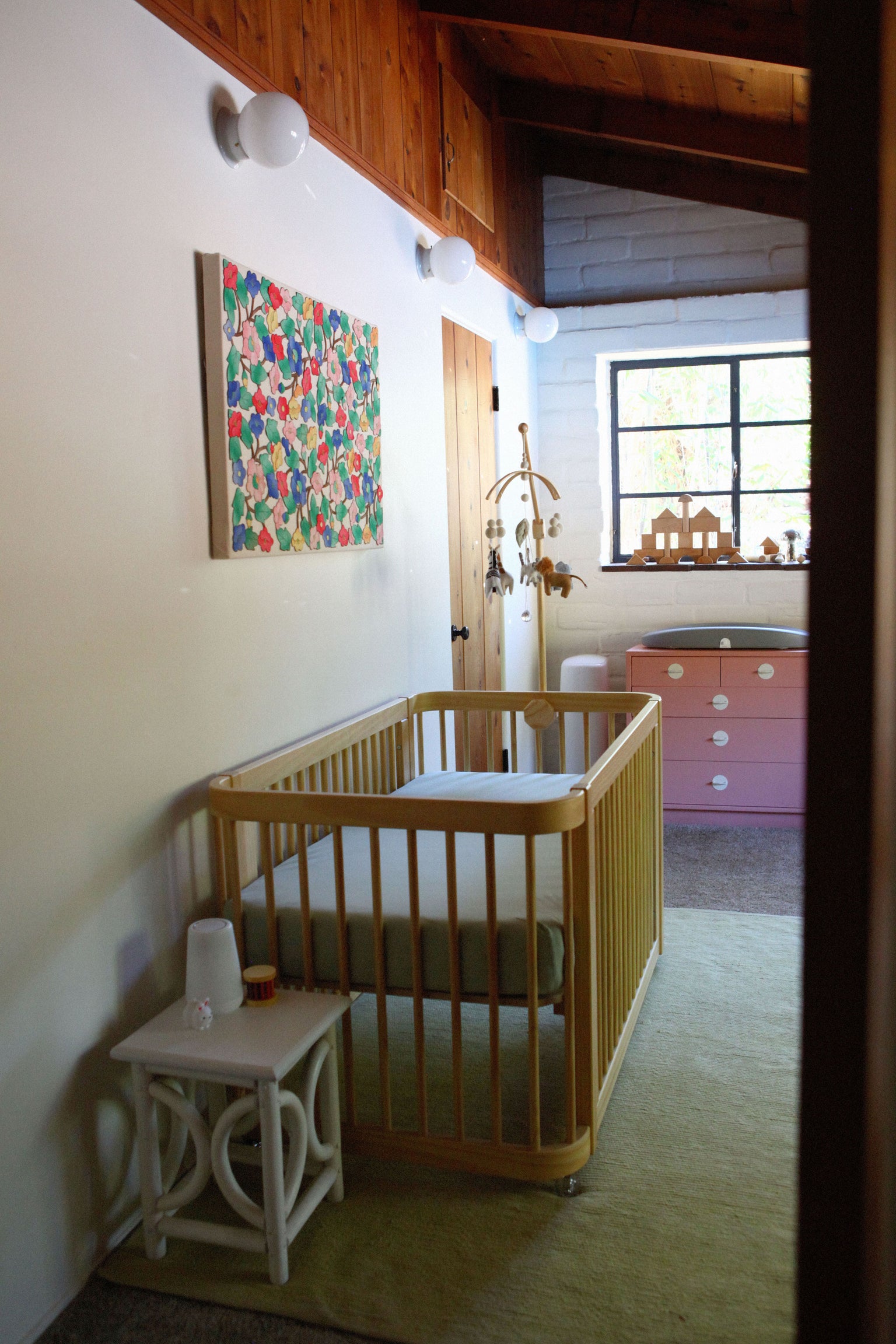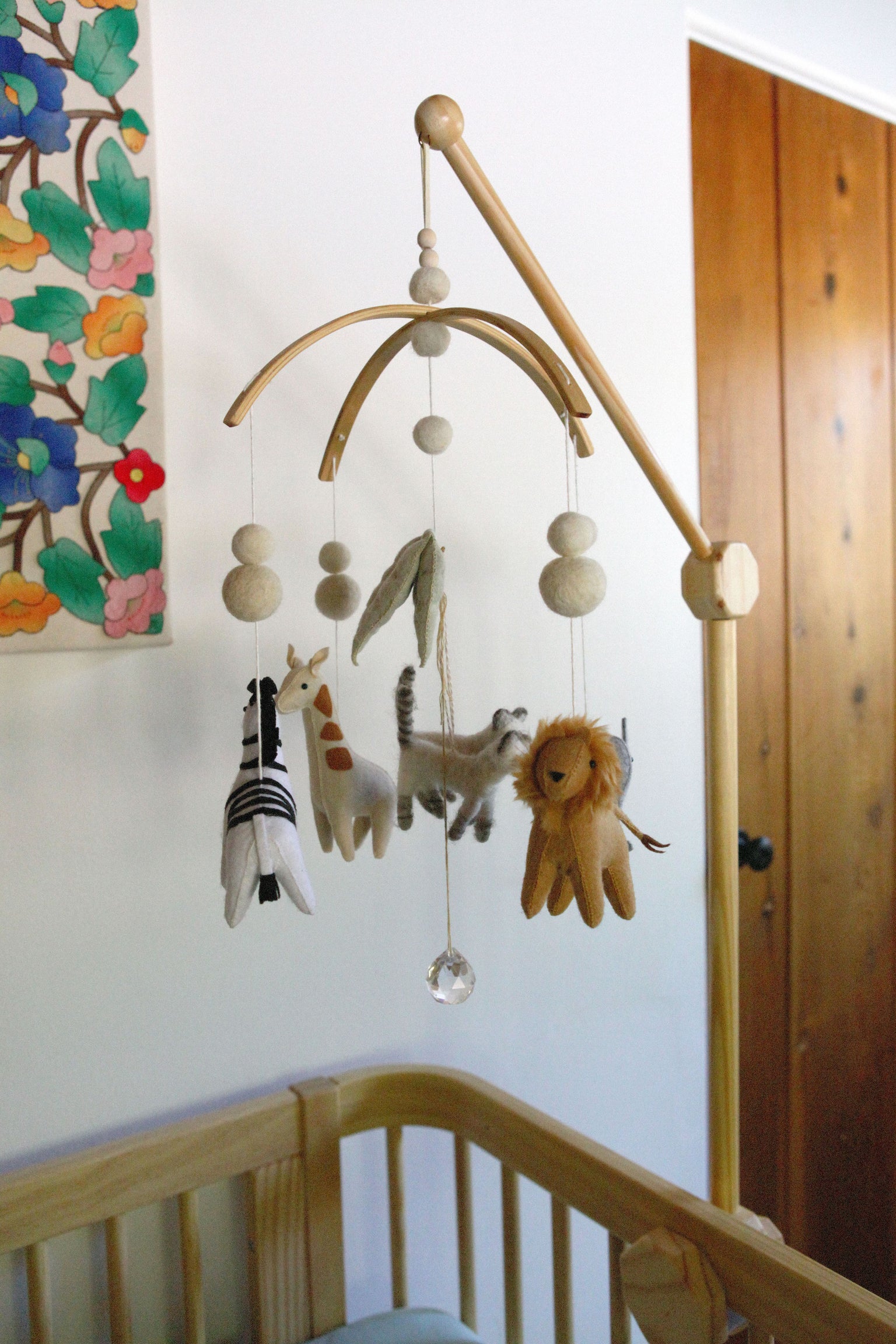 Your brand Pair Up creates clothing using reclaimed textiles. Were textiles a source of inspiration for Penny's nursery?
Most definitely! The majority of my house is minimal, with a neutral color palette. For Penny's room, I explored color, and mixed textures and patterns. I wanted her room to feel bright, vibrant, and inspiring! I've collected a lot of beautiful textiles over the last few years, and planned to utilize my stash to bring her room to life. Knowing how to sew has been such an amazing skill set to have, not just for making clothing but for interior projects as well. Yes, it took me a little bit longer to finish her room, because I had to find the time to make everything but it was worth it.
I sewed her a mint striped tent to go above the rocking chair. I envision this eventually being her reading corner, where she'll have tons of floor pillows to cozy up with. All of the striped and checked pillows in her room are made from leftover cutting scraps. I currently sell these in my shop, in an attempt to capture and use as much material as possible. I also made a big canvas window cushion that's stuffed with a few comforters I got at the thrift store. 
The flower hanging above the crib is also something I thrifted/made. I found them in the table linens sections because get this, they were placemats! And even better, they were handsewn with a needle and thread. I truly can't imagine how long it must have taken to make these. I covered an old piece of art in some thick canvas and fabric glued the flowers on. I cut them up a little bit, so they flowed together more organically. I wish I could show the original maker what has become of them :) No doubt, knowing their flowers hang above a crib would bring them joy.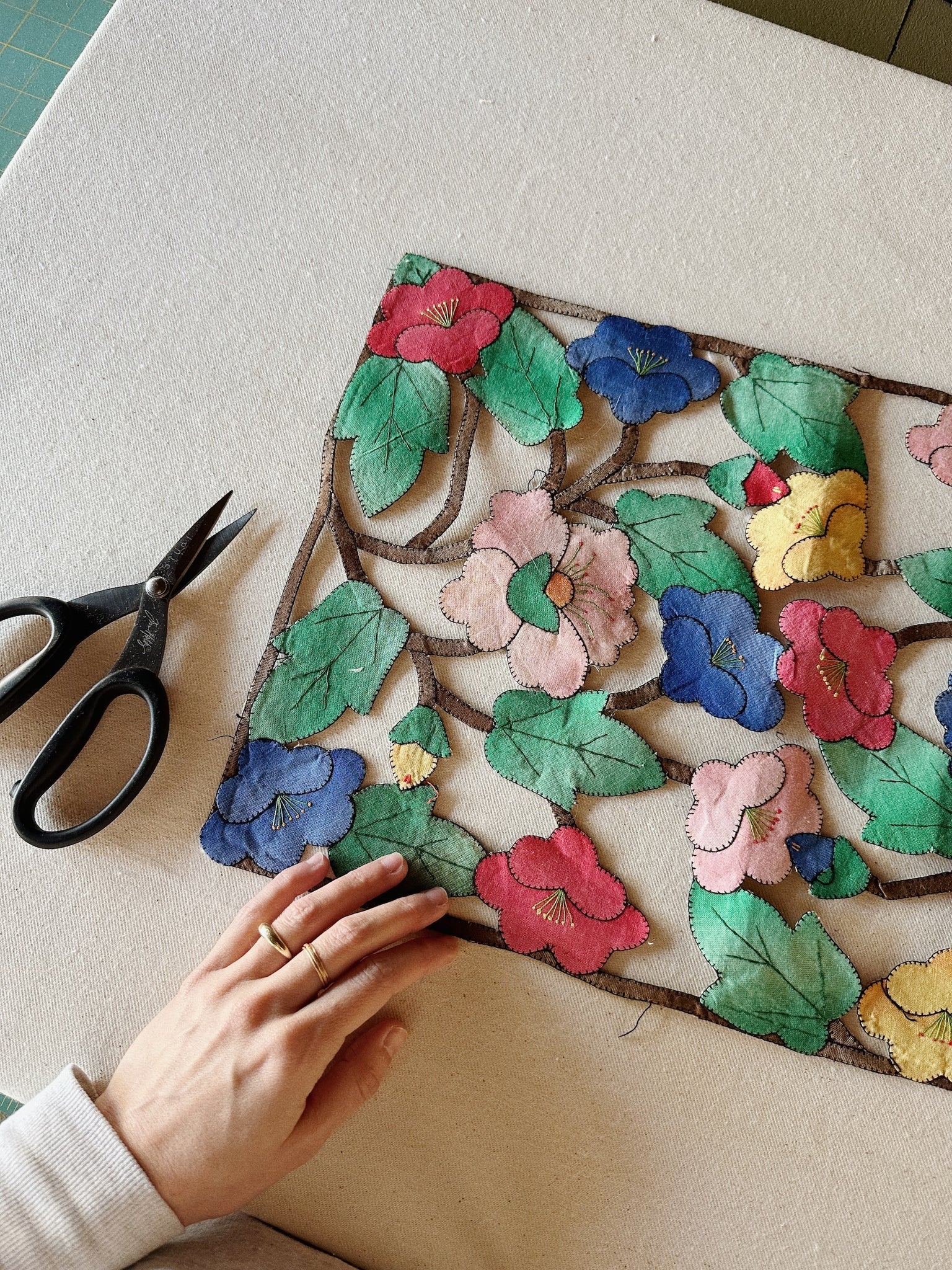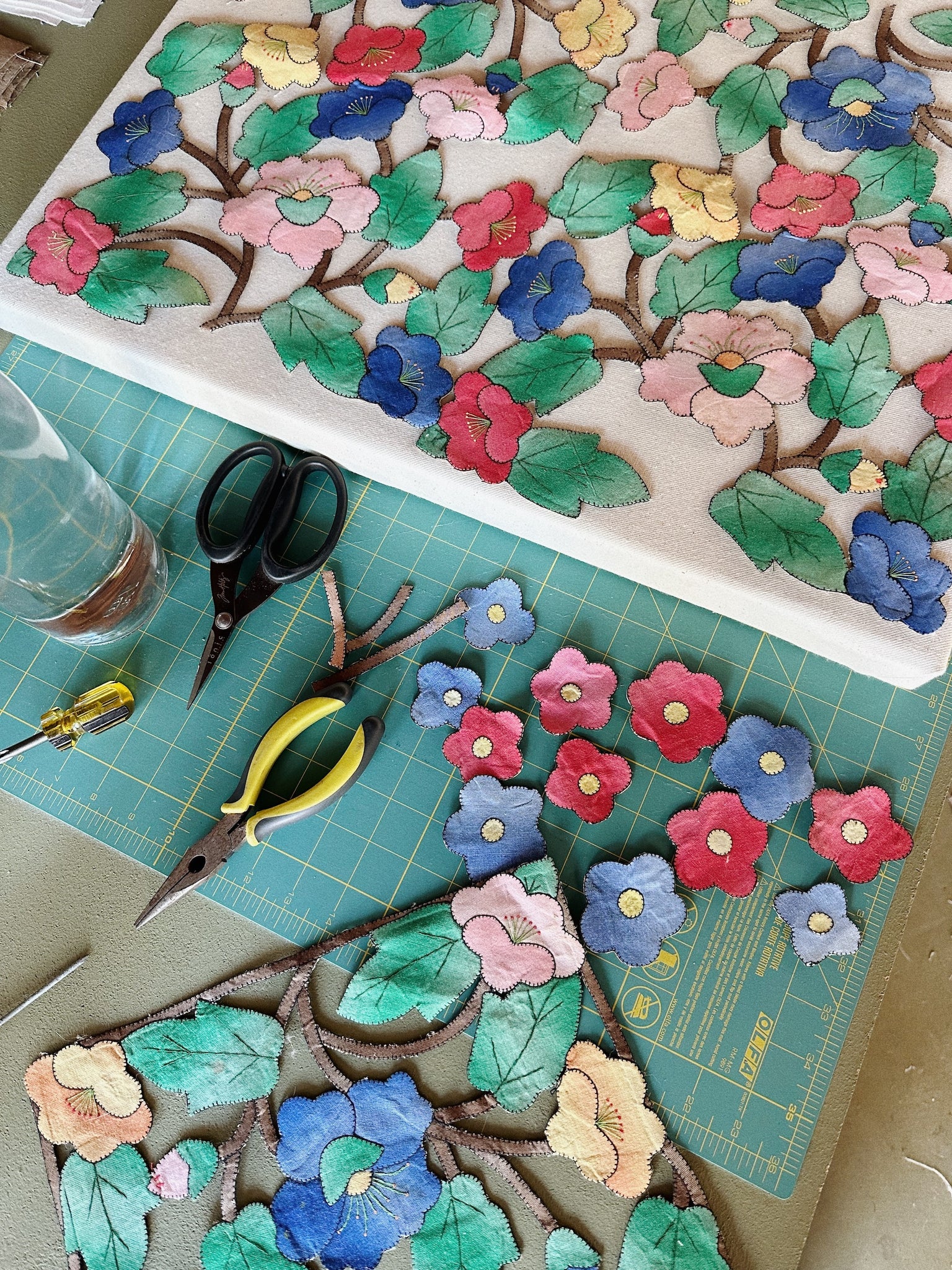 Your home has restored vintage furniture! Any tips for finding and flipping pieces for the nursery?
Patience. Don't rush into getting something until it feels just right. I can't tell you how many times I almost just bought something from IKEA because I wanted to cross that task off my to-do list. We found her wooden dresser on OfferUp and gave it a quick coat of pink paint in the driveway. What really caught my eye was the hardware. They are these big metal circles with tiny geometric handles that totally make the piece. The bentwood rocker is from my local thrift store that I go to multiple times a month. I'm obsessed! Just keep an open mind and have fun with it.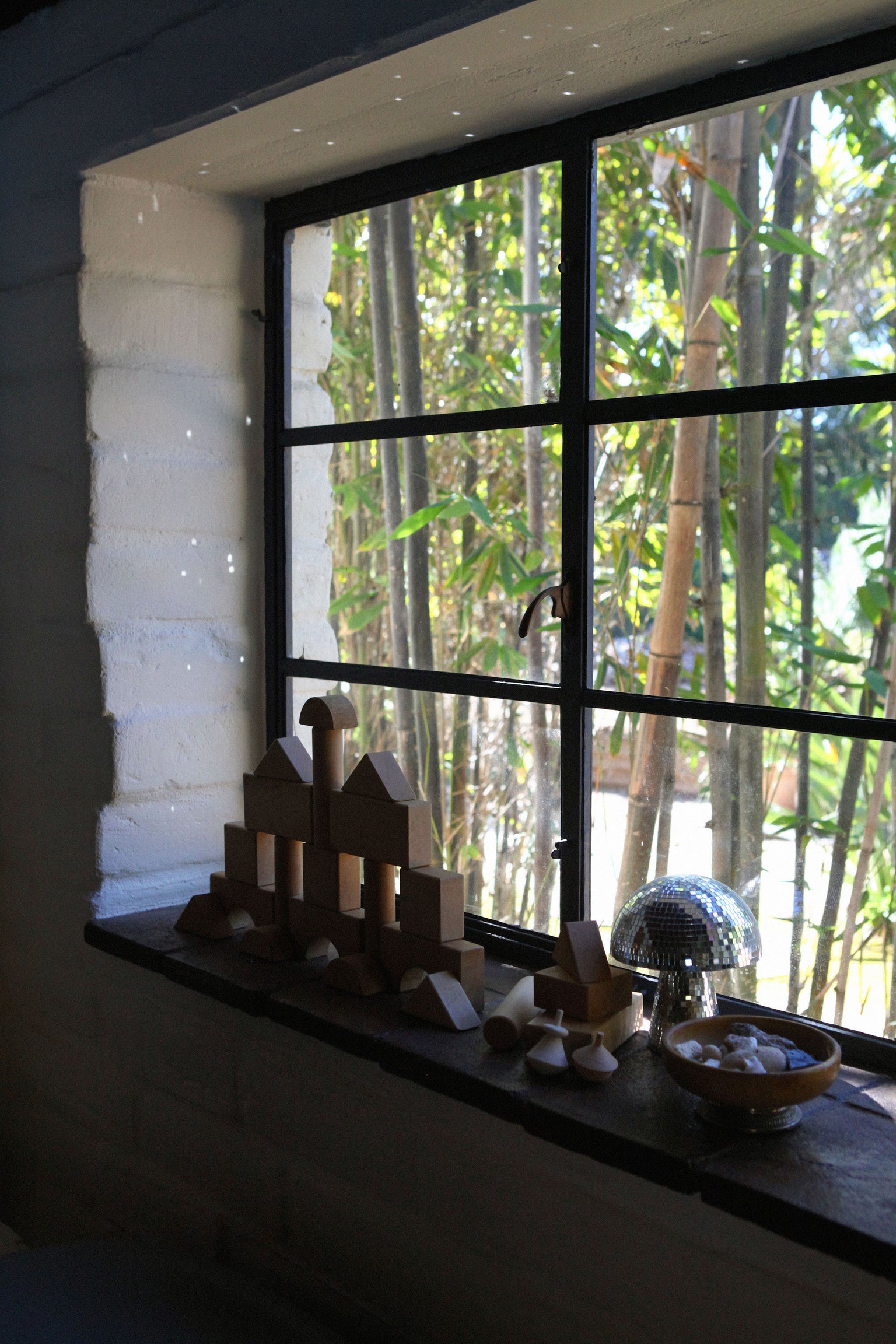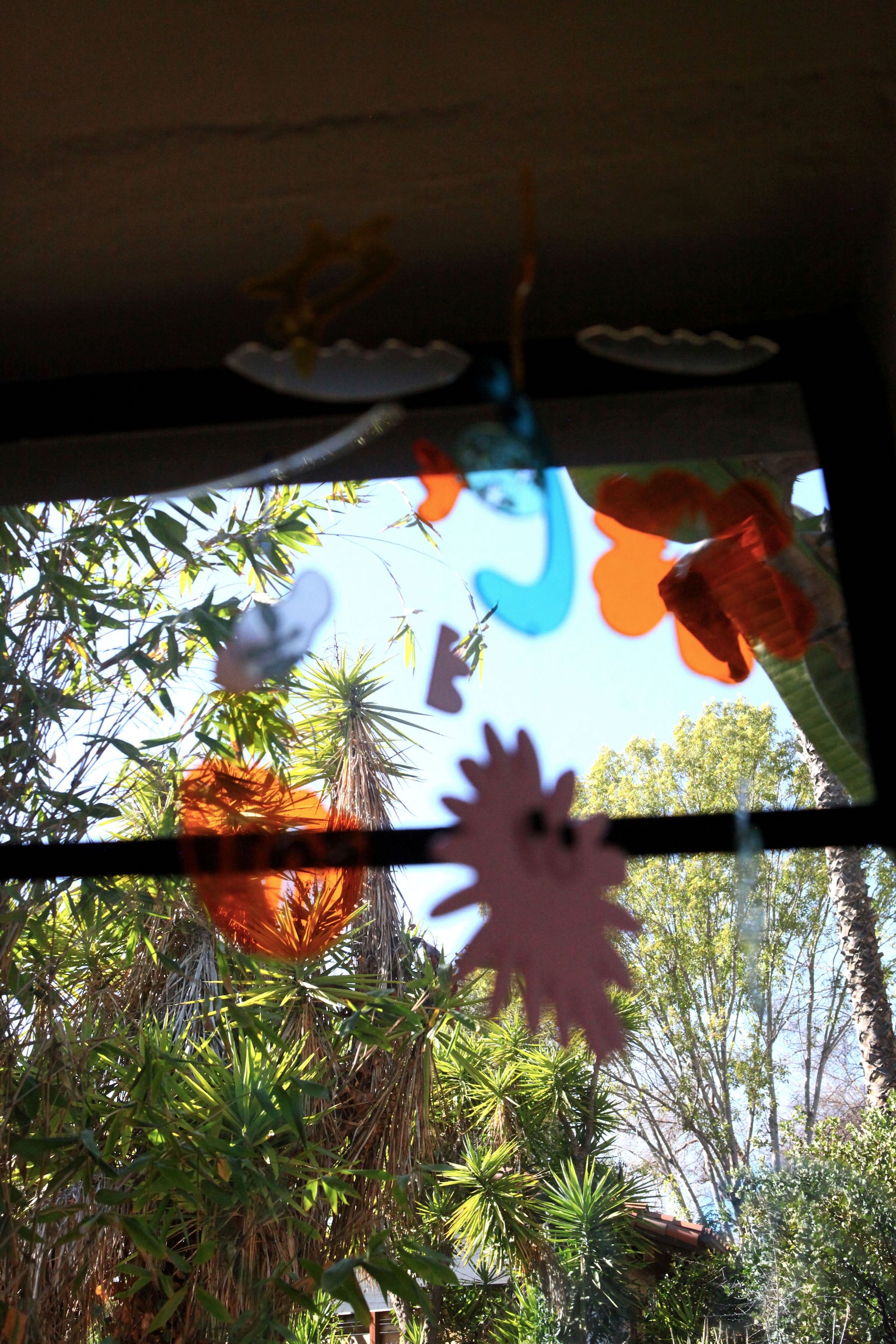 What part of the design process sparked the most joy? What was the most challenging?
I really loved my bedroom growing up. I have a lot of positive memories associated with it. Listening to music, making things, hanging out with friends, trying on clothes, writing in my journal... I want the same thing for her. A safe space to be herself. I still can't believe I have a daughter and this is where she'll be exploring her own interests and expanding as a little human being. It brought me so much joy creating the first version of her bedroom, and I can't wait to see what she does with it herself, over time. The biggest challenge was opening myself up to color within the home. When it comes to interior spaces, I love neutrals but that's not very fun for a kiddo.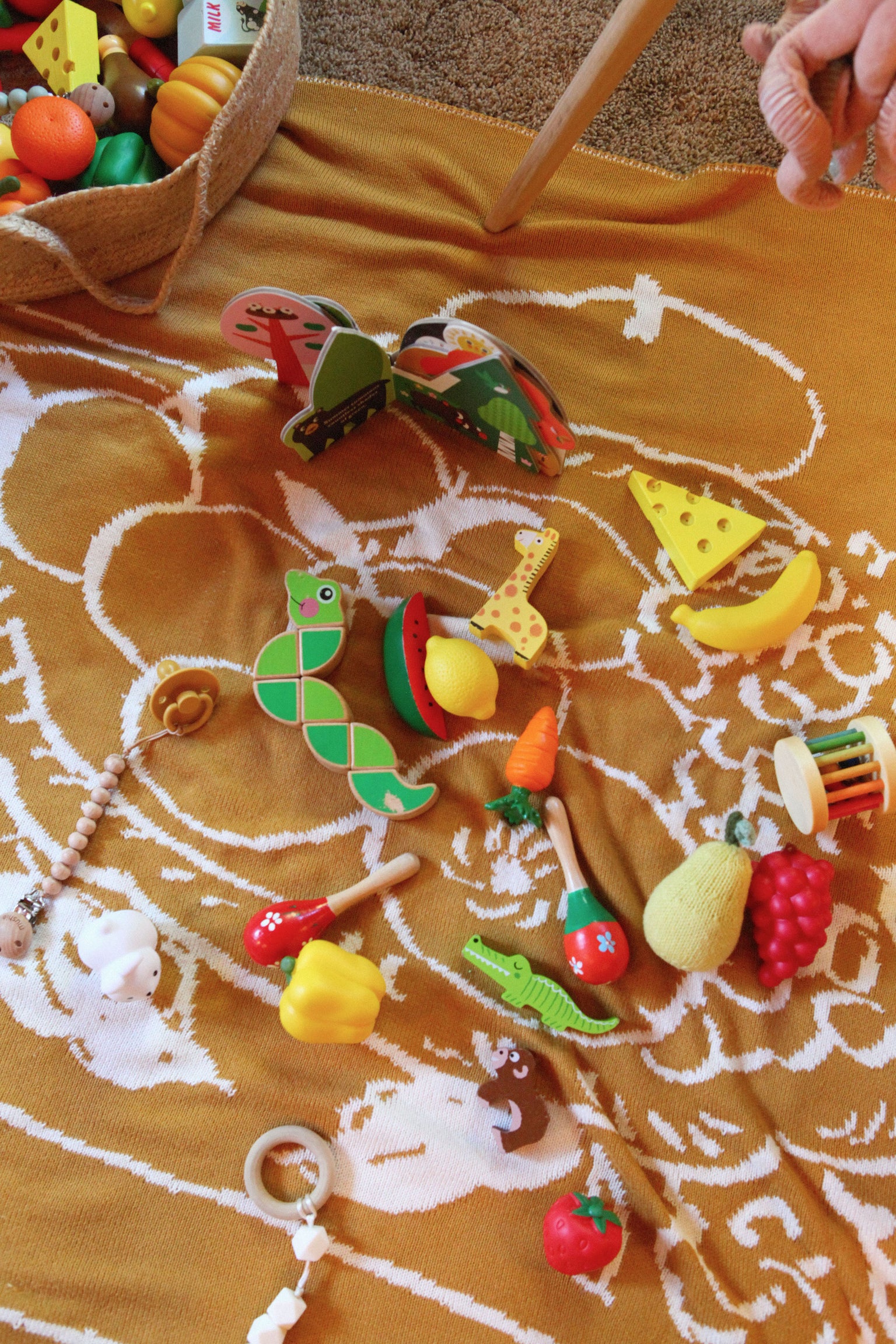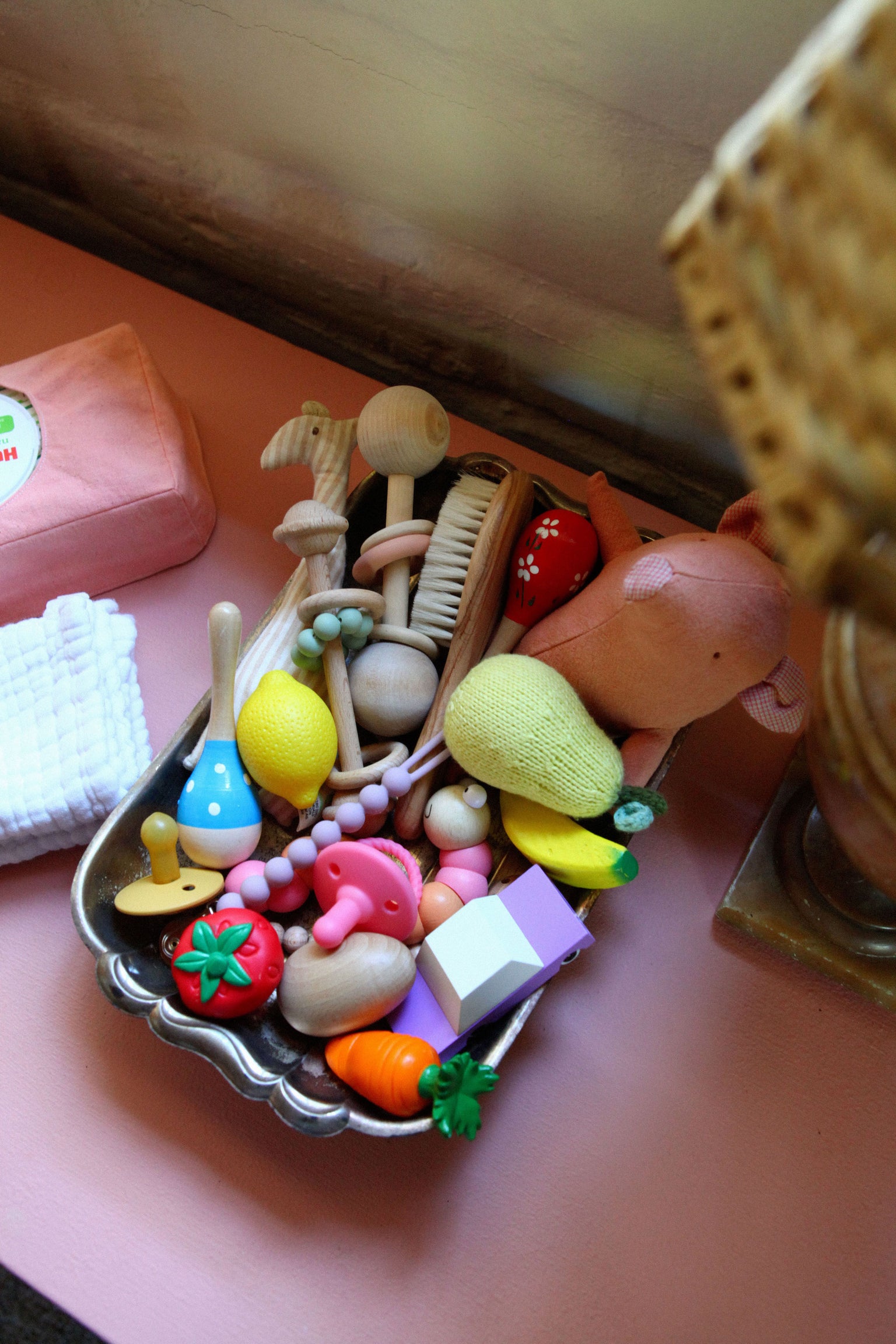 Are there any pieces, products, or decor with a special story you can share?
At my baby shower, everyone brought a book for Penny, with a little note to her written inside. My mom also saved a lot of my childhood books, so we needed a bookshelf, ASAP! I thought about making one myself but my mobility was non-existent so that wasn't an option. I looked at a few thrift stores and ended up falling in love with one in the neighboring town at an antique mall. Sadly, it was way out of my price range. I left a note for the owner, telling her to reach out if she ever brings the price down. I also mentioned I wanted it for my unborn daughter's bedroom, in an attempt to pull on those heart-strings, ha. A few weeks later, I get a text saying I can have it for free and congratulations!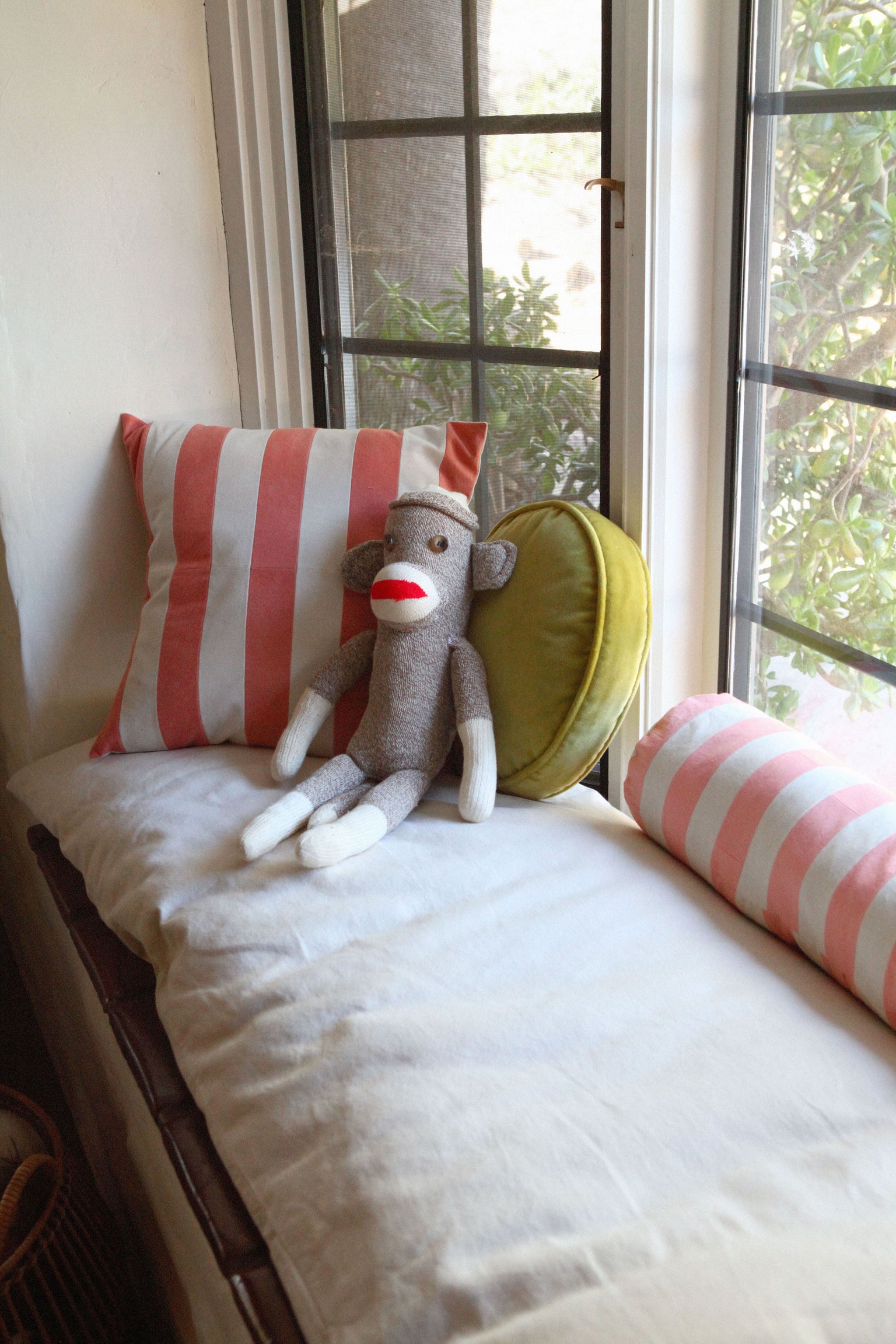 We like to think about nurseries as spaces for everyday magic, any favorite motherhood memories in the room so far?
Oh my gosh, there's been so much magical memory making (with some stressful ones sprinkled in there too, who are we kidding, this is hard!). She has this little disco ball mushroom that sits in the window. Towards the end of the day, the sun hits it just right covering the room in sparkles. I love watching her watch them. Honestly, she's changing so fast right now! I feel like every single week she does something new and exciting. It's hard to keep up with it all. Over the past 5 months, this little room has been our sanctuary. We've learned to breastfeed together, to sleep, to play, to love... It's our happy and grumpy place all wrapped up into one :)